Westwood Village aims to promote businesses through social media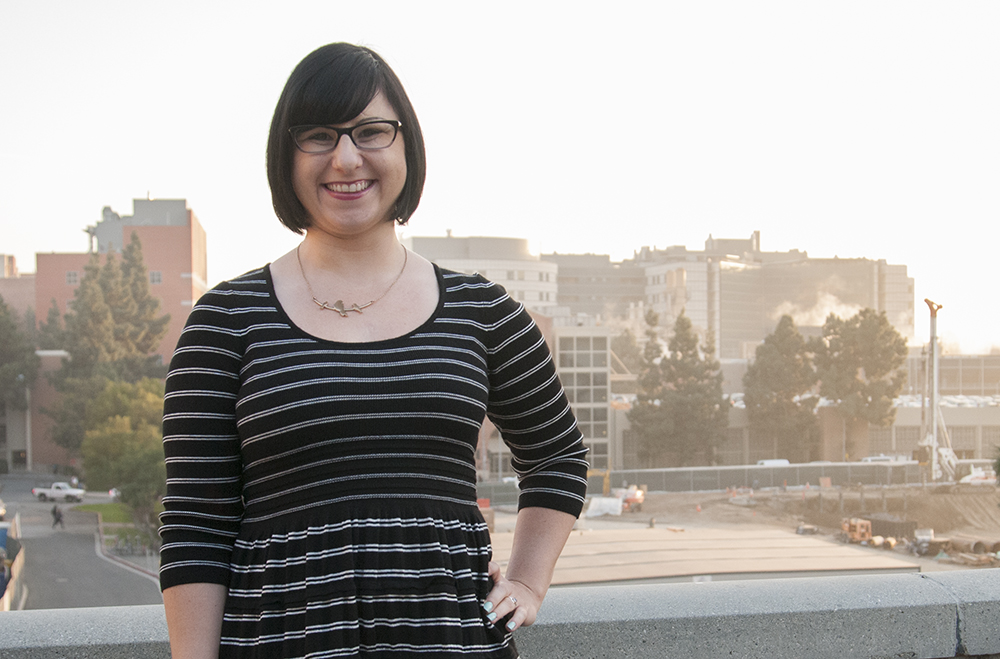 Megan Furey is the Westwood Village Improvement Association's new marketing and communications manager, a new position created this year.
Neil Bedi/Daily Bruin senior staff
The Westwood Village Improvement Association recently added a new staff member to bring businesses and customers to the Village, following years of empty storefronts.
The new marketing and communications manager position was filled this year with the aim to draw people to the Village through social media and community outreach, said Andrew Thomas, the executive director of the Westwood Village Improvement Association. The nonprofit organization is charged with improving conditions and business in its specific district.
The Westwood branch previously focused on physical projects to improve the Village. For example, they organized sidewalk cleaning, tree trimming and public safety assistance.
But recently the organization's board of directors discussed a need to increase communication through social media to have a greater outreach to a broader audience, Thomas said. Many other business improvement districts, like the one in Santa Monica, have marketing components and the board decided the Westwood branch could better serve their district with this new position, Thomas said.
"I want people to know why it's important to visit Westwood Village to shop, watch movies and eat," Thomas said.
Thomas hired Megan Furey, whom he worked with on the business improvement district in Santa Monica, called Downtown Santa Monica Inc., to fill the position.
"Business is about relationships," Thomas said. "Megan excels at forming relations and building a trust with people."
Furey transferred from the Santa Monica branch where she worked in marketing and as an event planner for special events on the Third Street Promenade. She planned events like the ice rink, tree lighting and outdoor movie series, successfully drawing out tourists and locals to the shopping destination.
Furey's biggest project at the moment is promoting Westwood businesses through social media. She started a Facebook page, Twitter account, Instagram, Foursquare and weekly blog to get the word out about what the business improvement district does and what special deals and products Westwood restaurants and shops have to offer.
Westwood Village used to be an entertainment hub in the 1960s until new communities started developing and landlords raised rent prices, driving many small businesses out of Westwood. In the late 1990s, Westwood property owners came together to form a business improvement district. It failed in the early 2000s, but property owners gave it another chance in 2011 in an attempt to improve local business.
In addition to her social media projects, Furey started a discount program that includes UCLA students and faculty. Students and faculty members will receive discounts on businesses to get them out into the Village to shop.
Furey said she's excited for her future endeavors in the Village this year and the connections she will make between UCLA and local businesses.
"There are so many things to work with that I can't fail," she said. "It's only going up."
Compiled by Samah Pirzada, Bruin contributor.