UCLA gymnast Hallie Mossett competes after overcoming years of injuries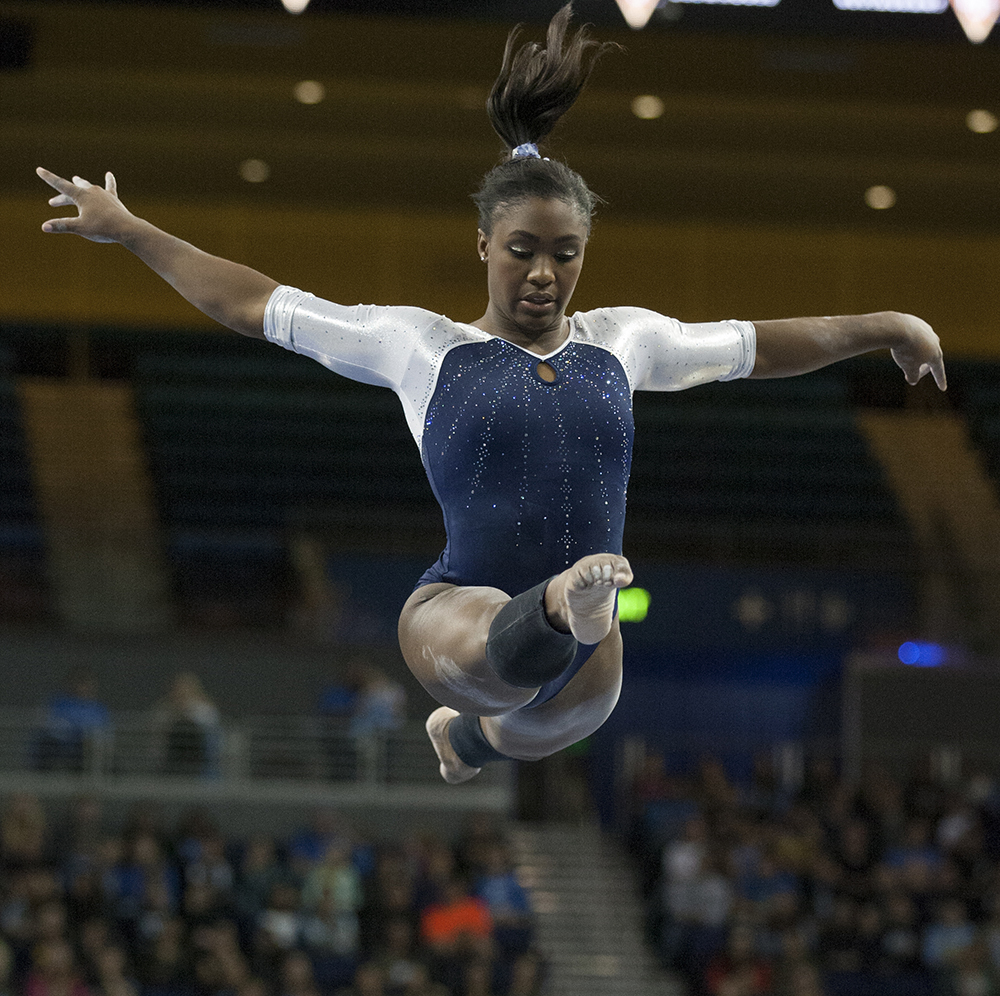 Freshman Hallie Mossett was injured in a car accident in high school and went on to tear her ACL shortly thereafter. But one of the injuries deterred her from returning to gymnastics.
Three years ago, as she sat in the passenger seat of a car navigating the relatively slow surface streets of Los Angeles gridlock, UCLA gymnastics freshman Hallie Mossett seemed about as sheltered as she could possibly be from a career-altering injury.
It wasn't an uneven bars dismount gone wrong or even a high-flying vault that was just a bit too high-flying that shaped the L.A.-native's career, it was a low-speed, impromptu lane switch from another driver into the passenger side of Mossett's car that fractured the then club-athlete's hip.
The accident was followed by a series of surgeries, hours of rehab and months spent out of the gym.
"It was hard being out with the second hip surgery but I knew I wanted to stick to gymnastics, I knew I wanted to come (to UCLA), so that's what kept me motivated," Mossett said.
So with UCLA in mind, Mossett returned to the gym and set her sights on competing again – only to tear her right ACL four months later.
Skip two years to Saturday's gymnastics meet against Florida and Mossett was simultaneously completing two of her goals – she was officially a Bruin and more importantly, she was a competitor again. For the first time since her ACL tear, Mossett competed in both the uneven bars event and on the balance beam, even earning the Bruins' third-highest score in the latter.
But coach Valorie Kondos Field said this performance was only the tip of the iceberg for the freshman athlete.
"She's probably at about 70 percent of what she's capable of doing – probably less than that, probably 60 percent," Kondos Field said of Mossett.
Mossett was slated to compete in more than just bars and beam, but was pulled from the starting lineups in two events because of a poor warm-up, something Kondos Field said has just further ignited Mossett's desire to get back to her potential.
Team manager Kassidy Kozai, who knew Mossett before she came to UCLA, relates the freshman's high potential and strong desire to compete with her string of injuries.
"After each injury, she knew how much work went into coming back," Kozai said. "It would be hurting herself if she didn't give it all that she could after those injuries. That's why she's such a good performer because she knows how much she's been through and she wants to show everyone."
Despite her improvements, Mossett said she does a lot of her skills crooked, favoring her left side, and fixing this has been a focal point of the young gymnast's training. Kondos Field said she held Mossett back when she first arrived, giving her specific activities to develop the muscles in the right side of her leg. But even with the training, Kondos Field said she has to keep an eye on Mossett in times when fatigue could set in.
"It's easier for her to do poor technique and just muscle through it because she's so strong," Kondos Field said. "Even when we're doing conditioning, you can tell when she's getting tired because her technique starts going very poorly and she doesn't use her right side at all."
Once all the rehab and training is over, however, Kondos Field said she expects Mossett to be competing at a level on par with the nation's elite.
"To be a gymnast you have to be powerful; she is extremely powerful. To be a good gymnast, you have to be flexible; she is extremely flexible," Kondos Field said.

"She's got all of the components that tend to make a good gymnast, but more so than the average gymnast. On top of that, she's got this gorgeous performance quality that is just mesmerizing."