Despite injury, Korver inspires UCLA women's basketball team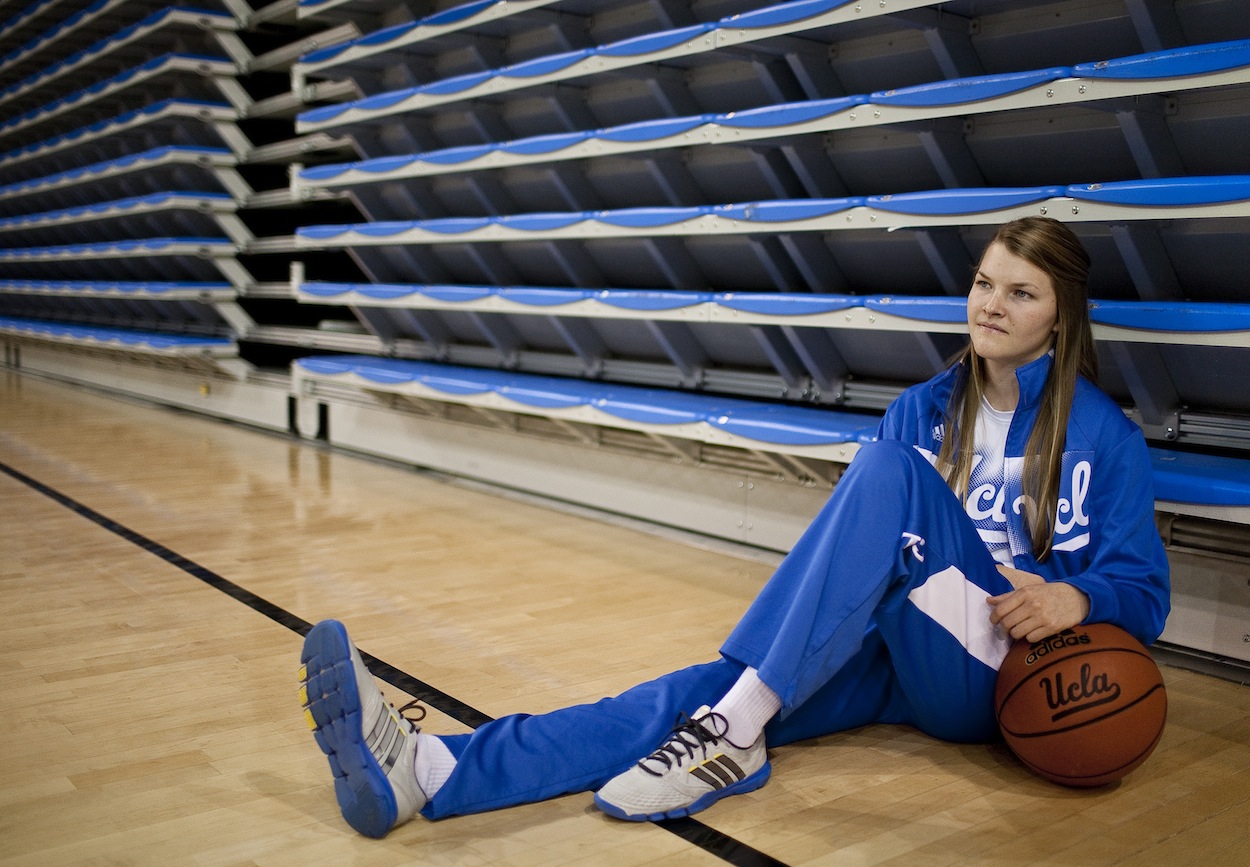 Sophomore guard Kari Korver tore her ACL and will not be able to play this season, but her leadership off the bench has helped the Bruins.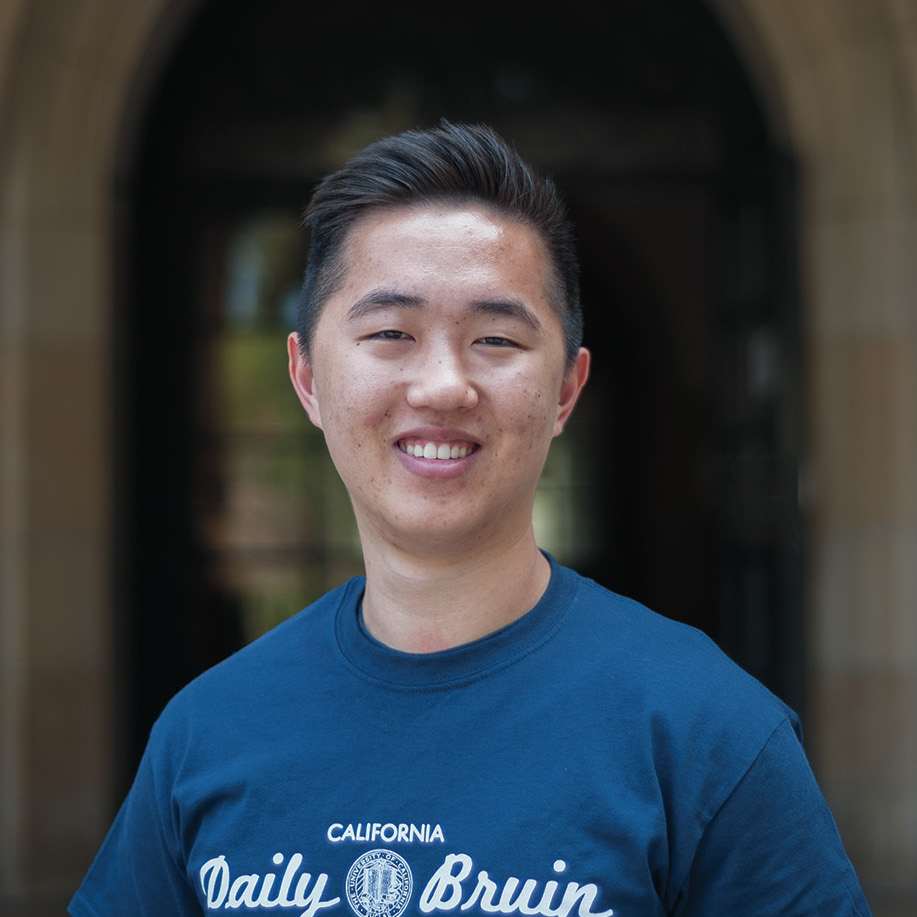 Knees bent, elbows in, eyes on the basket, follow through and swish. Kari Korver has made a name for herself off her deadliness from behind the three-point line.
But after tearing the anterior cruciate ligament and lateral meniscus in her right knee in the first week of practice, the sophomore guard can now only watch from the bench for the entirety of the UCLA women's basketball season.
But that doesn't mean she has to do it quietly.
Shortly after receiving the devastating news that she would have to spend the season rehabbing instead of lighting up the scoreboard with three-pointers, an opportunity presented itself.
Despite her injury and relative inexperience, Korver's teammates voted her as a co-captain, along with sixth-year senior forward Atonye Nyingifa and senior guard Thea Lemberger.
"She sets the example and does the hard things every day; she's responsible, she's respectful, she works hard, she cares about her teammates, she goes out of the way and she sacrifices," said coach Cori Close. "That's the definition of a captain, I don't care if you're hurt or not."
Always there, always helping
Not being on the court during game time means Korver has to find other ways to contribute to the team as a co-captain.
"I think encouragement is the main thing, I'm just reminding girls what they bring to the team, just trying to encourage them in whatever way I can," Korver said. "I have a car so I try to drive people places, just trying to help the team in ways they ask for it."
During practices and warm-ups, Korver is quite busy for someone with a torn ACL. One minute she'll be talking basketball with a teammate on the side and the next she'll be passing the ball to initiate drills.
Come game time, Korver sits on the bench in full UCLA sweat suit, the normal uniform for injured Bruins. But she's so much more than just another player unable to play.
Freshman guard Dominique Williams said she can always count on Korver for a piece of advice during games.
"Kari's great energy on the bench, she is always looking for something positive in your game and always looking for ways to encourage you," Williams said. "Whatever we need she's always trying to help us anyway possible."
Korver's role is nothing new. According to her father, Ken Korver, she's just a natural leader.
"Every team Kari's been on, she's kind of been the leader of the team," Ken Korver said. "People have kind of followed her on the basketball court because she's passionate about it, giving her heart to the effort."
While she can no longer lead the team on the court and impress fans with her prolific shooting ability, Korver still draws plenty of attention on the bench during games.
Whenever something goes UCLA's way, whether a big shot or great defensive effort, Korver will be in the forefront of the sea of cheers. She'll then high-five her way down the long line of players, coaches and staff on the bench, making sure everyone gets as excited as her.
"One of my assistants said today, 'I'm just worried she's going to have a stroke every game,'" Close said. "When I see Kari just going crazy for every play, there's just not one ounce of self-serving attitude or purpose in her. It's a real selfless act of leadership."
Not just a physical battle
Close estimates that the average Division I basketball player spends over 3,500 hours on the sport over four years, but only 4 percent of those hours are in actual games.
"It's all the other interactions that really form the culture and fabric of a team, and then it plays out on the court during games," Close said. "But the fabric, culture and standard of excellence are developed off the court or in practice, that's when Kari's at her best."
Close said her coaching staff all wanted Korver as a co-captain, and that she was thrilled Korver's teammates voted her as such despite the torn ACL.
After successfully coming back from an ACL tear in her left knee her senior year of high school, Korver said she feels even more confident than last time.
This time, she'll have access to therapy six times a week as opposed to just three in high school, and of course she wasn't doing the therapy at UCLA with a staff of doctors, trainers and weightlifting coaches who are with her every step of the way.
While Korver has to be patient with her knee, she's not letting the season go to waste.
"I knew I would grow a lot through this," Korver said. "I got to be a captain throughout my high school career, but I feel like leading at a Division I level is a lot different and so I'm just excited to start developing that as a sophomore."
That growth has already become quite evident in Close's eyes. Heading into halftime in the game against Colorado, UCLA was down by eight. As the team walked into the locker room, Close took Korver aside and told her to go into the locker room first and confront the issues that plagued the team in the first half.
Korver looked at her coach and nodded, albeit hesitantly, Close said, and confronted her teammates before Close took her turn.
"When we've had year after year after year of high levels of competitive greatness, I think we're going to look back and say Kari Korver helped us start that," Close said. "Kari Korver's example is the one that started that foundation."
Li joined the Bruin as a freshman in 2013 and contributed until he graduated in 2017. He was an assistant Sports editor for the 2014-2015 academic year and spent time on the football, men's basketball, women's basketball, men's soccer, track and field, cross country and swim and dive beats.
Li joined the Bruin as a freshman in 2013 and contributed until he graduated in 2017. He was an assistant Sports editor for the 2014-2015 academic year and spent time on the football, men's basketball, women's basketball, men's soccer, track and field, cross country and swim and dive beats.