Athletic trainer finds lifelong friend and 'Coach' at UCLA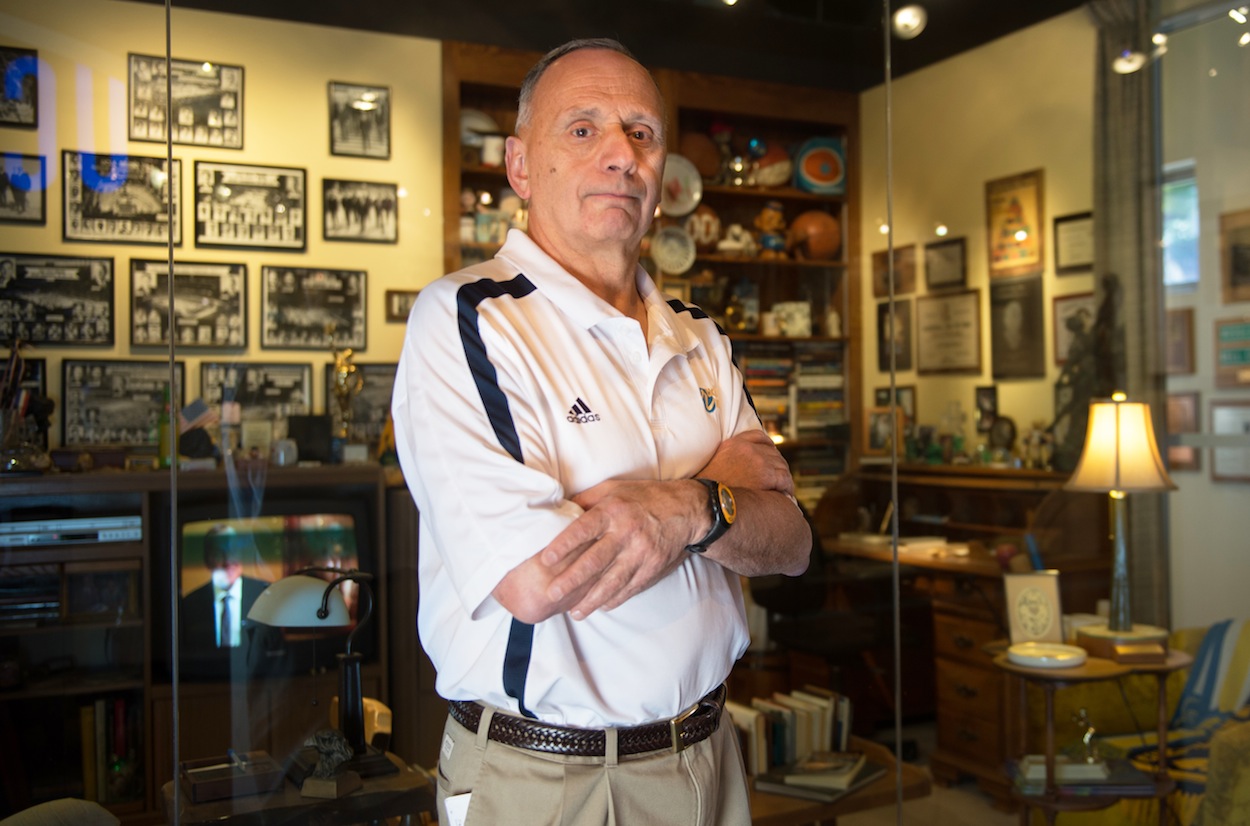 Tony Spino spent time in John Wooden's den taking care of the former UCLA men's basketball coach. A re-creation of that den has now been immortalized in the UCLA Athletics Hall of Fame.
Tony Spino stands atop the two-flight staircase overlooking the lobby of the John Wooden Center.
A few hundred feet and several racquetball courts behind him lies his new temporary office in the UCLA Competitive Sports Clubhouse.
Plastered on the yellow wall adjacent to the landing is something altogether more permanent. What Spino sees as he heads to his office each day is the first thing every Wooden Center patron sees upon entering the building – John Wooden's Pyramid of Success.
More than a series of geometrically crafted maxims, it's a reminder of the values and moral fiber of Spino's dearest friend.
Supporting its peak, for example, is the block "Competitive Greatness." UCLA's 110 national championships, the most in collegiate sports, are a testament to team after team buying into the motto "Be at your best when your best is needed."
In 37 years as a UCLA athletic trainer, Spino has been in the business of keeping athletes physically ready for those legacy-defining moments, making that "best" attainable. He has etched himself into UCLA Athletics' long history of answering the bell, working on the staffs of 27 different NCAA title-winning teams and dozens more who came painfully close.
He rehabbed Adam Wright's shoulders when the now-UCLA men's water polo coach won back-to-back national championships in 1999 and 2000. He's worked men's tennis matches with Billy Martin when Martin was both a player and coach. He knew Jorge Salcedo, the UCLA ball boy, athlete and men's soccer coach. Along the way, he has gained an understanding of the subtle differences between success and failure, as well as plenty of friends in the athletics community.
"We became not only athlete and trainer, but it became a friendship," said Wright. "He was like a mentor to a lot of us in athletics."
While "Competitive Greatness" sits alone on the top rung, even the most well-designed pyramids crumble to a frazzled array of misplaced bricks without a strong foundation.
Forming the crux of Wooden's decades-old system of values are two principles central to Spino's life: Friendship and Loyalty.
***
The latter was established over 40 years ago when Spino was still in college. He had a few high school friends from New Jersey on the USC basketball team, so he hoped for a training stint in the Trojan athletic program. Upon meeting with long-time trainer Jack Ward, however, he realized private school tuition paired with minimal stipend money ruled out USC as a possible destination.
"I was living on my own and I didn't have any money and I couldn't afford to go there and I couldn't really afford to take out loans because I didn't have a job or anything," Spino said. "UCLA was not on my radar at all."
Two weeks later, a rivalry basketball matchup at the Los Angeles Memorial Sports Arena created a blip. After the game, Ward chatted with legendary UCLA athletic trainer Elvin "Ducky" Drake, who asked his counterpart if he had any eager trainers-to-be looking for work. Ward said he had just the guy, but Spino remained hesitant.
"It was so big and I thought, 'I can't come here. This place is a huge place.' I thought I was going to get lost here and I was really uncomfortable," Spino said. "But I came over here and Ducky's really a convincing guy."
Drake agreed to provide some financial help, and Spino became a full-fledged member of the athletic training team, eventually accepting a full-time offer.
He still remembers the first time he met Wooden, who asked about his interest in being the athletic trainer for UCLA's freshman basketball team in 1970.
"I was intimidated. I was scared to death. I was a young kid, and I was like, 'This guy is a legend,'" he said. "He was just very kind and very soft-spoken and he made me feel relaxed. He didn't look down on me. He didn't disrespect me. He just treated me like an everyday friend, a good person."
From 1970 to 1975 he worked with a slew of UCLA's budding superstars, keeping players like Jamaal Wilkes, Dave Meyers and Bill Walton healthy while NCAA rules at the time held them out of varsity competition for a year. Before Wooden was allowed to use some of his most prized pieces on the court, he set aside 30 minutes of practice to gauge their progress each day, and Spino monitored their health and growth behind a curtain in Pauley Pavilion used to separate the two squads.
As the program's dynasty reached its twilight in 1975, Spino's opportunities saw a new horizon. In a matter of weeks, he was offered athletic training jobs with both the Milwaukee Bucks and the Boston Red Sox. The baseball fan in Spino wanted the Red Sox, but he knew summer family vacations would be hard to pass up. Milwaukee it was.
"From a career and a pension decision, it was a really bad decision, but for me and for the family it was a great decision," he said. "It was like Coach Wooden when he turned down the Pirates. We both turned down baseball."
Five years into the new job, new management for the Bucks cleaned house top to bottom. Spino took a job as an athletic trainer at Loyola Marymount University while he worked on a dual master's degree in administration and guidance counseling. He wanted out of athletic training for good, finding a new path in junior college guidance counseling.
"Right when I got all done," said Spino, rapping his knuckles heavily on the table in front of him, "I got a knock on the door."
Drake paid a visit to Spino's house in Simi Valley, asking what he thought about returning to Westwood.
"I'm getting older," Drake said. "And I need someone to do basketball for me."
Mulling over the "peaks and valleys" of his athletic training career, Spino said he'd think about it. He considered the pros and cons with his wife, Sandy, who finally reasoned, "You know, you really owe him."
Drake took a chance on Spino a decade earlier. Now he could provide his "thank you."
That was in 1981. He's been a Bruin ever since, helping form – with Drake – an athletic training history at UCLA that spans over 90 years.
"I think it could be arguably stated that … as a two-person continuum, they have encountered just about every UCLA student-athlete, student-manager, trainer, coach, administrator and so forth since virtually the founding of UCLA," said Dave Lew, a student trainer under Spino and Drake in the early '80s. "There are two people that can link all that time from back then to today, and that's pretty remarkable."
***
John Wooden had a doctor's appointment. Tony Spino had a few free hours.
In 1984, Spino was a trainer for the UCLA men's basketball team and, at the request of a team physician, went out to visit Wooden and examine his nagging shoulder. He drove Wooden to the doctor and kept him company during the appointment.
As the two men got up to leave, the doctor pulled Spino aside.
"'Tony, you've got to start taking care of Coach," the doctor said. "You've got to keep an eye on him.'"
Spino was happy to check in on his friend, but as he told Wooden after driving him home, there were ground rules. First, there would be no money. It was going to be a friend helping a friend, end of subject.
"You've done a lot for a lot of people, so I'm going to need to do something back for you," Spino said. "The first time people say I'm doing it for any other reason, I'm stopping. If you need me, I'm here for you. If you don't, that's fine."
Wooden agreed. They shook hands in the car, and that was that.
When he wasn't traveling for basketball, Spino would stop in three days a week, treating Wooden's knees and back, taking him on errands and driving him to get breakfast.
The two were far apart in age – Spino is 64 and Wooden would have celebrated his 103rd birthday last October – but had a surprising amount in common. Their birthdays are six days apart, their wedding anniversaries four. Wooden's father lost a farm in the Great Depression, as did Spino's grandfather.
Then, of course, there was baseball. Spino did his finest to stump Wooden with trivia questions in the car, and they shared a mutual love of Derek Jeter.
It took Spino an entire year to convince Wooden to throw out a first pitch during the 2002 World Series, a moment Spino calls "the thrill of my life."
Another time, they made the trip down to Anaheim to catch a game between the Angels and the New York Yankees. After Wooden was invited into the Angels clubhouse, manager Mike Scioscia asked if he wanted to sit in on the pregame coaches meeting. Wooden shot Spino a cautionary glance before being ushered in to the meeting.
An hour later, the group emerged, with Scioscia sporting a big grin.
"Can you bring him to every game?" Scioscia asked. "I took an hour and a half (with my lineup). He gives us a one-word answer and it was done. He was right!"
To Spino, it was classic Wooden.
"I don't think a lot of people get wisdom as they get older, but I truly think he had it from the day he was born," Spino says. "That was Coach. Guy was so smart, and I don't disrespect anyone, but he was a genius."
He also said Wooden's moral compass was unrivaled. Spino grinned as one of his favorite "Coach" stories came to mind.
Once, the two were sitting in Wooden's living room when the phone rang. Spino answered and told Wooden that former President Bill Clinton was on the other end. He was going to be in town on Wednesday and wanted to get lunch.
Wooden glanced at his calendar and was forced to give Clinton the bad news: He had a prior commitment, lunch with a high school coach flying in from Ohio.
"Coach, I understand, but it's the President," Spino said.
"I don't change my commitment," Wooden answered. His mind was made up, and the 42nd President of the United States would have to reschedule.
Only he never did.
***
Wooden suffered a bad fall in March 2008, breaking his left wrist and collarbone.
Shortly thereafter, UCLA reassigned Spino as Wooden's caretaker, giving him the full-time version of a job he told few about for years. He moved in with Wooden, and in the brief moments he did get with his family, he was always on call.
"He loved my daughter and he loved my wife, and they loved him," Spino said. "And that made it easier, too, because I wasn't home a lot."
Caregiving was an on-the-job learning process for Spino. He didn't eat a lot, he didn't sleep a lot. But he nevertheless committed to the job and to his friend and was going to see it through, no matter what.
"It took three long years before he passed," Spino said, his voice just above a whisper. "And I actually watched him going from walking to a cane to a walker to a wheelchair and then dying in three years."
Wooden died of natural causes at Ronald Reagan Medical Center on June 4, 2010. To some, he was the "Wizard of Westwood." To others, he was "Coach." To Spino, he was a best friend. He lost the man he had spent nearly every waking minute with for three years, someone who had confided in him over breakfast and errands for 25. His heart was broken.
"I cried my eyes out and I don't know why but I couldn't stop," he said, his eyes filling up. "I just – I guess I knew that I had lost a great friend and other than my family, I don't know anyone who showed me more respect. I knew that my life was never going to be the same and UCLA would never be the same for me."
At Wooden's memorial service, former UCLA football coach Terry Donahue told Spino, "It was a perfect match." Director of Athletics Dan Guerrero said he and Wooden "have the same heart."
Spino lost Wooden in June, his brother-in-law the following February and his father four months later, again in June. In his first year back on campus, he managed fine, but the losses compounded and became tougher to bear.
It's more than understandable – Wooden may be gone, but his memory and legacy live on everywhere on UCLA's campus. Pauley Pavilion's renovation and Wooden's statue serve as constant reminders of a friend he can no longer share work with. The Hall of Fame even holds the den of Wooden's Encino condominium where the two men welcomed visitors like Phil Jackson and Jerry West during Wooden's final years. The room Spino once visited daily remains behind glass.
"I knew that when I went home or if I did something I couldn't call Coach and tell him," he said. "He wasn't there anymore."
***
Three-and-a-half years after Wooden's passing, Spino says he feels "revitalized."
He just recently switched over to a career with UCLA Recreation, where he now serves as director of Athletic Training Services. He is once again working with athletes and, with over 45 club sports to keep track of, he's even learning the movements and muscle groups of a few sports for the first time.
Spino stretches, massages and schedules appointments just like he used to, but he's now providing immediate care in a program where there was none before.
"We definitely want to see that everybody's getting taken care of, and that's my goal, to make sure that everybody gets good care and they know where to come and they know what to ask," Spino said.
As he hires an athletic training staff, establishes a student training program similar to UCLA Athletics' and even takes care of logistics like concussion protocols and tests for club sports programs, he does so with the satisfaction of knowing that he can finally say he's taken care of everyone.
"I think that's what the legacy is … years of sustained excellence," said Lew of Spino. "If anything, I think the legacy continues to grow and I think he's going to have the opportunity to facilitate those opportunities for a larger portion of the student community, and that's a good thing."
It's still not always easy, however. For example, Spino said he's only been in the new Pauley Pavilion for staff meetings. The last game he attended was in 2007, when, at the request of Arron Afflalo, a player with whom he developed a strong friendship, he sat next to Afflalo's father for the final home game of his career.
Even today, wrapping his head around how he and Wooden's relationship came to be is no less complicated.
"Why me? I couldn't tell you why me," Spino said. "I don't know if anyone can answer that question, really. Maybe God, I don't know. Like Coach said, maybe it was just God's will that we were meant to be together."
He finds comfort, though, in knowing the next chapter of his career will be written in the building that sports the name of his best friend. He also knows it's a move that would have made Wooden happy.
"Now I kind of think, 'I'm doing this in the Wooden Center. Coach Wooden would be very proud of this,'" Spino said. "He would really say, 'Tony, this is a great thing you're doing for everybody.' Because he was always about everybody. He was about what was right."
So, too, is Spino. After all, they have the same heart.