UCLA's Tony Parker grabs last-minute 75-67 win over Alabama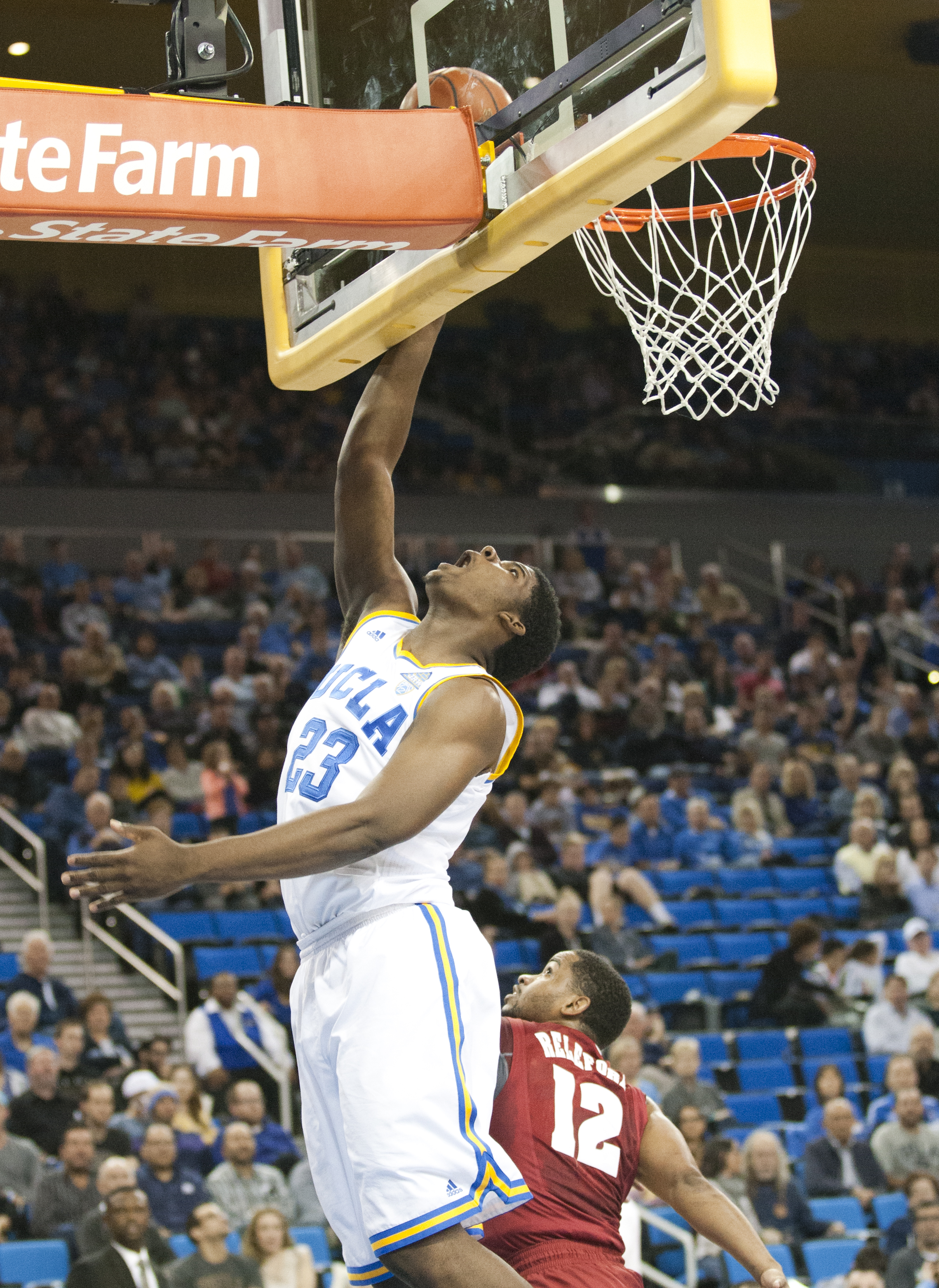 With two important rebounds, a block and a pair of free throws, sophomore forward/center Tony Parker helped UCLA break its tie with Alabama and emerge with a victory.
With halftime coming to an end and UCLA trailing 34-33, the Alabama Crimson Tide took the court at Pauley Pavilion to get in some stretches and warm back up for the second half. UCLA's side of the court was empty.
The Bruins were spending a few more minutes in the locker room, looking to make changes to their game plan after a first half in which they struggled.
Trailing at halftime for the first time all season, the Bruins had 20 more minutes to turn things around and come away with the win.
But they only needed one.
With the game tied in the final minute, sophomore forward/center Tony Parker rose to the occasion with two key rebounds, a block and a pair of free throws, giving UCLA a 75-67 win in its final non-conference game.
"We got a huge shot in the arm from Tony Parker," said coach Steve Alford. "I thought he was just terrific, especially in the second half."
Parker, who was shooting just 43.5 percent from the free-throw line entering the game, said he was not lacking in confidence in his big moment at the line.
"As a basketball player, you dream for those situations," Parker said. "… (Sophomore guard) Jordan (Adams) always messes with me about my free throw shooting so I tried to get back at him. I winked at the bench at the guys when I made free throws tonight, so that was big."
After Parker drained the free throws, the season-high crowd of 9,061 rose to its feet and chanted his name.
"It was cool," Parker said. "I was really just trying to focus on getting two more stops so we could go home with the win."
UCLA (11-2) got the stops, forcing the ball out of the hands of Alabama's senior guard Trevor Releford, who had a season-high 34 points, and getting a block from Parker to seal the deal. Parker, who had a team-high 16 points, was not without criticism, however.
"He played very well down the stretch, I must admit," said sophomore guard/forward Kyle Anderson. "I'm still mad at him for five rebounds. That's unacceptable."
Parker's lack of production on the boards was made up for by Adams, who had a team-high nine rebounds, seven of which came in the second half. Adams' improved second-half rebounding mirrored that of his team; the Bruins trailed in the rebound margin by six at halftime, but finished the game having out-rebounded the Crimson Tide (5-7) by 11.
"That's been our Achilles' heel the whole season, so that was my main focus coming out the second half was to grab my rebounds," Adams said.
Alford, who talked to his team about improving its rebounding in the second half, had another message to his players at halftime.
"(I told them) that we needed this," Alford said. "We're getting ready to get into conference season … so we needed this. … We needed somebody to really give us a good shot at home. … It's been a long time at home since we've had that, and so it was good that we had to get into a possession-by-possession game to see where we were, and I thought we grew and matured a lot in this game."