Art exhibition gives voice to survivors of sexual assault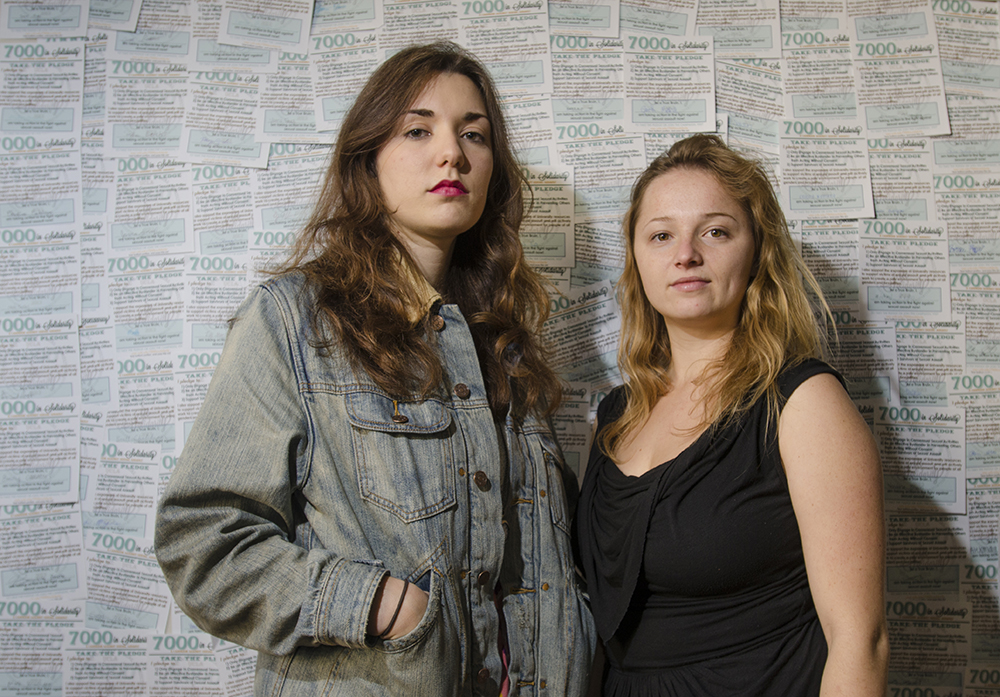 Savannah Badalich, the Undergraduate Students Association Council Student Wellness commissioner and Claudia Varney, a third-year arts and cultures student, are co-chairs of the 7,000 in Solidarity campaign against sexual assault.
Finding the courage to connect her face to her story of sexual assault was part of the healing process for Talia Bombola.
When the third-year psychology student first saw a photo of herself holding a poster with a quote from her assailant on the walls of the Kerckhoff Art Gallery on Tuesday, she said she felt her face become hot and uncomfortable.
But, she said she knew she chose to make her experience public for a good reason.
"People should understand that this happened to people you see in class, at parties, in student orientation," said Bombola.

Bombola is one of 12 UCLA student survivors of sexual assault who originally contributed to the 7,000 Rising: A Consent Revolution Art Exhibition. The project is a collection of portraits and quotes aimed at giving a voice to sexual assault survivors on campus.
The gallery is part of the 7,000 in Solidarity campaign against sexual assault, which the Undergraduate Students Association Council Student Wellness Commission and the USAC Office of the President launched this year.
The art exhibit is meant to create a sense of solidarity among survivors of sexual assault and to educate students about ways to prevent sexual assault and support survivors, said Savannah Badalich, the Undergraduate Students Association Council's Student Wellness commissioner and co-chair of 7,000 in Solidarity.
Badalich, a survivor of sexual assault, is also one of the students featured in a portrait in the gallery.
"We want other students to look Bruins directly in the eye and understand that sexual assault is a problem on campus," Badalich said.
The photos are inspired by Project Unbreakable, a nationwide movement of similarly staged photos meant to encourage healing and to shed light on the stories of survivors of sexual assault, said Claudia Varney, co-chair of 7,000 in Solidarity and a third-year world arts and cultures student.
In the photos, survivors of sexual assault hold posters with quotes from their assailants or friends. Some show their faces, while others hide them.
Varney, who took some of the portraits for the gallery, said participants chose how they wanted to be photographed.

Some survivors of sexual assault chose to have their photos taken from below so that they are in a position of power in the pictures, Varney said. Others wanted to be photographed in a closed place to represent how they felt trapped, or in symbolic places on campus like the USAC president's office or Bruin Plaza.
The survivors of sexual assault also chose the quotes they held up in their photos.

"I gave them a piece of paper and a pen to write down their quote, and as they wrote they started telling their story to me," Varney said. "Some told me 'I've never actually told this to anyone before.'"
One survivor quoted a friend asking her, "Did you lead him on?"

Bombola cited her assailant saying, "No one will hear you say no. Stop fighting it."

The photos cover two walls in the gallery. A third wall of the gallery is filled with colorful cardboard posters with what the sexual assault survivors said were upsetting quotes they heard from UCLA administrators and friends.

UCLA could not respond to the stand-alone and unattributed quotes, said Tod Tamberg, a spokesman for the university in an emailed statement.
UCLA is committed to educating students about and preventing sexual assault, and caring for survivors of sexual violence, Tamberg added.

The gallery provides hotline numbers and informational pamphlets about emotional, legal and medical assistance available to survivors of sexual assault on campus.

Dozens of students, many of whom contributed personal stories and reflections to the gallery on the wall, attended the gallery's opening event on Tuesday.
Suzanna Tran, a third-year gender studies and English student, said the bravery of the people in the photographs inspired her to action.

To act in solidarity with survivors, Tran said she contributed her own quote to the wall in the gallery.
Anthony Montalvo, a fourth-year English student and the internal public affairs director for the USAC Office of the President, said he was touched by the photos.
"It's surreal to think these are actually students on campus I may have bumped into," Montalvo said, while looking at the display.
Paper pledges signed by students who vowed to be conscious of the definition of effective consent and to provide a supportive environment for survivors of sexual assault cover the fourth wall in the gallery. Badalich said more than 2,000 students have pledged with the 7,000 in Solidarity campaign since its launch in September.
Bombola said she wants the gallery to inspire students to acknowledge that sexual assault occurs on campus and to be supportive to people who may have experienced sexual assault.
"Be aware that people might be telling or wanting to tell you something even if they are not, because they trust you," Bombola said. "You should be a place of love."
Badalich said she hopes some elements of the gallery will eventually be moved to a permanent installation in the world arts and cultures/dance department at the beginning of winter quarter.