UCLA volleyball's Karsta Lowe went from walk-on to top player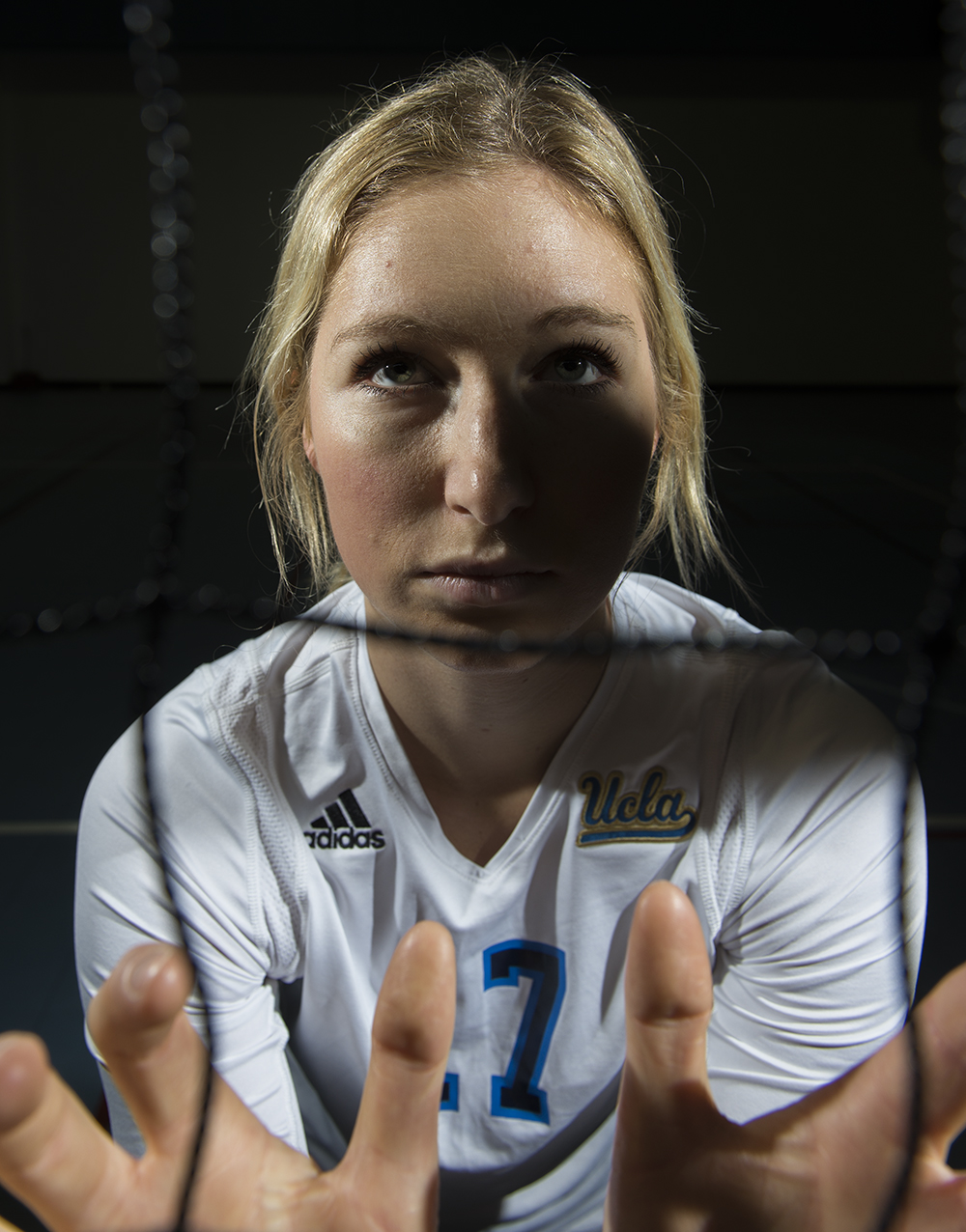 After walking on her freshman year, junior outside hitter Karsta Lowe has emerged as one of the Bruins' top performers.
Look at Karsta Lowe today, and it would be hard to believe that she was born to be anything but a volleyball player. Watch the 6-foot-4-inch junior leap into the air and coolly slam a searing kill through the heart of an opposing defense, and it seems ludicrous that four years ago, she wasn't even sure if she was going to play college volleyball.
Early on, it seemed as if fate had other things in mind for the Bruins' star outside hitter. Until her sophomore year of high school, Lowe was a two-sport athlete who excelled at both tennis and volleyball. Forced to choose between the two, she eventually decided that volleyball was the sport she wanted to play.
However, she received meager interest from colleges. While most high school volleyball players are recruited heavily in their sophomore and junior years, only a handful of East Coast programs offered Lowe a scholarship. And after visiting them, the San Diego native realized that she just didn't feel comfortable so far from home.
So she visited UCLA and immediately fell in love. Even though the school had no scholarship money for her and she knew that she would have to walk on to the team, Lowe decided in the spring of her junior year that she was going to be a Bruin.
"I definitely wanted to be challenged," Lowe said. "I didn't want to go somewhere where I would be the best player automatically. Fighting for a starting spot is really exciting, and I wanted to go to a really high-powered school, one that I knew would do well in the (NCAA) tournament, and (one) where I would always have something to work for."
The choice paid Lowe immediate dividends. Midway through her freshman season in 2011, she found out that she had earned a full scholarship for the rest of her career. And, though Lowe played only sparingly, her team went on a spectacular run, sweeping through the NCAA playoffs and winning the NCAA championship.

By December 2011, Lowe had barely finished her first quarter of college – and had a scholarship and a championship ring to show for it. She knew nothing else but winning, and expected that every season would bring much of the same success.
But success is a fickle friend, as Lowe and her team were soon to find out. In 2012, though the Bruins went 22-7 and entered the NCAA tournament as the No. 7 seed, they lost in the second round – abruptly ending their season far before anybody expected.
It was the first time in her career that things had truly gone wrong for Lowe. Though her playing time had increased and she was growing as a player, that didn't ease the heartbreak she felt after her team's loss.
Unfortunately for Lowe, that first bitter taste of defeat would become a familiar one – for the 2013 season has brought with it its own weighty emotional toll. Thus far this season, the Bruins are just 15-13. For the first time in her career, Lowe had to contend regularly with defeat, and said it's been difficult.
"The first couple losses were heartbreaking," Lowe said. "But now … I think I've definitely gotten more used to (dealing with) losing. I used to sulk in the corner for like twenty minutes after (each loss), where now it's like, 'Move on, get over it.'"
Lowe says that this adversity has pushed her to grow emotionally, forcing her to learn to maintain an even keel and not get too caught up in the sport's ups and downs.
This emotional development has also pushed her to improve as a player. With the departure of graduating outside hitters Rachael Kidder and Tabi Love after last season, Lowe has emerged as the Bruins' most potent offensive weapon. She leads the team with 4.31 kills per set, and was selected as the Pac-12 Offensive Player of the Week earlier this year.
"She's never played this amount (before)," said coach Michael Sealy. "Last year we had two primary left-side hitters, she was the third or fourth option … and now she's the go-to. (Karsta's) definitely growing and becoming a big-time player."
According to Sealy, the most notable improvement in Lowe's game has been her increased physicality. As he said earlier this year, Lowe is playing with more power now than she ever has in the past.
Lowe agreed, noting this change in her game.
"I've definitely gotten a lot stronger since freshman year, when I was basically a toothpick," Lowe said. "I've gained a lot of muscle since then, and I think my body has grown more, (making me) a stronger volleyball player."
The increase in playing time, however, has brought with it its own set of tribulations. Lowe, as a key member of the offense, has played the bulk of nearly every set this year. Not used to playing so much without a break, her body hit a wall in mid-October.
Lowe began experiencing long bouts of complete deadness in her legs – the muscles were in so much pain that she could barely move them. She was forced to sit out a few practices, as well as adopt a new set of training routines, making sure to stretch more and refuel properly after matches – in order to help her body adjust to and recover from the workload in the future.
What that future will hold for Lowe, however, remains to be seen. Lowe said her biggest goal is to cap her career with another national championship, and is striving to become more multifaceted as a player in order to help her team achieve that goal. Lowe's hitting prowess is indisputable, but she feels that she has room to grow in her blocking, passing, and defense – and is hard at work in practicing to improve these areas of her game.
"Karsta works really hard overall," said junior setter Megan Moenoa. "This summer, she was a big leader in the group that did extra lifting and conditioning, and she does a good job of leading by example."
From tennis player to walk-on to bona fide star, the rise of Karsta Lowe is a tale that continues to be written – whether beneath the brilliant lights of Pauley Pavilion or the more subdued ones of the Bruins' practice gym. And, given Lowe's intelligence and growing passion for the game, she's hard at work to make the rest of this story a good one.
"Karsta realizes that she has top-end potential, and she's (going) to keep learning and growing. She's a bright kid, who understand the nuances of volleyball, understands how she can get better," Sealy said. "If (improving) is something Karsta wants to do, the sky's the limit."