Alexandra Tashman: Assault policies need student feedback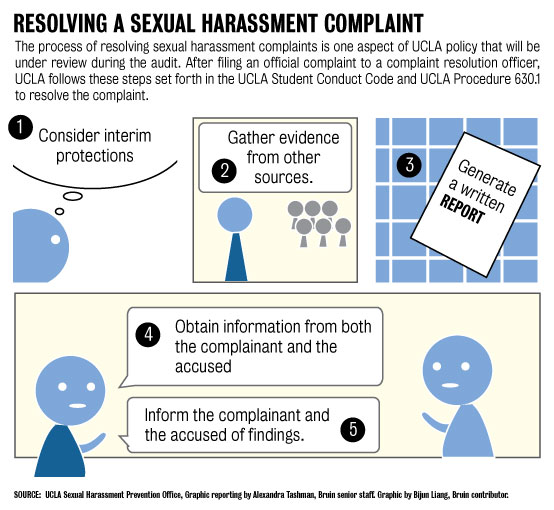 November 26, 2013 12:00 am
The greatest ally any perpetrator of sexual violence has is silence. By speaking out, survivors can make sure crimes don't go unpunished and are less likely to be repeated.
Last week, UCLA was chosen as one of four California public universities to undergo an audit approved in August by the California Joint Committee on Legislative Audit. The audit will seek to determine if UCLA is in compliance with Title IX, a provision that requires gender equality in schools that receive federal funding. Specifically, it will address sexual violence and sexual harassment policies.
Regardless of the audit's results, the state review should be an impetus for UCLA to improve its own sexual violence policies by expanding student input. In order to make sure that the process of reporting and responding to sexual assault is an inclusive one, and that survivors at UCLA are being heard, UCLA administrators must make an active effort to solicit student opinion on the university's sexual violence policies.
Students can already direct suggestions to Debra Geller, the executive director of community standards in the Office of the Dean of Students. The undergraduate and graduate student governments are also regularly polled for input. But an effort must be made to bring rank-and-file student survivors into the process.
The whole underlying purpose of this audit is to help students break their silence, and to make sure universities are listening to them when they most need personal and institutional support.
UCLA officials said in a statement that the university welcomes the state review of its policies. But the university needs to do more than just meet the minimum standard of the audit.
And since the audit request made back in August has no mention of soliciting suggestions or comments from students within the auditing process, it is up to UCLA to go above and beyond and get student input on how well its current sexual assault policies are working.
This could be done through something as simple as an online suggestion box to log student concerns or opening up times for students to meet with UCLA Title IX Officer Pamela Thomason to discuss ideas for improvement.Even an annual public comment period would allow students to communicate directly with administrators on a consistent basis to make sure that the university is doing its job.
Thomason deferred comment to UCLA spokespeople for this article.
To be clear: UCLA was not selected for the audit because of any known wrongdoing. But students could have complaints about the system that may not merit an entire state audit even though they deserve to be heard.
Regardless of what UCLA is doing internally to revise and update its sexual assault policies, the audit will tackle a wide variety of requirements for both student and administrative education. UCLA can take this opportunity to learn and expand its policies in a way that meaningfully includes the students it is working to protect.
The audit will look into a number of different areas, including whether audited campuses do an adequate job of educating students on sexual violence and if university officials are trained to appropriately respond to incidents, according to the Analysis of Audit Request approved by a state legislative committee in August.
The audit will also determine how many complaints were referred to law enforcement, which is particularly interesting in the case of UCLA. The university had the highest number of reported rapes of any public college campus from 2008-2011, and the second highest (by one) in 2012, according to FBI crime statistics.
In order to prevent situations that would necessitate a complaint, UCLA administrators need to do more than just meet the bare minimum of compliance with this or any audit. By actively pursuing student input, not only can administrators improve student resources and help survivors overcome their trauma, but also they can consistently ensure that they go above and beyond to protect students.
It's already hard enough for survivors to break their silence. UCLA should take every possible step to make it easier for them to speak out.