UCLA men's basketball overpowers Chattanooga, 106-65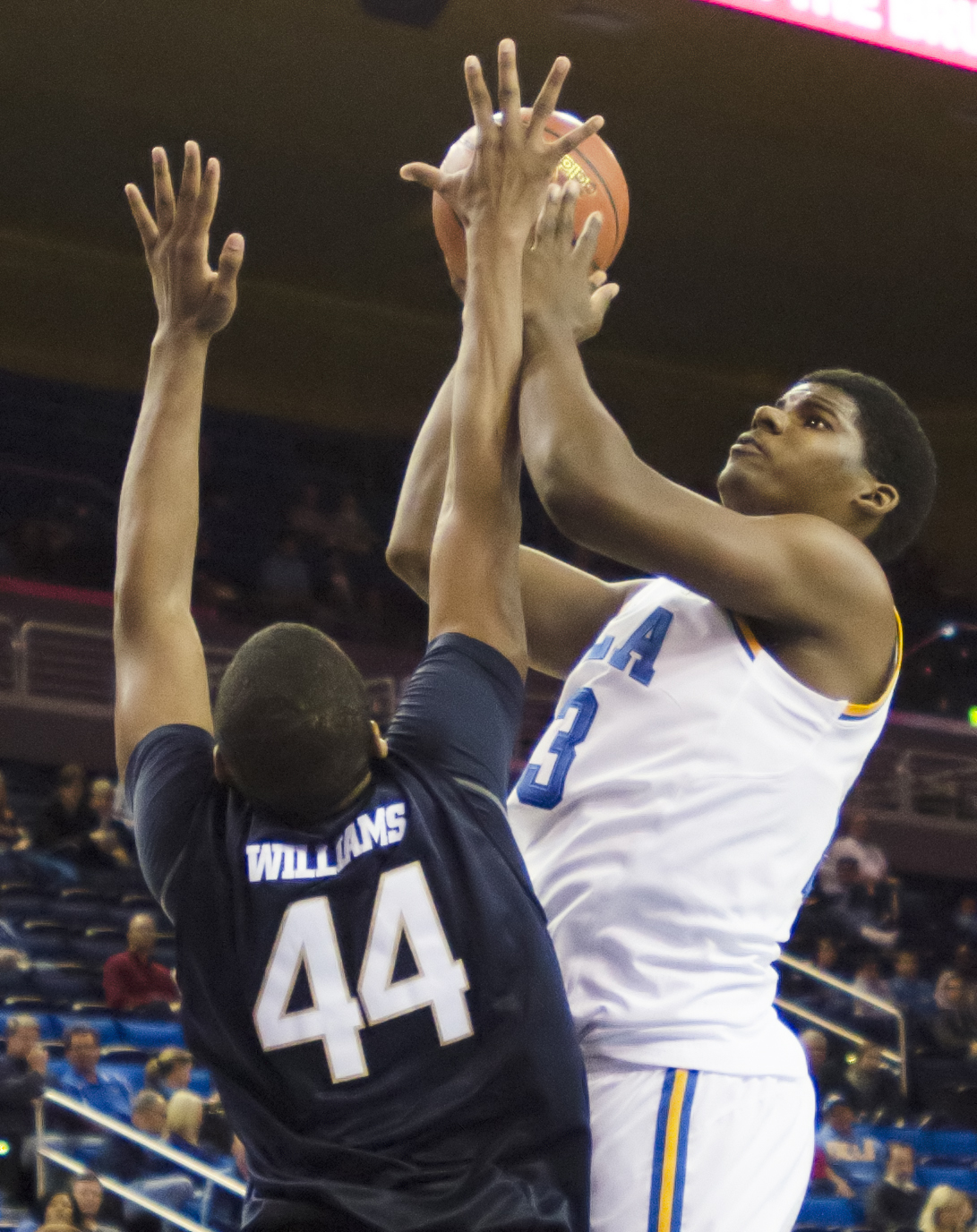 Sophomore forward/center Tony Parker had a career-high 14 rebounds against Chattanooga on Sunday.
With just a couple minutes gone in the second half, Norman Powell dribbled up the baseline full speed ahead.
By the time he realized there was a Chattanooga defender with his shoulders squared standing just outside the key, it was too late. The junior guard rose up and threw down a powerful right arm.
UCLA defeated Chattanooga 106-65 on Sunday night in its highest-scoring affair since December 23, 2008, and from about the sixth minute onward, it was a laugher filled with high-flying dunks from Powell and fellow height enthusiasts like freshman guard Zach LaVine.
"I was just being aggressive," said Powell of the dunk. "I saw that he gave me the lane and I took it. The easy part was dunking it."
On UCLA's next possession, he saw an opening, sprinting and leaping to receive an alley-oop pass from sophomore guard Jordan Adams.
The crowd went wild. The Mocs called a timeout. They were two plays powerful enough to change the momentum of a game, but the Bruins already led by 30.
With 13:06 left to play in the first half, an Adams three-pointer brought the tally to 19-8, a Bruin lead that would grow to 22 at the half.
Two nights after the Bruins shot a pedestrian 6-for-18 from beyond the arc against Morehead State, their attack from long range was more conservative and altogether more successful. Leading by a wide margin in the second half, it wasn't a shot UCLA needed to take, so it didn't, letting it fly just three times from deep after the break.
"I feel like we did a great job (with shot selection)," said Powell, who finished with 19 points. "Throughout the game I feel like we missed some easy layups at the rim, but our mindset was just to stay aggressive and share the basketball."
And they shared efficiently, too, playing at a 23-11 assists-to-turnovers clip, one of their best of the season so far. Sophomore forward Kyle Anderson led the team with seven assists.
The Mocs (2-4), who finished eighth in the Southland Conference last season, certainly aren't the marquee-caliber opponent the Bruins will start to face come December. Still, coach Steve Alford said he was pleased with his team's effectiveness, particularly because Sunday marked the completion of UCLA's first two-games-in-three-days swing of the season.
"Playing that Friday-Sunday deal, it's like Pac-12 play. We'll come back to this in about a month to six weeks and say, 'We've done this already,'" Alford said. "I thought we played better tonight than on Friday night, and that's always a good thing that guys can respond after a win and play better."
One individual who responded after putting UCLA in jeopardy with early foul trouble on Friday night was sophomore center/forward Tony Parker, who grabbed a career-high 14 rebounds against the Mocs. To Parker and the No. 25 Bruins (5-0), Sunday's win was unique in that it was a more complete performance.
"(Coach Alford) really got on us about playing the whole game and not having any mental lapses and I feel like we really reached our goal tonight with playing the whole 40 minutes," Parker said. "Down the stretch I think that'll really help us against elite teams."
The elite may wait, but the Bruins will be tested away from Pauley Pavilion for the first time all season Thursday when they travel to Las Vegas take on the University of Nevada in the Continental Tire Las Vegas Invitational.