UCLA workers participate in statewide strike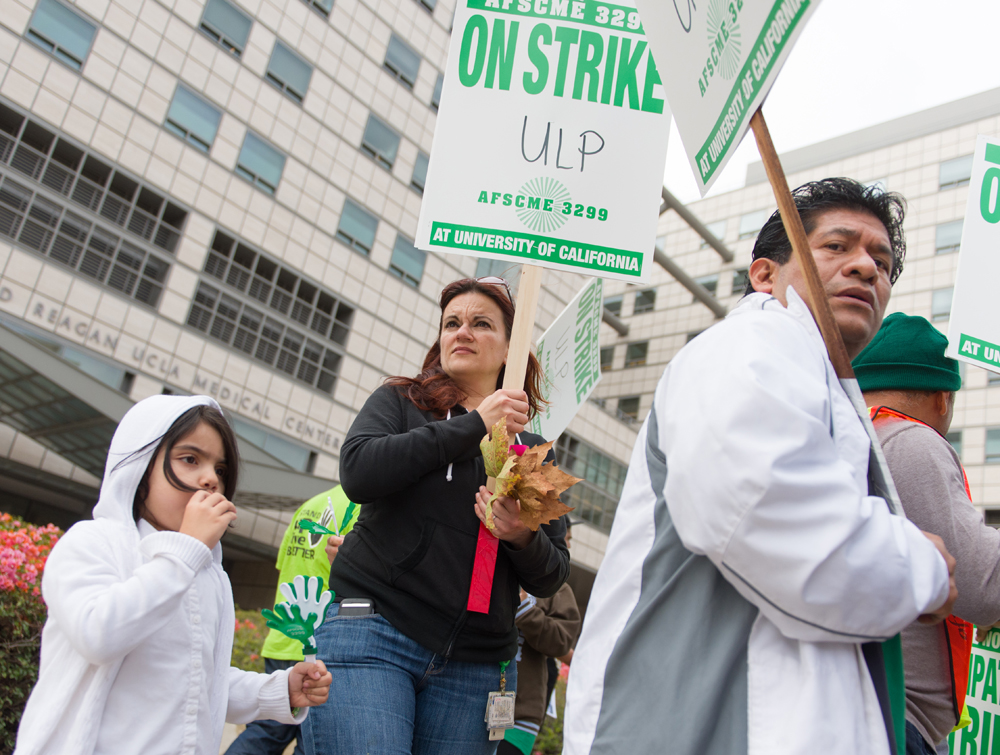 Members of the American Federation of State, County and Municipal Employees Local 3299 union strike outside of UCLA Ronald Reagan Medical Center.
The original version of this article did not include the full perspective of the University of California. The article has been amended to include a statement from a UC spokesperson.
Two union strikes on Wednesday caused the shutdown of several residential restaurants, the cancellation of several discussion sections and the delay of some elective surgeries, costing the University of California millions of dollars.
Members of the American Federation of State, County and Municipal Employees Local 3299 union, which represents 22,000 patient care and service workers across the UC system, went on strike to protest what they call unfair labor practices by the University. The union alleges that various levels of management and supervisors harassed workerssurrounding a similar protest held in May.
The UC Student-Workers Union, United Academic Workers Local 2865, which represents more than 2,200 teaching assistants and readers at UCLA, also went on strike in solidarity with AFSCME 3299.
Workers gathered in Bruin Plaza from noon to 2 p.m with signs and matching green T-shirts to rally against what they called unfair labor practices and listen to speakers.
[Watch the strikers march through campus in the video below and see more photos by clicking here]
Picketers cheered as speakers renounced intimidation and understaffing. UAW 2865 members were especially vocal when organizers spoke of community and solidarity. The back of their shirts read "Our Patients, Our Students, Our Future."
The body of protesters moved to Ronald Reagan UCLA Medical Center for the afternoon and later went to the Hill.
About 500 people participated in protests at Ronald Reagan UCLA Medical Center, said Brooke Converse, a UC spokeswoman.
There were about 230 campus workers who did not show up for work – including chefs, service workers and maintenance workers, said Tod Tamberg, a spokesman for UCLA.
The strike cost UCLA Health System $2.5 million in lost revenue and expenditures on replacement workers, said Roxanne Moster, a spokeswoman for the UCLA Health System.
Tom Rosenthal, chief medical officer of UCLA Health System, said the strike was unfortunate because the 10 to 15 people who had their surgeries postponed had to plan them weeks or months in advance.
UCLA Dining Services closed Feast at Rieber, Bruin Plate, Café 1919 and Hedrick Test Kitchen because of the strike,and menus were limited at the on-campus restaurants that remained open.
"What we (want) is a workplace that is free of intimidation for those who speak up for safety," Todd Stenhouse, spokesman for AFSCME 3299. "It's hard to understand why folks who speak up on these issues face egregious harassment."
During the May strike, UC asked AFSCME-represented employees if they planned to come to work, which is normal procedure and legally permissible, UC spokeswoman Brooke Converse said in an emailed statement. Workers were asked so the UC could adjust staffing as needed and ensure proper care for patients during the strike, Converse added.
The Public Employment Relations Board is still investigating the union's claim of unfair labor practices and hearings about the incidents are scheduled for March, Converse said.
"Only after the hearing will the Board make a decision on whether there was in fact wrongdoing," Converse said.
Teaching assistants who participated in the strike cancelled their sections and office hours. Organizers did not know how many teaching assistants canceled their classes, but Stenhouse said that over 100 UAW Local 2865 members were participating in the rally at Bruin Plaza.
"We hope to demonstrate that when one of us is abused, we will stand together against that," said Jason Ball, the elected chair for the UCLA branch of the United Academic Workers. The union participated in the strike because it feels it is important to support other workers in the university community, he added.
Isabel Gómez, a graduate student in the Spanish and Portuguese department who teaches a section of Spanish 3 and is a member of UAW Local 2865, said while some students were surprised by the canceling of her section, a majority of students expressed understanding and some sent emails in support of the strike.
"I want to participate as a student worker to show my students that being politically aware is part of being an educated student," Gómez said.

Students should not expect teaching assistants to make up sections or office hours by default, although some may reschedule, said Sayil Camacho, a graduate student of education and information studies and a head steward of UAW Local 2865.
Camacho said canceling sections and office hours is a good way to get the attention of the administration. "If students complain to administration –because they are the customer –that this is unfair, then all the more power to us."
Terri Patterson, a pharmacy technician at Ronald Reagan UCLA Medical Center, said understaffing that leads to overtime work for patient care workers is a common problem.
"We work eight hours, but sometimeswe can work up to a full day –16 hours –just to cover people's positions, vacation times," Patterson said.
Striking workers and messages in chalk along Bruin Walk urged students not to swipe into dining halls on the Hill in support of the strike.
Zihan Xie, a first-year undeclared life sciences student, said while it was clear that the union did not want students to eat at residential restaurants,he didn't understand the goals for the protest.
Xie said that he was even less clear about why the unions didn't want students to eat in dining halls, and added that if he did know he might have participated. Instead, he said he ate at Bruin Café because Rendezvous was closed.
Shea Chuey, a second-year international development studies student, said after hearing the protesters at Bruin Plaza she decided not to swipe in solidarity with their strike.
"I support them because, for the amount of work they do, they deserve better working conditions," Chuey said.
A superior court enjoined 49 workers from striking, including six respiratory therapists at Ronald Reagan UCLA Medical Center.
Stenhouse said the union voluntarily exempted dozens of critical care workers and formed a patient protection task force with a direct line of communication, whereby emergency needs can be met in an effort to ensure patient safety. He said there are discussions to secure future dates for negotiations.
Converse said the UC is looking forward to returning to the bargaining table.
Contributing reports by Loic Hostetter, Bruin senior staff, and Christopher Hurley and Janet Nguyen, Bruin contributors.