Professor teaches about the Baha'i Faith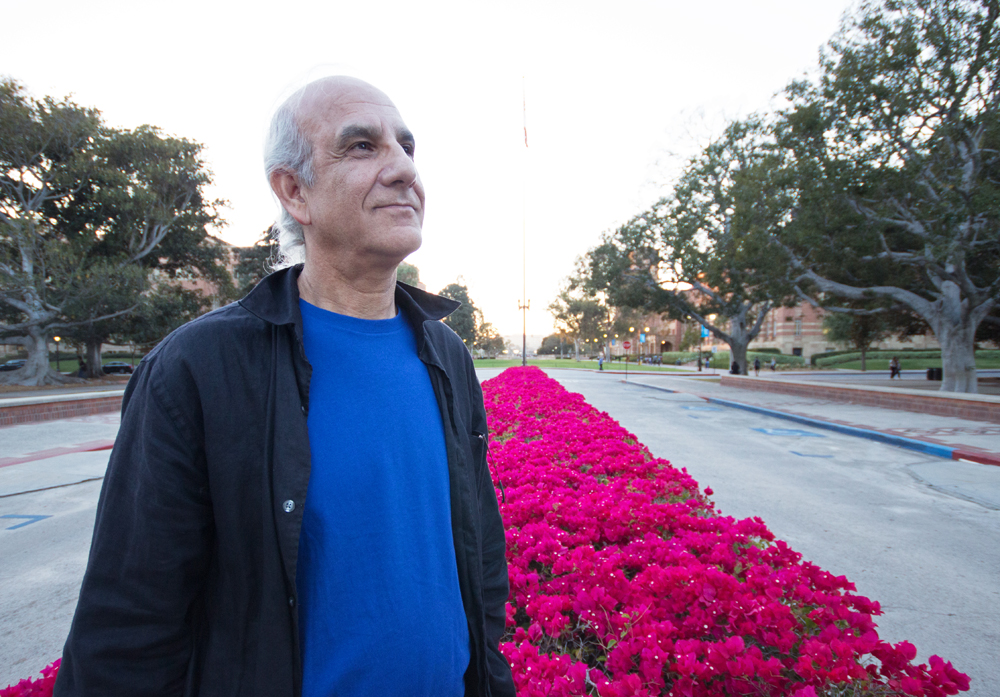 Professor Nader Saiedi teaches about the Baha'i Faith, a minority religion that is becoming increasingly popular throughout the world.
As a young atheist, Nader Saiedi felt that his family's religion contradicted his trust in reason.
The current UCLA professor could not reconcile what he believed were inconsistencies between faith and reason until he began researching the Baha'i Faith – a religion the Iranian government considers heretical, Saiedi said.
The Baha'i Faith is a minority religion based on what Saiedi called the "unity of humankind, oneness of all religions and oneness of God."
The faith, which was founded by Baha'u'llah in 19th century Iran, is one of the youngest, rapidly spreading religions practiced across the world. In past decades, Baha'is have been persecuted by Iranian authorities, said Latifeh Hagigi, a lecturer of Iranian studies under the Near Eastern languages and cultures department.
"(Baha'is) believe that Baha'u'llah is the new messenger for this time and age, (and that is for Muslims, heresy because we don't believe that Muhammad was the last prophet," Hagigi said.
"Seeing these persecutions, I expected Baha'is would pretend they're Muslims," Saiedi said. "But they weren't going to deny their faith, their freedom of conscience. They believed in the dignity of human beings."
Saiedi currently teaches a class called "Baha'i Faith in Iran: Historical and Sociological Survey," which delves into the historical and cultural background behind the faith. He will be teaching two other courses about Baha'i teachings and Baha'i relations over the next two quarters.
At UCLA, about 40 students follow the Baha'i Faith, Saiedi said.
Saiedi's class focuses on Baha'i history in the context of Iranian history, exploring the political and social developments that the faith has helped bring about in Iran, he said.

He said he thinks the Baha'i belief in the equality and unity of mankind has helped introduce gender equality, ideas of political democracy and religious freedom to Iran in the 19th century.

"To have human rights, democracy (and) equality, it is necessary to define identities of humans not in terms by their biology or nature, but in terms of their spiritual commonness with reality," he said.
Saiedi said Baha'is have a progressive view of religion; they think that religious teachings should accommodate and reflect the changes that occur in society.
Baha'is believe that God is manifest in the form of different messengers throughout history with Baha'u'llah, the founder of the faith, being the most recent one.
Baha'is are encouraged to adopt the belief system through a process of independent study and discovery. They investigate other religions as well as the Baha'i Faith to decide which religion is the most appropriate for them, Saiedi said.
Saiedi said it took him a long time to transition from being atheist in his twenties to reach his current position as an acclaimed scholar of the Baha'i Faith and a professor of Near Eastern languages and cultures, teaching students about the religion he once rejected.

When he was given the choice to pursue independent discovery, Saiedi said he would study what interested him at the time – Western and Eastern political philosophies.

But as he began studying the Baha'i Faith closely, he became curious about the faith from a sociological perspective. He said he wanted to learn more about the social, economic and political consequences of Baha'i ideas.

Saiedi realized religion and reason could go hand in hand when he studied the Baha'i Faith as a part of his sociological research on religion in his doctorate years.
"Identities are defined by their differences from everything else. Realistic, non-spiritual view looks world at this way," Saiedi said. "In reality, nothing is independent from everything else. There's unity of all beings." 
Soraya Bagheri, a UCLA law studentwho takes Saiedi's class, said the professor takes an objective look at the faith, incorporating other religious teachings into the class material.

"He's very passionate about the class. Although he's Baha'i, I don't feel like it's biased in any way," Bagheri said.
Nilu Dabirpanah, a third-year anthropology student and member of the Baha'i community, said her belief in the faith doesn't stop at simply learning about its intricacies and tenets.
"As you learn, you need to serve. It's an interplay of theory and practice to truly gain knowledge," she said.

Part of her work for the Baha'i Faith includes teaching students between the ages of 12 and 15 about academic and religious subjects. She used course materials from the Ruhi Institute – an educational institute operated by the National Spiritual Assembly of the Baha'is in Colombia.

Saiedi said he thinks it takes more than acceptance of the faith to put Baha'i beliefs into practice. A person becomes a Baha'i only after studying other religions in addition to the Baha'i faith. A person is encouraged to study other religions in addition to the Baha'i faith before making a choice.
"Nobody is born a Baha'i; you yourself have to independently study and investigate," Saiedi said. "If you are convinced of the truth of the religious orientation, you accept that."