Soccer player juggles commitments to UCLA, New Zealand's national team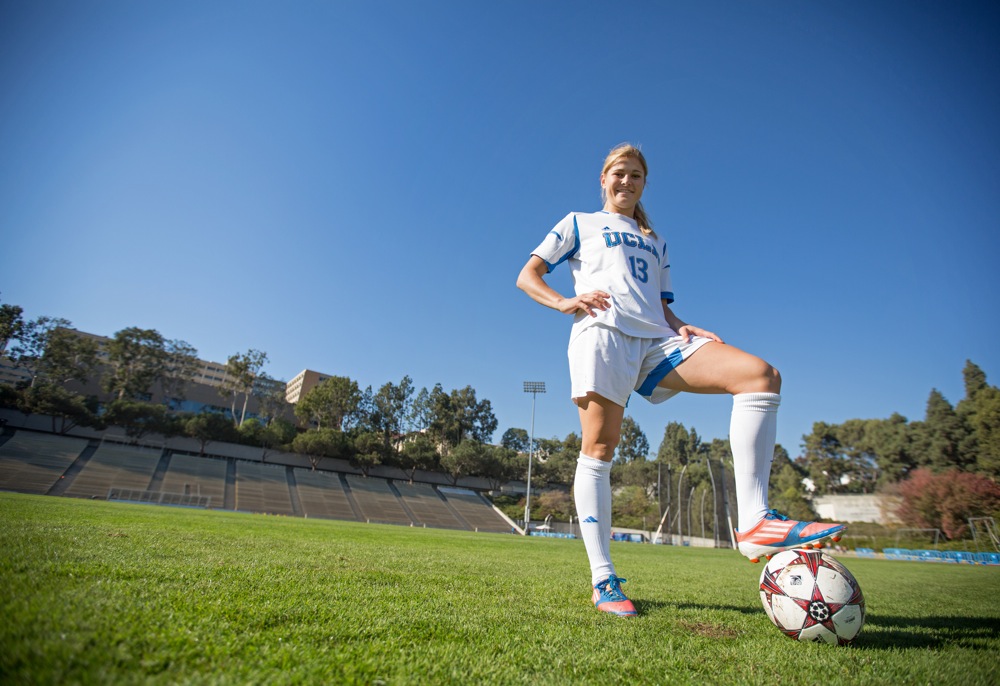 New Zealand native Rosie White of the UCLA women's soccer team also plays for her country's national squad.
November 13, 2013 1:12 am
For Rosie White, picking which jersey to wear is not just a question of color. It's a question of time and place.
In one instance in mid-September, after spending 12 days away in Switzerland, the junior forward finally got to set foot on the UCLA campus once again. And the next thing on her agenda? Packing her bags for the next day's game in Tucson, Ariz.
White's workload from being a member of the UCLA women's soccer team and a sociology student comes with an additional element – traveling around the world and representing her native New Zealand.
The 20-year-old has come a long way since playing her first game for the New Zealand women's national team in January 2009. Thus far, White has already earned 50 caps for New Zealand, and also played in the 2012 London Olympics, where she and her team made national history by reaching the quarterfinals for the first time.
"That's something I've always dreamed of doing – going to the Olympics to represent New Zealand," White said. "And finally actually getting to be able do it with my team, that we were all so close with, was such an amazing experience and it made me hungry for more."
But her most recent opportunities to represent her country didn't come without a sacrifice: trading in blue and gold for her country's colors.
When the schedules for her two teams began to conflict, White decided that exposure at the senior level of international competition would take precedence over playing for the Bruins, since she aspires play soccer at a professional level one day.
"I think representing New Zealand is one of the most important things to me in my life at the moment. And it's obviously very hard to give up playing with the Bruins because that's very important to me as well, but I think if I want to play soccer at the highest level, then these aren't really opportunities that I can pass away," White said.
White also credited the support and empathy shown by UCLA coach Amanda Cromwell for making the decision to take a leave of absence from UCLA much easier on her conscience.
For Cromwell, losing a player to international duty is a good problem; she thinks that the time White spends playing for the New Zealand team will help in her college games and vice versa.
Cromwell also said that her time representing the U.S. women's national team during her playing career has helped shape her policy for dealing with these "good problems."
"I know how sometimes those opportunities are few and far between, especially if you're fighting for a spot, or trying to work your way in a roster and be a solid component in that roster," Cromwell said. "I know from my experiences that any chance you get with the full team, you've got to go."
White's first hiatus from the UCLA women's soccer team was the 12-day Switzerland trip, during which she competed with the New Zealand national team against other top international teams.
Following victories over Brazil and China, New Zealand sent a little piece of history and some hardware home.
"It was the first time New Zealand won a big competition like that, and it was pretty special to beat top teams like Brazil and China," White said.
Her next tour with the national team saw her travel to locations closer to Los Angeles, as the Kiwis took on the United States women's national team in San Francisco and Columbus, Ohio.
Considering the status of its opponents, New Zealand welcomed a 1-1 tie in the second leg of the tour as a moral victory.
"It's those games that you always dream of playing. USA is just one of the powerhouses of women's soccer, so the first game was a bit of a learning curve for us, and we lost. Then we came back and got a tie with America and that's a huge step for little New Zealand," White said.
"Those are the games that you will remember because they're milestones, and it was a really cool experience, and there was a big crowd – booing us."
Coming to America
Ironically, the reason why White missed games for the Bruins this season was also the reason why she got a spot on the team in the first place.
The recruiting process started in Germany, the site of the 2010 FIFA U-20 Women's World Cup. It was there that White first met then-UCLA women's soccer coach B.J. Snow, who was serving as an assistant coach with the United States U-20 team.
"He offered me a scholarship to come to UCLA. And it was kind of one of those opportunities that I couldn't turn down," White said.
The concept of making a journey of over 6000 miles to America in order to simultaneously further a career in soccer and pursue higher education is not a familiar one with New Zealanders.
It was the same unfamiliarity that made White's family initially underestimate the luster of the offer that convinced White to make the bold step of traveling to a faraway country where she knew no one.
"At first, we probably didn't have quite a grasp of what a huge honor it was to be offered a place at UCLA. But since we've seen how happy she is and how amazing the whole setup is for education and soccer and everything else – we were completely blown away," said Jo White, White's mother.
Fast forward three years, and Rosie White now sports the number 13 for both UCLA and the New Zealand national team, a number that allows her to bring an element of home to every game.
"It's my brother's lucky number – actually, my older brother's lucky number and he always used to wear it in water polo," White said. "And my little brother used to wear it in water polo as well, so I just thought it was kind of a cool family tradition."
Although there was no language barrier for White to overcome, there are still differences in the two countries' dialects, highlighted even by what each team calls the sport – soccer versus football.
Living in America for the greater part of the last three years has caused White to adapt to the American vernacular – something that she says her friends and family back home are quick to point out.
"When I talk to people from New Zealand on the phone, everyone thinks I sound completely different," White said.
Although Jo White said she's noticed changes in her daughter's mannerisms, she knows once both UCLA's and the New Zealand national team's seasons end, it'll be the same Rosie White, born and bred in New Zealand, who will be home for Christmas.
"I think it's more the usage of words, rather than the accent, that we've noticed," White said. "I think she's still a Kiwi girl, and she'll always be a Kiwi girl at heart."