Student posts video to spark discussion about lack of diversity at UCLA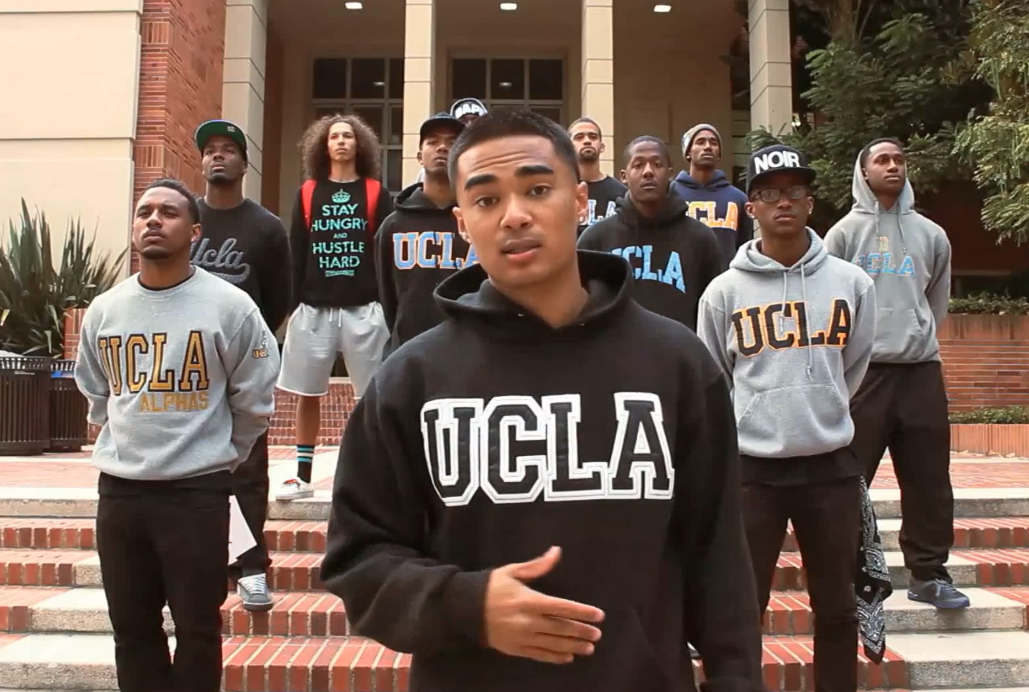 Black students posted a spoken word performance video on YouTube voicing concerns and frustrations about the small percentage of black students at UCLA.
Sy Stokes almost dropped out of UCLA during his first year because he felt isolated and alone as a black student on campus.
The third-year Afro-American studies student said he struggled to find groups with whom he shared common interests during his first quarter. While he eventually found his niche in the Undergraduate Students Association Council Cultural Affairs Commission, Stokes said he originally felt scrutinized for being black.
"(That feeling) makes (black people) stick to their comfort zones because they want to feel safe – physically and emotionally," Stokes said.
On Monday, Stokes and other black students posted a spoken-word performance video on YouTube addressing what they call a lack of diversity among UCLA's undergraduate student population. Since its posting four days ago, the video has been viewed more than 39,000 times.
Stokes said he wanted to show potential applicants how small the black student population at UCLA was before the UC application deadline on Nov. 30.

About 4 percent of undergraduate students and about 4 percent of graduate students are black, according to fall 2012 and fall 2011 UCLA admissions statistics, respectively.
"We had to do something to put our issues on the map," Stokes said.
In the video, Stokes said he felt frustrated with UCLA administrators for several reasons, including the falling retention rates of black men at UCLA and the fact that UCLA has a greater total number of NCAA championships than black male first-years.
Stephen Azubuike, a third-year psychobiology student who participated in the video, said that he identifies with the frustrations that Stokes mentions in the video.
Azubuike said that some black male students on campus drifted toward each other to form an interconnected group since they are such a small percentage of students. He added that he thinks black students, including himself, do not receive the proper resources they need to succeed.
The video mentions a campaign called Invest in Graduations; Not Incarceration, Transform Education, commonly known as IGNITE. The campaign is aimed at increasing retention rates for underrepresented students and increasing racial diversity in higher education, said Maryssa Hall, Undergraduate Students Association Council external vice president.
Stokes said he thinks part of the problem of a lack of racial diversity stems from the absence of affirmative action policies in college admissions processes.
Affirmative action was voted down in 1996 after California voters passed Proposition 209 – a law that prohibits California public entities, including UCs and state schools, to consider race, gender, ethnicity or national origins in their admissions processes.
In 1998, the first year Proposition 209 took effect, UCLA's black student acceptance rate fell from about 38 percent to 23 percent.
The IGNITE campaign is dedicated, in part, to repealing Proposition 209, Hall said.
University officials said they agree that UCLA lacks diversity and said they are trying to work within the parameters of Proposition 209 to bring more students from underrepresented communities to UCLA, Janina Montero, vice chancellor of student affairs, said in an email statement.
While UCLA cannot accept students based on race, the admissions department uses holistic review process in its decision-making. It takes into account the socioeconomic status of an applicant and whether the applicant is the first in his or her family to go to college, according to a statement from Chancellor Gene Block.
Hall said she understands the holistic review admittance process UCLA follows, but she thinks holistic admissions do not make up what Proposition 209 took away from diversity at UCLA.

In her statement, Montero said that all 10 of the UC chancellors signed two friend-of-the-court briefs in favor of affirmative action to the U.S. Supreme Court this year.

"We certainly recognize that the low numbers of African Americans and other underrepresented students on campus does lead to a sense of isolation and invisibility," Montero said in her email statement. "It is difficult to eliminate this painful imbalance without considering race in the admissions process."
Kamilah Moor, chairwoman of the Afrikan Student Union, said she thinks the small percentage of black students at UCLA negatively affects the university as a whole.
"Students won't be able to to truly understand different perspectives and what comes with that – compassion, respect and empathy," said Moore, a fourth-year political science student.
Stokes said some students have criticized his video and sent him hate mail about it, but most of the students he has talked to said they supported his cause.
"It doesn't matter how much hate I get, just as long as someone is talking about it," Stokes said.