Controversial bake sale at UCLA prompts protest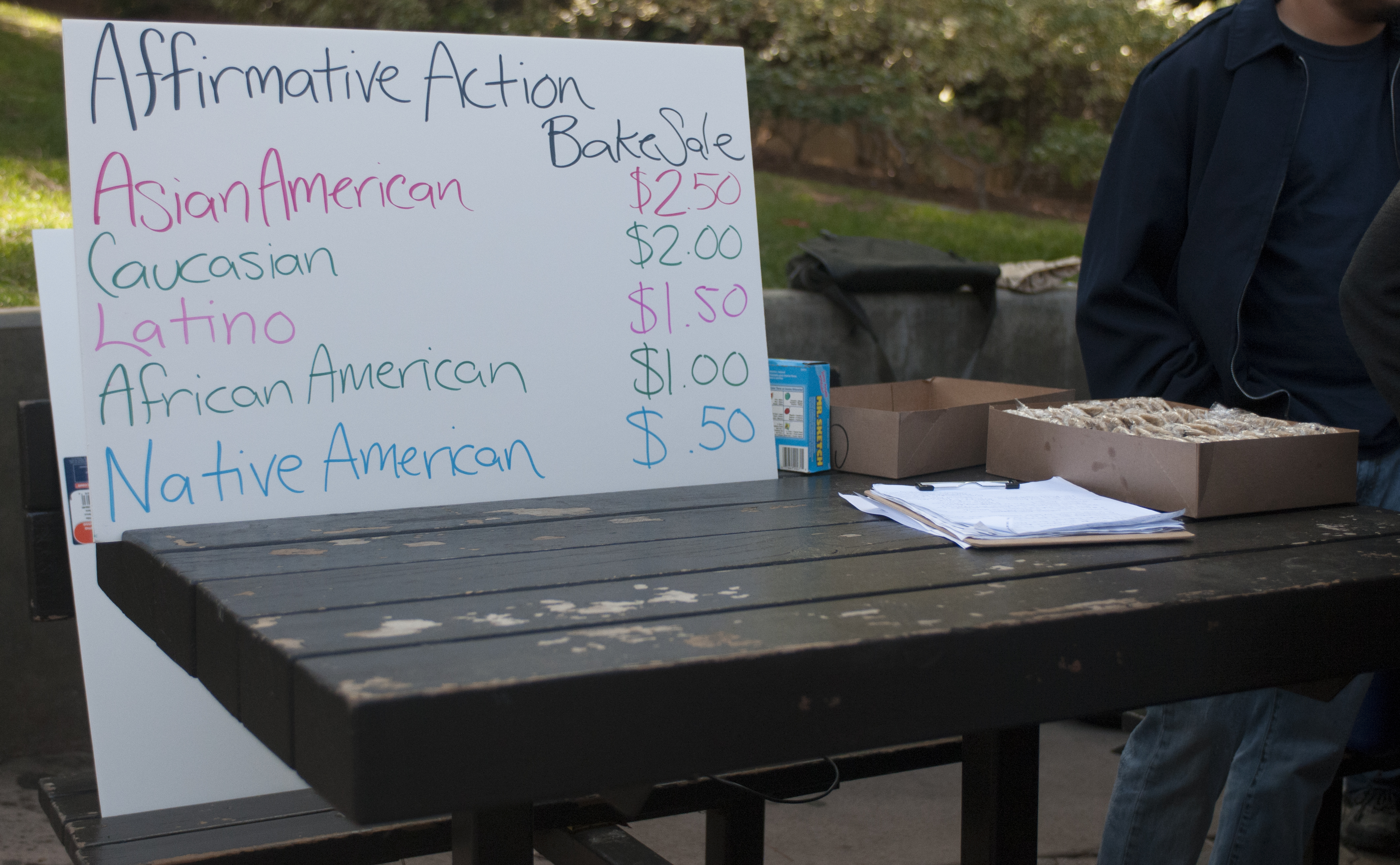 The UCLA chapter of Young Americans for Liberty hosted an "affirmative action bake sale" on campus today, which prompted a protest by members of the community.
The original version of this article contained multiple errors and has been changed. See the bottom of the article for additional information.
UCLA's Young Americans for Liberty hosted a controversial "affirmative action bake sale" on Bruin Walk today, sparking backlash from some members of the UCLA community.
The group held the event as a satirical representation of its stance that affirmative action, or the consideration of race in university admissions, is a form of reverse discrimination, said the group's co-president Tyler Koteskey, a third-year history and political science student.
"Treating people differently based on the color of your skin is racist in all forms," Koteskey said.
Dozens of cookies lined two tables on the side of Bruin Walk, along with pamphlets and copies of the U.S. Constitution. Steps away, about 40 students gathered in protest of the event, holding signs that read "Brown, Oppressed, Outraged" and "R.I.P. Diversity."
The prices varied according to the customer's race. Asian-American students had to pay $2.50, white students were charged $2, Latino students paid $1.50, black students paid $1 and Native American students paid 50 cents.
The prices were intended to mirror how a person would be affected by affirmative action policies in admissions practices, with minorities such as Native American and black students benefitting the most, Koteskey said.
Affirmative action policies would allow for the consideration of race, among other factors, as an admissions criteria at public universities.
While some students held signs in silent protest, others laid on the ground pretending to be dead to represent what they called the "death of diversity" at UCLA. They said affirmative action is necessary to increase the small numbers of students at UCLA who come from underrepresented racial backgrounds.
One protester, second-year Asian American studies student Jazz Kiang, said he understood the group's intention to start a discussion about the issue, but he thought its stance was dangerous for campus climate.
"Affirmative action is the foundation for getting underrepresented students … into higher education," Kiang said.
The bake sale was a response to a series of campus protests last week – supported in part by several offices of the Undergraduate Students Association Council – to advocate for affirmative action and against Proposition 209, which prohibits the consideration of race in admissions to public California colleges.
USAC President John Joanino said he thought it was important to continue discussing the issue with different student groups.
"At council (meetings) we talk about issues that do not always have a consensus, but they are important to discuss," Joanino said. "We have to advocate for a diverse and equitable education system."
Koteskey said that the group supports campus diversity, which he thinks can be achieved in other ways, such as considering an applicant's socioeconomic background, increasing the number of charter schools in underrepresented communities or allocating more state funds to education instead of prisons.
"They need to understand our history, the institutional problems that create a lack of resources (for minority populations)," said fourth-year Latin American studies student Jen Lainez.
UCLA already considers factors like a student's socioeconomic background and life experiences in its admissions process, but many of the protesters said that such holistic admissions policies are not enough.
The group sold about 20 cookies in the three hours they were open, Koteskey said.
Correction: One of the signs carried by individuals protesting the bake sale read "Brown, Oppressed, Outraged." Affirmative action policies would allow for the consideration of race, among other factors, as an admissions criteria at public universities.