UCLA professor seeks to break research stereotypes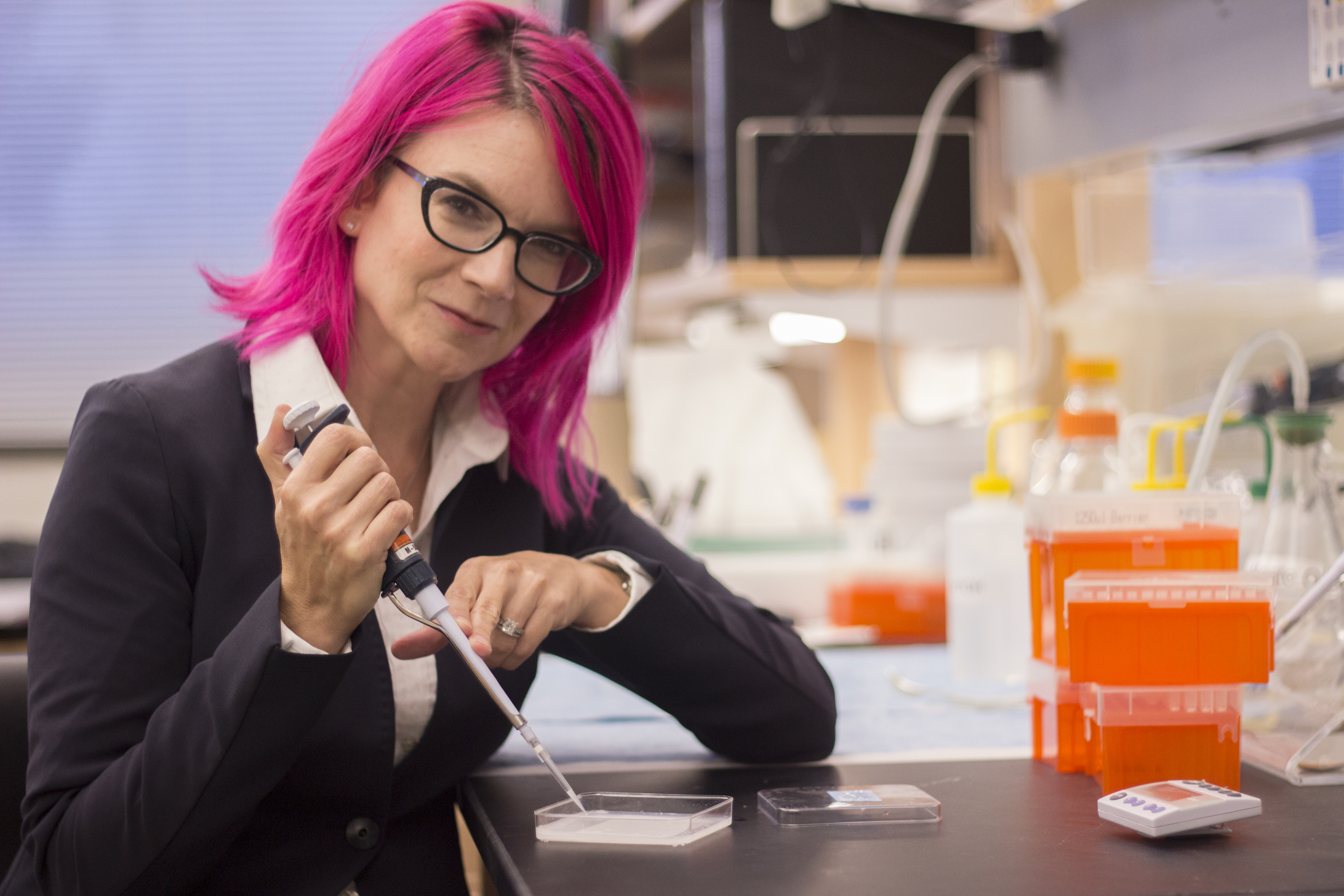 Professor Rachelle Crosbie-Watson likes to experiment – even with her hair.
Rachelle Crosbie-Watson tries to live her life as an experiment.
Whether it is throwing out her teaching plans, motorcycling across the Texas Hill Country or dyeing her hair pink, the UCLA professor is constantly looking for opportunities to try something new.
"I think it's really important for all of us to step outside of our comfort zone whenever we can," she said. "It means that you're growing in your knowledge and your experiences, and that's a good thing."
Crosbie-Watson, a professor in the department of integrative biology and physiology and in neurology at the David Geffen School of Medicine, said she has the same experimental mindset when teaching her class about muscular dystrophy. Her goal is to change the stereotype of what a researcher is expected to look or act like and encourage her students to pursue a career in research.
She took one of her first steps toward this goal three years ago, when she decided to throw out her regular lesson plan and completely rework the structure of her class based on suggestions from students.
"I think experimentation is really important," she said. "Especially in education, we can't keep going with the status quo."

She now focuses on only one disease – Duchenne muscular dystrophy – to examine basic concepts in molecular biology, genetics and experimentation, from microscopic mutations in the DNA sequence to how these mutations affect all levels of the human body.
Last spring, she modified her course again to include guest lecturers, including families of children with Duchenne muscular dystrophy as well as doctors and scientists. She also introduced poetry written by a young boy who had the disease into her curriculum.
Shelley Tibbs, a fourth-year psychobiology student, said the class is one of her favorites so far because of Crosbie-Watson's passion and interactive teaching style.
"It's a class that you hope to encounter in your undergraduate career because it inspires you to do something more when you walk out of class," Tibbs said.
Crosbie-Watson was awarded one of the UCLA Academic Senate's Distinguished Teaching Awards in 2013.
"Any time she teaches, you can see she's filled with passion," said Carrie Miceli, a professor in microbiology, immunology and molecular genetics and a colleague of Crosbie-Watson. "I think she really connects with students."
Tibbs and other students who took Crosbie-Watson's class said they were inspired to form Bruin Allies for Duchenne, an undergraduate club on campus committed to teaching other students about the prevalence of Duchenne muscular dystrophy. They are working to make it an official club this fall.
Crosbie-Watson was first exposed to hands-on classroom learning opportunities at 9 years old, when she and her family moved to Saudi Arabia for her father's job.
There she developed a love for science in her biology classes, where she dissected cow eyes and fetal pigs, and set up plant crosses in botanical gardens.
"Their approach to teaching was to expose us to the entire problem," Crosbie-Watson said. "So education has a lot of meaning to me because it really changed my own future perspectives."
In Saudi Arabia, she and her family began scuba diving in the coral reefs in the Red Sea.
She said while living in Saudi Arabia, she had many international friends and traveled extensively with her family, where she was able to interact with people of many different cultures at a young age.
She finished high school in Texas and went on to get a degree in biochemistry from Texas A&M; University and eventually a Ph.D. in the same subject from UCLA.
Since she was young, her adventurous spirit led her to places like Costa Rica, Japan, Egypt and India and on scuba diving trips to Australia, Hawaii and the Red Sea, she said.
"When I think about the stereotypical scientist, I just think about someone who's really conservative and awkward," said Scott Crosbie, Crosbie-Watson's brother. "That's my stereotype, but my sister completely shattered that."
And even the image of herself with bright pink hair can combat certain stereotypes of how a researcher should look, she said.
"For students, (my pink hair) also gives this message that you don't have to be a certain way or look a certain way to do science," she said. "You can have wacky pink hair and still do scientific work and be an educator."
Crosbie-Watson said her adventures are a lot like the experiments she does in the laboratory.
"Any time you're on an adventure, it's risky. You don't know what the outcome is going to be. But hopefully you're going to be discovering something along the way."