Restoration of UCLA's "The Black Experience" mural to begin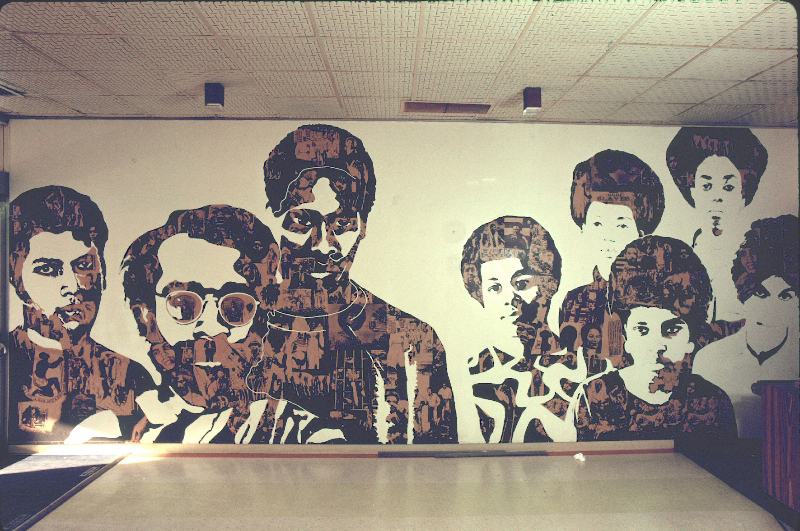 Restoration of "The Black Experience," a mural hidden behind a false wall in Ackerman Union for the past two decades, will begin on Friday.
The 40-year-old brown and black mural depicts seven UCLA alumni, and was created as a representation of social activism and black history.

ASUCLA will partner with the Afrikan Student Union on the project, said Bob Williams, executive director of Associated Students UCLA, at an ASUCLA Board of Directors meeting on Friday.

A false wall obstructing the mural was built during remodeling of Ackerman Union remodel in 1992 and several holes were drilled directly into the mural, said Roy Champawat, director of the UCLA Student Union. Panda Express currently covers up the right border of the mural, he said.

Jason Smith, a former member of Afrikan Student Union, began to push for restoration of the mural in February.
Smith said he read an article about the mural in the Daily Bruin in May 2010. But a course he took called "Beyond Mexican Mural: Beginning Muralism and Community Development" was what inspired him to take initiative to bring back the mural.
Smith, along with other members of Afrikan Student Union, brought up a mural restoration proposal at the ASUCLA Board of Directors meeting in Fall 2012.
Construction workers will attempt to take down the drywall covering the mural in the first step of the restoration process, Williams said at Friday's ASUCLA Board of Directors meeting.
Compiled by Yael Levin, Bruin senior staff.