7,000 in Solidarity will educate students about sexual assault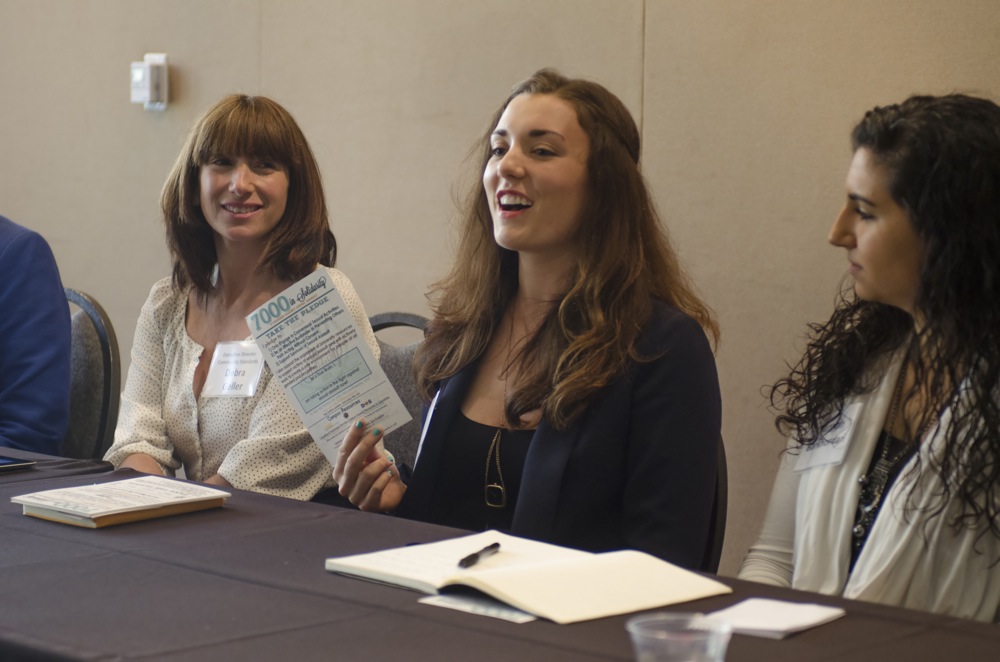 Savannah Badalich, the Undergraduate Students Association Council Student Wellness commissioner, talks about a sexual assault education, advocacy and research campaign called 7,000 in Solidarity.
Savannah Badalich handed out pledge cards and spoke to students about sexual assault at UCLA at Monday's Enormous Activities Fair.
For Badalich, however, this issue is more than just a campaign.
Badalich said she was sexually assaulted by another UCLA student last year, someone she knew. After months of silently coping with her own feelings of guilt and doubt, she said she chose to actively advocate for those survivors who, like her, felt alone and affected long after their attack.
"This is my chance to do something," Badalich said. "This is my healing process."
Earlier this month, Badalich, the Undergraduate Students Association Council Student Wellness commissioner, and USAC President John Joanino launched a sexual assault education, advocacy and research campaign called 7,000 in Solidarity.
The campaign aims to educate the student body about sexual consent and bystander awareness.
The name 7,000 in Solidarity comes from a statistic that claims one in three women and one in six men will encounter some form of sexual assault by the time they leave college. They applied that statistic to the population of UCLA students. The statistic comes from a 1990 scientific journal article called "Sexual Abuse in a National Survey of Adult Men and Women: Prevalence, Characteristics and Risk Factors," Badalich said.
"(The) end goal is for us to be a model to other schools and say 'Look at what UCLA is doing, proactively,'" Badalich said.
Badalich and Joanino plan for the campaign to last the entire year. In the fall, campaign events will be focused on developing research about sexual assault at UCLA and collecting pledge cards from students. They plan to write specific UCLA questions and figure out the most effective method to gather their data, either from focus groups or large scale surveys.
The pledge cards call on students to "only engage in consensual sexual activities, act as effective bystanders and support the survivors of sexual assault."
During the winter and spring quarters, the campaign will center on educating student about Title IX, which prohibits sex discrimination in education. At the same time, Badalich and Joanino hope to gather, analyze and publish their research findings.
A similar campaign at UC Berkeley inspired the founding of 7,000 in Solidarity. The campaign, called 6,000 in Solidarity, was aimed at creating a better environment to report sexual assaults.
"A lot of the same issues facing other universities, like UC Berkeley, I think are prevalent to UCLA as well," Joanino said.
In 2011, university police reported eight instances of sexual assault in on-campus properties, according to the UCPD 2011 Clery Report, an annual report publishing crime statistics on and off campus.
The reported number of sexual assaults seem too low based on other statistics, Badalich said.
Joanino added that he believes there is underreporting at other campuses because of a lack of legal protection of the assault survivor.
Joanino said the campaign received some flak because of the number of potential assaults at UCLA.
Joanino said that while the reality of sexual assault is a scary thing, the campaign's name forces people to think about how prevalent the issue of sexual assault is and how often it is overlooked.
To fund the campaign, Badalich and Joanino are using money from USAC's surplus funds, which come from UCLA student fees. They received $1,500 for pledge cards, stickers, Daily Bruin advertisements and T-shirts to promote the campaign. The Healthy Campus Initiative, a campuswide program that aims to promote mental and physical health and wellness, also gave the campaign $1,100 for the first round of pledge cards, and the Office of Residential Life has already offered $500 to pay for the next batch of cards, Badalich said.
Badalich said she plans to research the student body's understanding of consent and bystander intervention so UCLA can better comprehend how to fix those issues in the future.
UCLA itself is not financially contributing to the campaign but administrators are cooperating with their efforts, Badalich said.
UCLA administrative bodies have made changes to the way they deal with sexual assault on campus, said Pamela Thomason, sexual harassment coordinator and Title IX Officer. Thomason also made recent changes to her website to better direct survivors in need of campus assault and resources education services through Counseling and Psychological Services this summer, she said.
Some UCLA students have already pledged to participate in the campaign. At the Student Activities Fair on Monday, Badalich said she received 423 signed pledge cards in a four-hour timespan.
Badalich said she saw a wide range of survivor reactions to the pledge cards, from confusion to shock to tears.
"It hurts and triggers me because I am a survivor as well," Badalich said.
Ultimately, Badalich said she desires a "consent revolution."
"I don't want this to be just a survivor's issue. I don't want this to be just a women's issue," she said. "It's a people's problem … and this is a tangible way in which we can get the ball rolling."