Construction started on new $152 million Luskin Center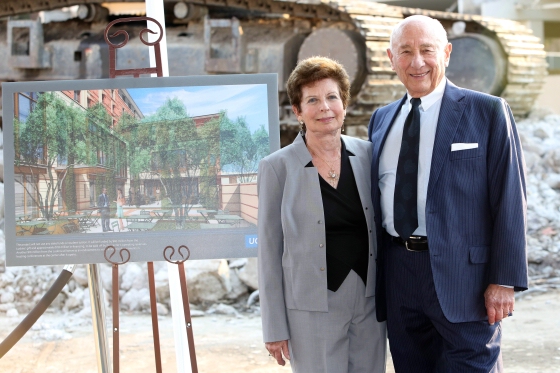 Renee and Meyer Luskin pose in front of plans for the Meyer and Renee Luskin Conference and Guest Center at the groundbreaking ceremony Tuesday.
Construction on the $152 million Meyer and Renee Luskin Conference and Guest Center began Tuesday, starting with a groundbreaking ceremony held at the construction site on Westwood Plaza near Ackerman turnaround.
Dozens of community members attended the ceremony to celebrate the conference center, which is scheduled to open in 2016 in place of Parking Structure 6, according to a UCLA statement released today. Those with business at UCLA, such as prospective students and family members of patients at the Ronald Reagan UCLA Medical Center, will be able to stay at the center. It will have 250 guest rooms and 25,000 square feet of space.
"This conference center will enable us to effectively host significant conferences that will benefit UCLA and the greater community," Chancellor Gene Block said in the statement.
The project is funded by a $112 million loan as well as a $40 million donation from the Luskins.
"We have a vision of parents and their potentially enrolling child enjoying an attractive, convenient place to stay while touring our beautiful campus," Meyer Luskin said in the statement.
The center has received some backlash from the local community. The neighborhood nonprofit organization Save Westwood Village, filed a lawsuit last year claiming that the center violates zoning laws and will unfairly take business away from local hotels.
Compiled by Yael Levin, Bruin senior staff.