UCLA librarian adopts Powell 'Library Cat'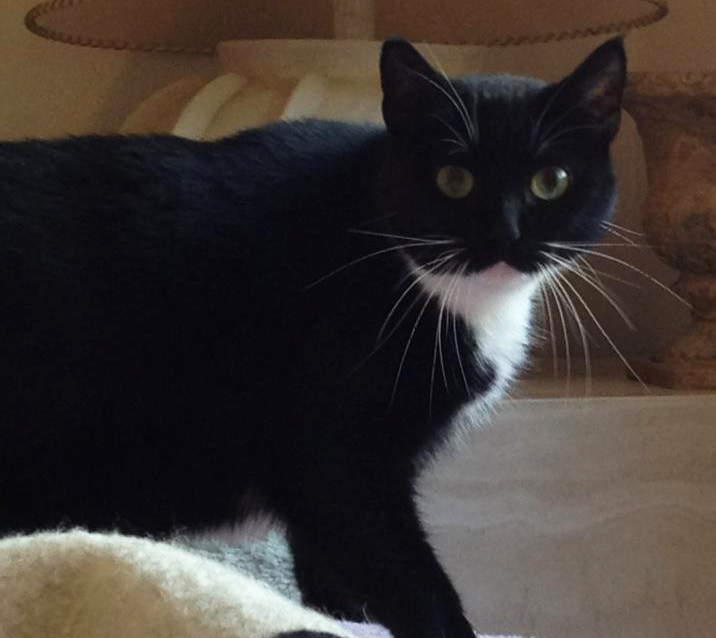 A UCLA librarian adopted a stray cat that would hang around Powell Library.
A feral tuxedo cat who spent her time watching music performances in the Powell Library rotunda has found a permanent home with a UCLA librarian.
Vicki Steiner, a reference librarian at the UCLA School of Law's Hugh & Hazel Darling Law Library, remembers how difficult it was to catch Midgley, a feral cat she adopted after it kept sneaking into Powell Library.
Midgley, who was named after English philosopher Mary Midgley, would sit atop the book stacks in Powell Library's main reading room.
For this, she became known to library staff and students as Library Cat, or L.C. for short.
It took a six-week nightly stakeout and fiber-optic cameras to catch the savvy cat, Steiner said.
"She was very elusive," she added. "She didn't want to leave her library."
Steiner is an animal lover and lawyer who represents nonprofit animal shelters for free. Growing up, Steiner said she was taught to help animals in need.
"I try to make a difference for animals who don't have a voice and can't speak for themselves on issues that are adverse for their well-being," she said.
Midgley is not the first cat found at UCLA that Steiner has adopted. She said she has also adopted a kitten that was found near the dorms in 2007.
Numerous feral cats used to live at UCLA, but fewer cats are on campus now because of the efforts of UCLA staff. Taimie Bryant, an animal law professor who helped catch Midgley and bring her to Steiner, said about 300 cats used to be on campus in the 1980s and it was normal to see a cat when walking on campus at night.

"There really is a wonderful kind of teamwork on campus of animal lovers who want to make a difference in (animals') lives," Steiner said.
Steiner said Midgley has become more playful since she started living with her, and she loves it when Midgley walks around the house and headbutts her and the other cats to show affection.
Compiled by Amanda Schallert, Bruin senior staff.