UCLA football WR Nick Pasquale struck and killed by vehicle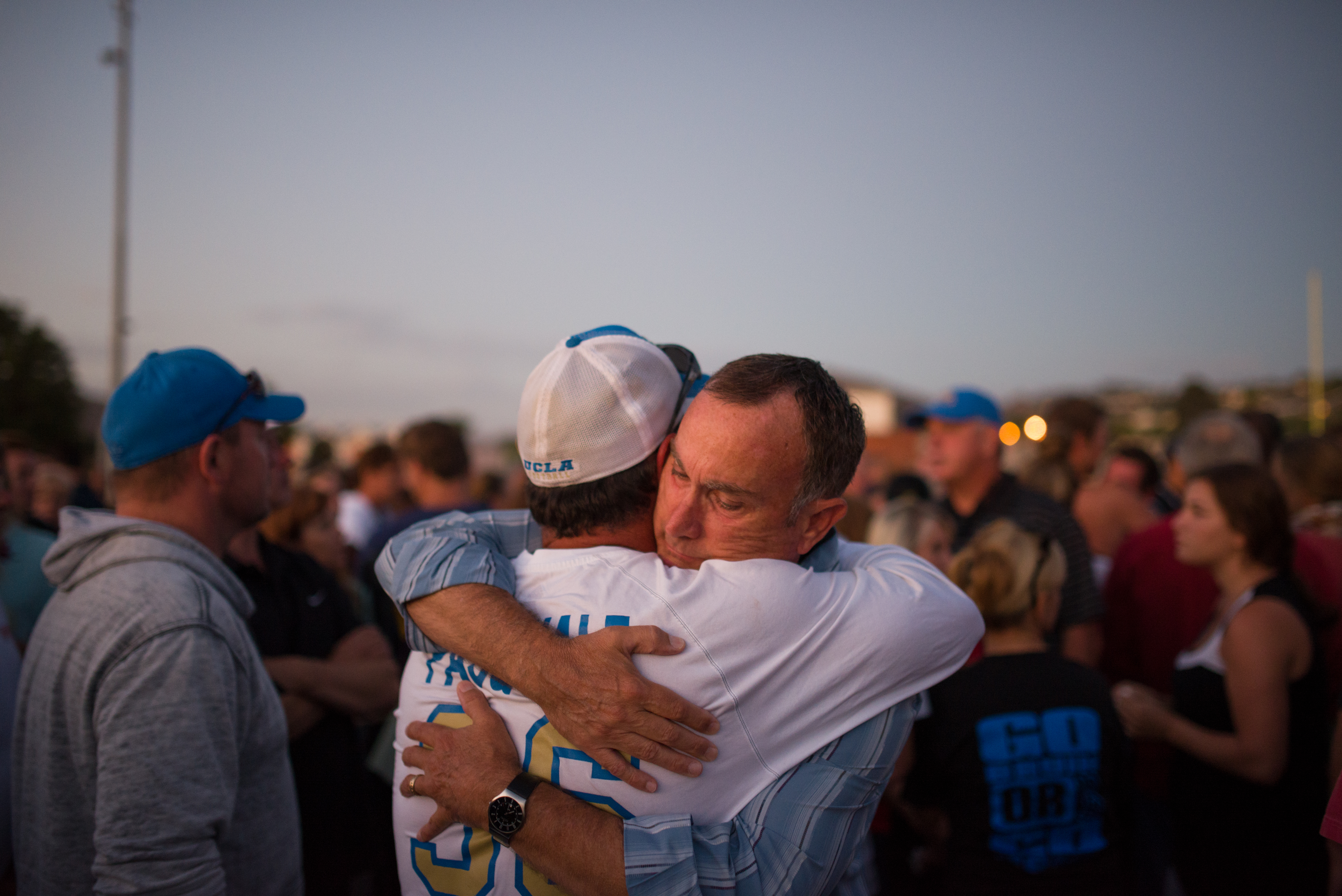 Mel Pasquale is embraced while wearing a shirt with the jersey number of his son, UCLA football wide receiver Nick Pasquale who died after being hit by a car early Sunday morning.
UCLA football wide receiver Nick Pasquale died early Sunday after he was struck by a vehicle, according to an Orange County Sheriff's Department Coroner's Office release.
Pasquale was on foot when a vehicle hit him at 1:27 a.m. on Sunday on Camino De Los Mares, west of Calle Nuevo in San Clemente, according to the release. He was pronounced dead at the scene, said Lt. Jeff Hallock, a spokesman for the Orange County Sheriff's Department.
The vehicle was identified as a Mercedes sedan and was heading westbound on Camino De Los Mares at the time of the accident, Hallock said. The driver stopped at the scene and called police, Hallock added.
The driver was not cited or arrested at the scene, he added.
There is no indication of alcohol or drug use on the part of the driver at this point, he said. An investigation into the incident is ongoing.
The coroner's office will perform an autopsy to determine Pasquale's cause of death this week, Hallock said.
Pasquale, who graduated from San Clemente High School in 2012, was entering his redshirt freshman season as a walk-on wide receiver with the UCLA football team. He was 20 years old.
Jaime Ortiz, coach of the San Clemente High School football team who was a defensive coordinator throughout much of Pasquale's high school career, said Pasquale was the "heart and soul" of the Tritons' 2011 CIF-Southern Section Pac-5 Division runner-up team.
"We're a one town, one team high school. It's a very tight community here in San Clemente, and the (Pasquale) family has had a great impact on San Clemente High School," Ortiz said. "It's just something that's sending shockwaves through our community. As a family, we just have to get close together and get through this all together."
With a bye this past weekend, UCLA's football players had a few free days. Some, like Pasquale, returned home to watch their former high school teams play.
Ortiz said Pasquale was on the sidelines during San Clemente's 35-32 win against Cabrillo High School on Friday night, wearing a UCLA shirt and talking about the great things the team was doing in Westwood.
Hundreds of Pasquale's teammates, friends and family gathered Sunday night on San Clemente High School's football field to hold a candlelight vigil in his memory.
After Ortiz, coach Jim Mora addressed the masses gathered around the center of the field, looking directly at Pasquale's parents, Laurie and Mel, as he spoke.
"He was loved. He was respected. We called him 'Pac-Man,' we called him 'Pacquiao' after Manny Pacquiao because he was so tough," Mora said. "I didn't know him as well as you all knew him, but I knew him well enough, and what you see here just confirms who Nick was."
Mel Pasquale called Mora a "class act" and thanked several of UCLA's players, including Nick Pasquale's roommate, redshirt freshman center Carl Hulick, in attendance. He said his son's passing should leave a greater message within the San Clemente community, who he thanked as well for their large outpouring of support throughout the day and night.
"Nick would be honored right now without a shadow of a doubt," Mel Pasquale said. "I'm going to miss him dearly. That kid never, I mean ever, stopped. Some of you that are playing today, keep it going. Keep a chip on your shoulder and don't ever stop. Don't ever let anyone tell you you can't do it."
Hulick described the loss of the 5-foot-7-inch, 172-pound receiver as "brutal" for the entire UCLA football team, but one that should inspire the Bruins to leave nothing on the field, the mantra Hulick said Pasquale lived and played by.
"He faced so much adversity every single day and, every single day, he put on his helmet and went completely all out. Every single thing that Nick Pasquale did he did it one hundred percent," Hulick said. "One thing, the legacy that he's left is his work ethic and his ability to be just stoked on whatever is going on."
"Pac's just the man," he said. "He's still going to be the man, and he's always going to be the man. We all love him."
UCLA football players and coaches mourned the loss of Pasquale on Twitter: