UCLA researchers map out urban agriculture sites taking root in LA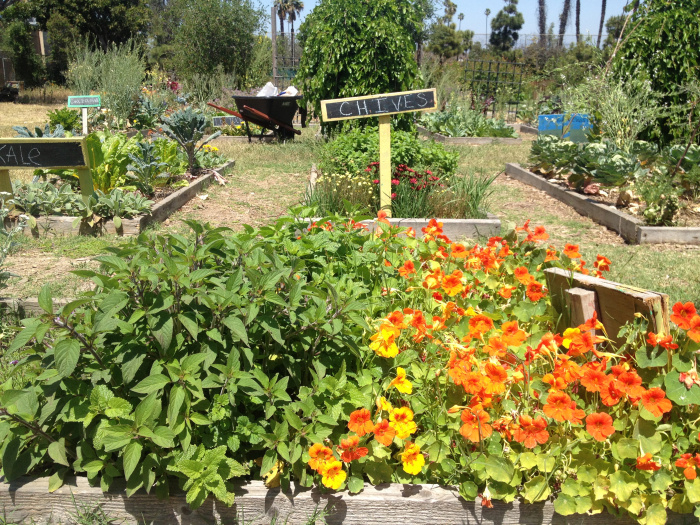 Urban agriculture sites, such as vegetable gardens, are popping up across Los Angeles.
Pockets of farmland and gardens are sprouting up in Los Angeles amid the vast network of the city's widening streets and towering skyscrapers.
With urban agriculture gaining popularity in Los Angeles, a group of graduate students from the UCLA Luskin School of Public Affairs finished creating a map earlier this summer that outlines the county's growing number of urban gardens.
Hundreds of colored dots speckled across a map of Los Angeles point out all of the agricultural sites in the area covering 88 municipalities, or towns with local governments.
The research project on urban agriculture, which included the map, is the first of its kind for Los Angeles, said Kelly Rytel, one of the researchers and a UCLA urban and regional planning alumna.
The project, called Cultivate Los Angeles, is the product of several months of research by about 20 students, full-time researchers and teachers at the Luskin School.
The map was designed for people who want to be more informed or want to get involved in urban agriculture, Rytel said.
Rytel said that aside from the map, the students' research suggests that urban planners have a lot of work to do in the realm of urban agriculture because there are many confusing rules and regulations in both the municipal and zoning codes around the city concerning urban agriculture.
Rytel said the group chose to focus on urban agriculture because it is a popular topic in the urban planning field that has not been researched very thoroughly.
The project consisted of five areas of research that focused on a different aspect of urban agriculture – economics and geography, mapping, zoning, school gardens and distribution. The different elements are presented on an interactive map, which can be accessed online.
The map lays out where each commercial agricultural site in the Los Angeles county area is, said Alba Peña, a member of the mapping team for the project and an urban and regional planning alumna.
A group of about seven people from the project took on the job of calling more than 3,000 places to verify the sites and scanned the county on Google Earth, Peña said. Sites that couldn't be verified or remained incomplete were still included in the report, but not the interactive map.
The map includes many different features including one that allows you to look at city jurisdictions and the agricultural sites there, as well as the population density and median household income for that area, she said.
Peña said she hopes the project will promote healthier communities and get more people interested in urban agriculture.
"It's not just for community members interested in urban agriculture, but members that just want to know what is happening in their community," she said. "(Hopefully) there's more active participation in the community and it encourages a lot of civic engagement and healthy eating."
Compiled by Yancey Cashell, Bruin contributor.