Week 2 of fall camp promises 3 key position battles to watch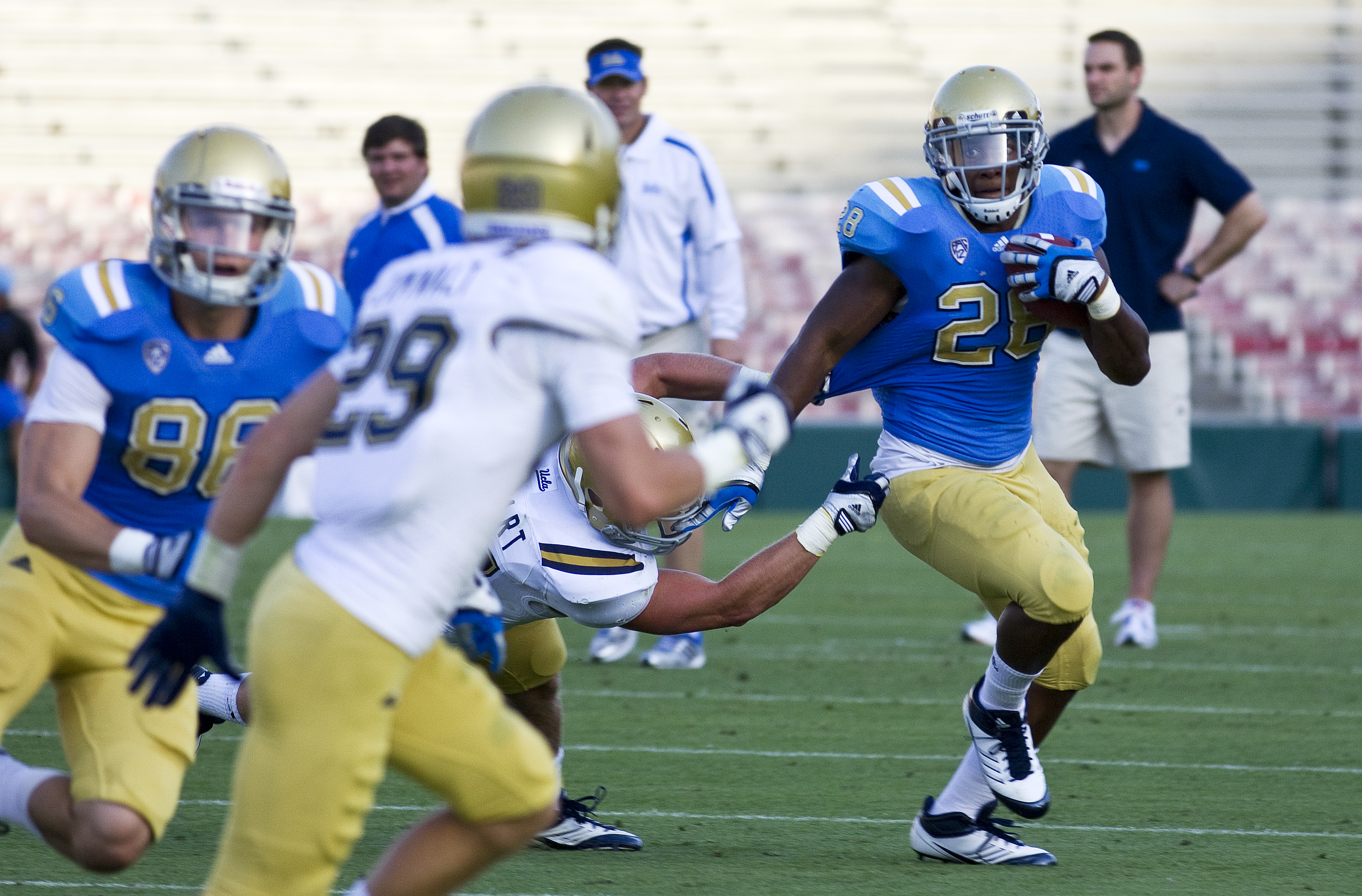 Senior running back Malcolm Jones is one of five Bruins competing for the starting spot.
Though Monday night marks the halfway point in UCLA football's stay in San Bernardino, there is still plenty of exertion to be had in the second week of the Bruins' fall camp.
Spectators have already been treated to an early change to freshman Caleb Benenoch at right guard, a plethora of options for the Bruins at outside linebacker and a significant temperature drop in an Eddie Vanderdoes saga that was red-hot on the opening day of camp. The next five days could also play a significant role in determining UCLA's final starting lineup heading into Aug. 31's season opener against the University of Nevada.
Here are several story lines to follow as the Bruins take the field on Monday for their second of four two-a-days.
1. Back of the Future
The impossibility of replacing UCLA's all-time leading running back, Johnathan Franklin, is one that has been beaten to death in the offseason. There are, however, five running backs looking to earn that No. 1 spot on the depth chart, including redshirt junior Jordon James, senior Malcolm Jones, freshman Craig Lee and redshirt sophomore Steven Manfro. Coach Jim Mora mentioned that Jones has been playing with more of an edge of late, perhaps due to his denied appeal for a redshirt year, which makes 2013 his final season. Still, the Bruins have only had one practice in full pads so far, and with pass protection playing such an important role in determining the starter, the most telling part of this highly anticipated race is yet to come.
2. Secondary Musical Chairs
After playing at cornerback for much of spring ball, redshirt junior defensive back Anthony Jefferson was featured at safety during the latter part of fall camp's opening week, appearing to have earned the trust of Mora, who called him a "versatile kid" after Friday's practice. While Randall Goforth has been a mainstay, corner presents more of a question mark at this point, with sophomores Ishmael Adams and Fabian Moreau and freshman Priest Willis all finding reps with the first team last week. Look for two of these three – and maybe four, with freshman Johnny Johnson the dark horse – players to be announced as starters, with the odd man – or men – out covering an additional receiver in a nickel package.
3. Y So Serious?
The Y receiver position, from UCLA's perspective, is likely the most versatile position on the field, with everyone from 5-foot-8 redshirt senior Grayson Mazzone to 6-foot-3 freshman Thomas Duarte playing at a position that was held by 6-foot-7 Joseph Fauria just a season ago. Depending on the package offensive coordinator Noel Mazzone intends to run and whether shiftiness or blocking is a priority, the personnel at this position could change dramatically, even from play to play. Redshirt senior Darius Bell and Duarte have both shown Mora their ability to pace routes properly in order to get open, a key for converting first downs over the middle during the season, while redshirt freshman Nate Iese, a converted linebacker and defensive end, has shown impressive burst catching passes in the flat. Short or tall, the verdict at Y is not far off.
Compiled by Andrew Erickson, Bruin Sports senior staff.