New zine collection at Powell Library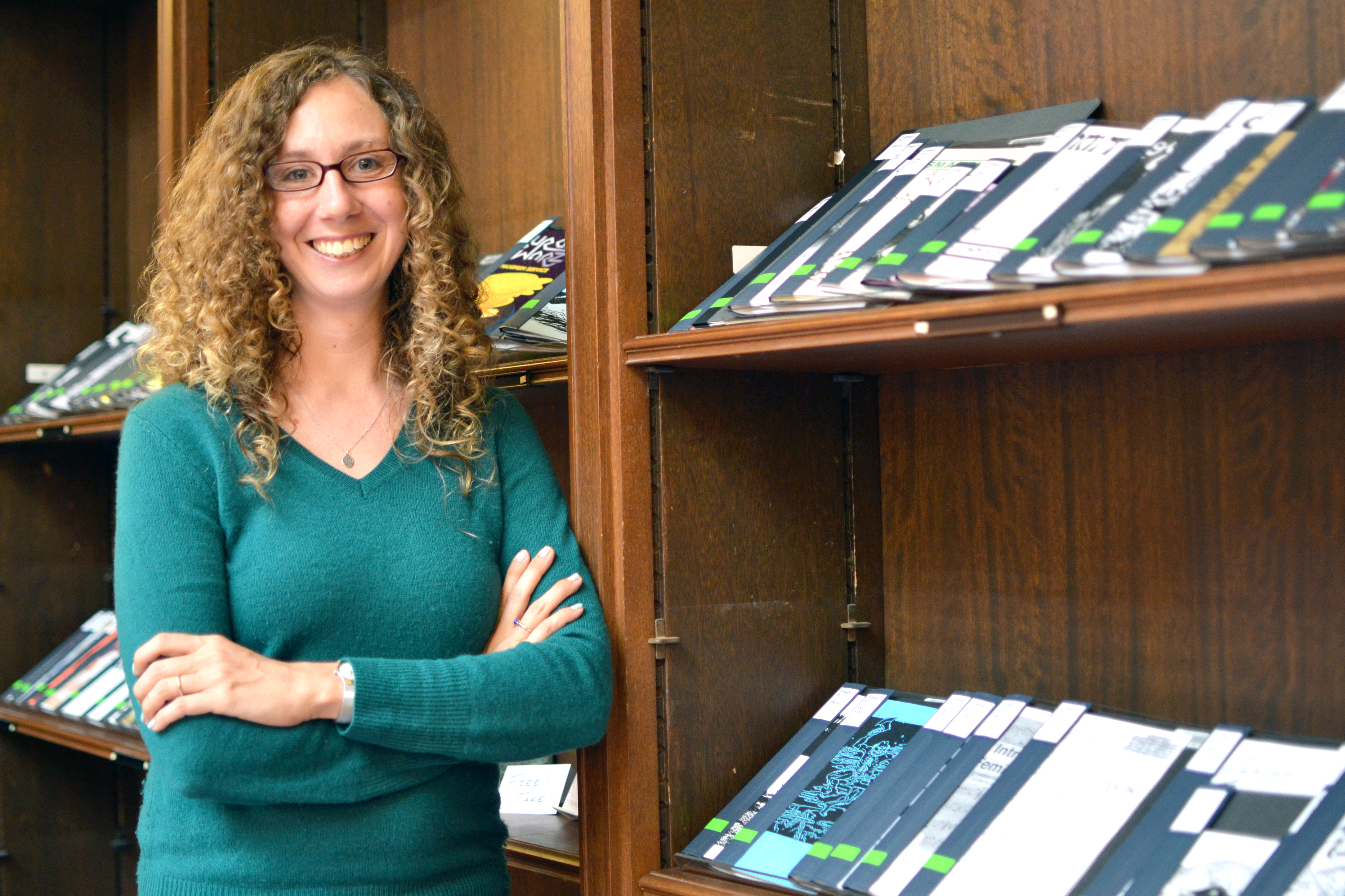 Julia Glassman, a UCLA writing librarian, brought about 60 zines to the shelves of Powell Library recently. Glassman and students are working together to build a zine community at UCLA.
The impulse to create a zine comes before Julia Glassman knows what story to write or illustrate.
The UCLA writing librarian will want to craft something or put an idea into words and sometimes making a zine – a self-published piece of written work or graphic art – will satisfy that craving.
She said she likes that the typically handmade pamphlets can be about any topic and their stories can be told in any format, like a graphic novel or fan fiction.
Glassman started a zine collection in Powell Library last month, adding about 60 zines to the shelves in the East Rotunda on the second floor.
The goal for the collection is to see student work on the library shelves next to zines from crafters across the nation, she said.
The project is a collaboration between library staff Powell Library and UCLA students. Glassman and student groups such as the Bad Art Zine Collective and Student Committee for the Arts worked together to start the project, said Sharon Farb, associate university librarian for collection management and scholarly communication.
Zines are a way for authors to bypass difficult publishing processes, said Connie Ho, a second-year art student and one of the founders of the Bad Art Zine Collective
"A zine is made by somebody who hasn't been influenced by outside book presses," Ho said. "You are the maker of the zine and you own it and its totally yours."
The UCLA library set aside $1,300 for the collection after she pitched the idea about a year ago, Glassman said. She said she has spent about half of the funds gathering zines for the collection.
The collection has two parts – the zines currently on the library shelves and a box labeled "Take a Zine, Leave a Zine", where students can exchange zines they have created and see their peers' work, she said.
Glassman said she thinks the pamphlets are a democratic form of communication because the zine community doesn't have a clear hierarchy. Without publishing rights and agents to compete for , the content of a zine comes directly from their creators, are typically mass produced and rarely created for profit.
"(Zines) are made in living rooms and are an alternative venue to disseminate your opinion," she said.
Glassman said she hopes students will use the interactive part of the collection to share their experiences.
Some zines Glassman brought to the library shelves include accounts of the Occupy movement, re-tellings of famous movies and books like "The Neverending Story", and personal tales, such as a transgender Jewish person's struggle with identity.
Glassman said that the Charles E. Young Research Library also has a zine collection, but it is archived and not as accessible to students.
One of the obstacles to getting zines on library shelves has been finding ways to catalogue them, since many zine authors don't disclose their names in the zines or record their dates and locations of publication, Glassman said.
Ho said the decision to publish anonymously reflects the heart of zine culture. She has made about four or five zines that contain snapshots she's taken and mark different parts of her personal life.
Ho said she thinks zine makers want to share their work and circulate knowledge without the intention of gaining fame.
The new collection is one of multiple projects the library is developing to integrate UCLA community interests with the library, such as cookbook, graphic fiction and comic book collections, Farb said.
"Libraries should (have) what people need to read in school, but they also need to (have) what people want to read," Farb said.
Glassman said she plans to hold a launch party for the zine collection during fall quarter and conduct zine-making workshops to encourage student participation in the project.