Forging Connections: Sculpture cements connection between South Dakota, Los Angeles youth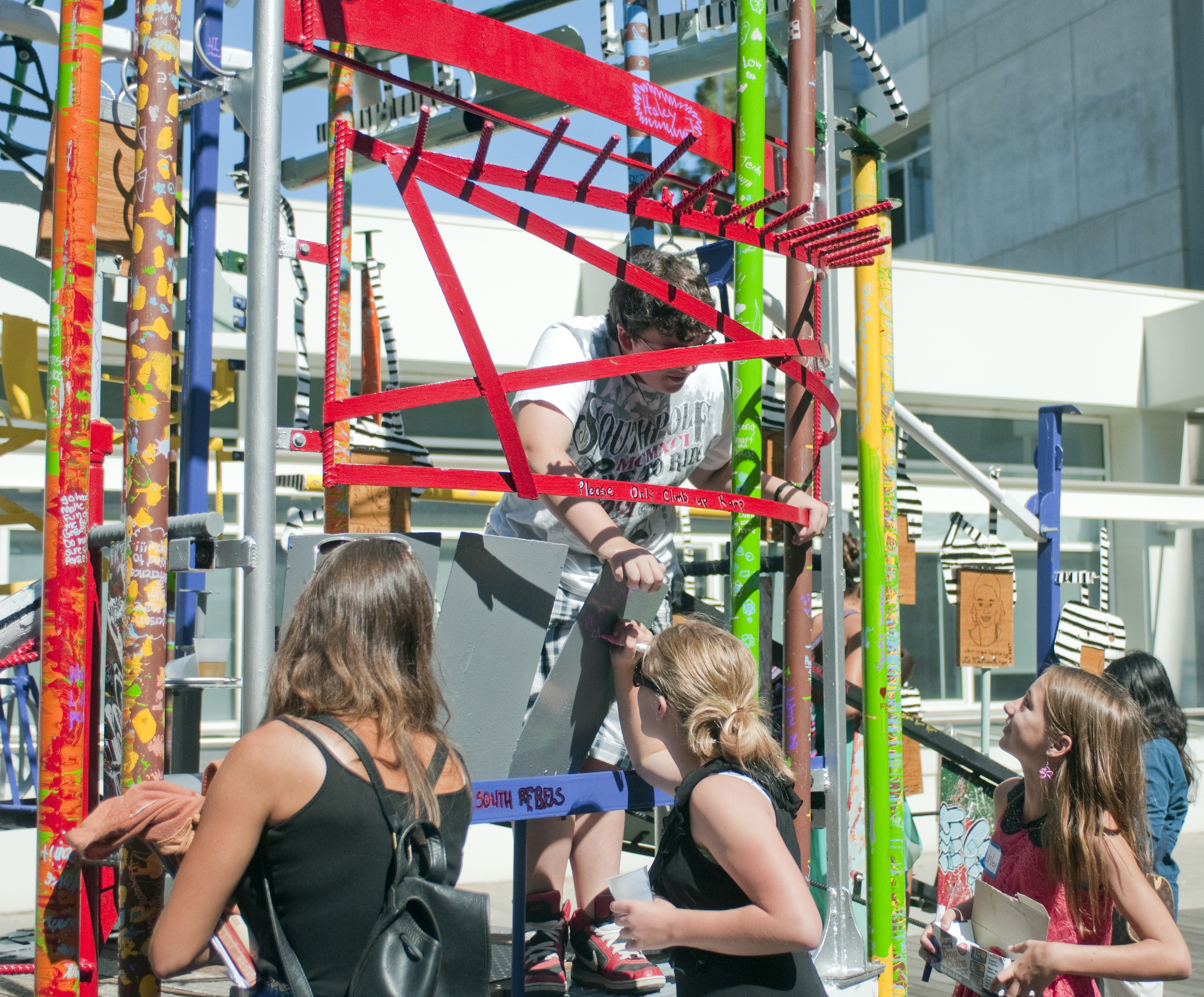 Bridget Beck, a graduate art student, unveiled her sculpture with teenagers from South Dakota last week. The sculpture is Murphy Sculpture Garden's latest addition.
Bridget Beck thinks of art as a way to bring people together.
The graduate art student unveiled her latest sculpture, called "Will Be," in the Franklin D. Murphy Sculpture Garden last week alongside teenagers from Los Angeles and South Dakota.More than 40 people attended the opening reception next to the Broad Art Center.
The sculpture forged a new partnership between two youth groups – one a South Dakota non-profit called Project Respect that serves disadvantaged youth, and the other from the Hollywood Media Arts Academy, an alternative education school.
Using steel and organic material – some of which she brought with her from her hometown in South Dakota when she moved to Los Angeles last year – Beck constructed an outer framework for the sculpture in a way that enabled it to be disassembled for transportation to the sculpture garden.
The sculpture features an elevated seating area surrounded by a ramp that showcases the South Dakota teens' self portraits and includes a written dialogue between the two groups about community-building workshops they held.
"Will Be" demonstrates the power the arts can have in bringing different communities together, said Hirsch Perlman, professor and acting chair for the Department of Art.

"I realize that people may consider (this process) crazy, but this sculpture means something important to me," Beck said.
Beck said she has always wanted to share the art culture and opportunities of a metropolitan city like Los Angeles with her hometown in South Dakota, where she often felt that the arts were not as accessible.
Holly Sortland, founder and executive director of Project Respect and Beck's high school friend, said she hopes the sculpture will be a gateway for participants to discuss racial reconciliation and form healthy relationships with other children.

"A couple of (the children) are amazing artists and come from very disadvantaged backgrounds," she said. "The opportunity to travel to a big city and visit a renowned college campus is a dream come true for them."
Among the programs she coordinated back in South Dakota was a weeklong self-empowerment workshop for the students, where organizers shared stories of disadvantaged youth who were able to reach their goals.
At the reception after the installation, the participating teens had a chance to reflect on their visit. For each of the teens from South Dakota, the trip marked their first time leaving the state.

Beck started making her sculpture idea into a reality in February. After an unsuccessful attempt to fully fund the project with art grants, Beck took to thecrowd funding website Kickstarter.com. She raised more than $8,000 in 30 days, surpassing her $6,000 goal.
The extra funding was used to support sending additional teens to Los Angeles for the opening ceremony.
Beck is not a novice to collaborative sculptures. In 2012 she partnered with eight long-term care centers in the Midwest to run art workshops. She made a "traveling locomotive" sculpture to showcase the residents' art , which she drove to each of the centers.
The project was dedicated to her grandparents and inspired by her grandmother, who suffered Alzheimer's disease.
"If even one of the teens participating strengthens or reimagines their relationship with the arts, creativity and college, 'Will Be' will be a big success," Perlman said.
Beck said she agrees with Perlman's sentiment, and strives to make her artwork meaningful.
"It's difficult saying this as a (graduate) student, but I think this (sculpture) goes beyond art," she said.