Tutoring group starts first summer site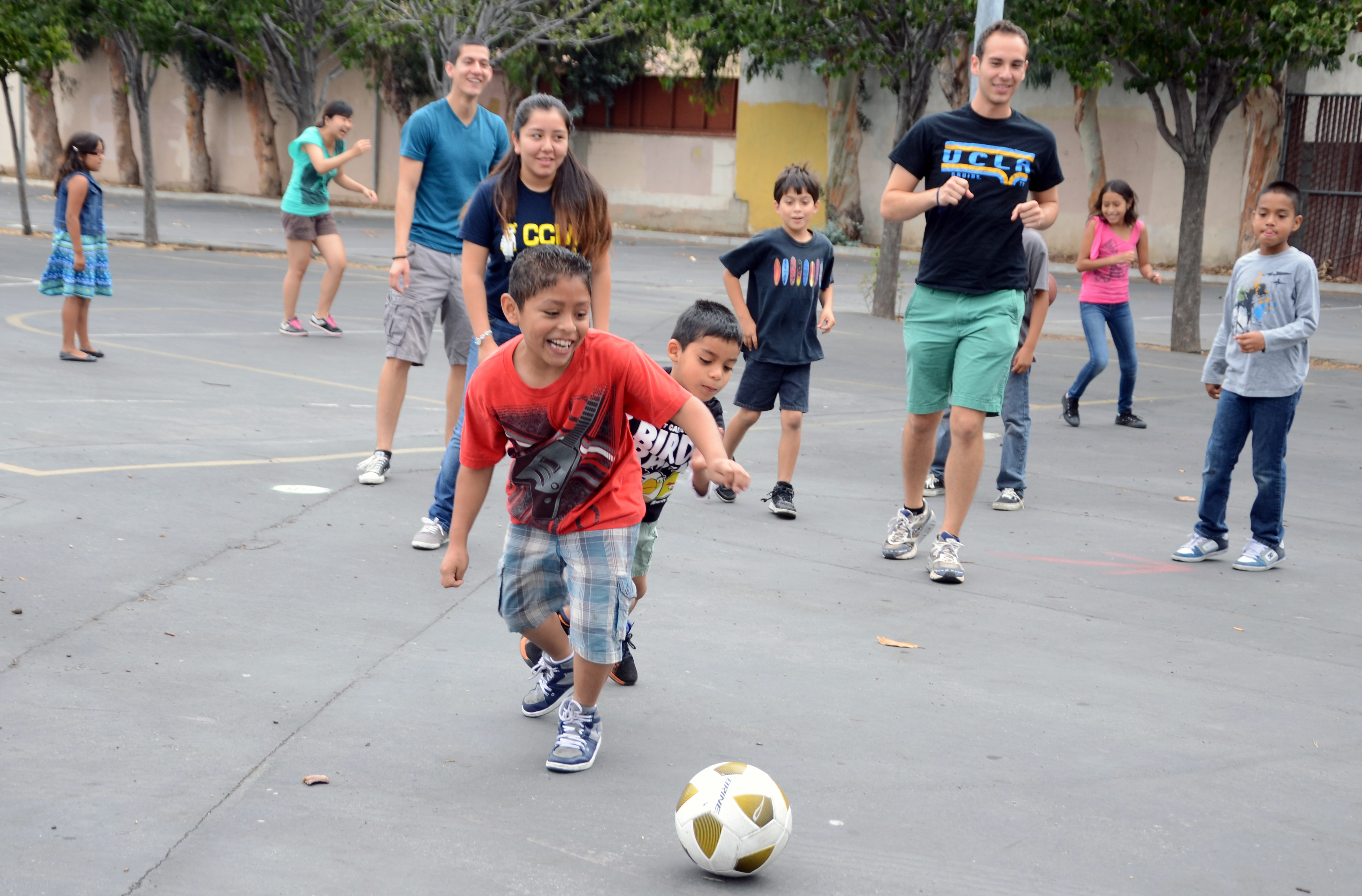 UCLA students from Amigos de UCLA, a community service group on campus, play with kids from Pio Pico, a school with many children from low-income backgrounds.
The 7-year-old girl ran across the school yard when Leslie Rodriguez called her name.
The normally shy elementary school student didn't hold back as she made funny faces with Rodriguez, the UCLA student with whom she is closest. Taking a funny photo every week has become a tradition for the pair.
For Rodriguez, a fourth-year international development studies student, spending time with the students at Pio Pico Middle School in mid-city Los Angeles is her favorite part of the week.
Amigos de UCLA, a UCLA student group, is the longest running tutoring program in the Undergraduate Students Association Council Community Service Commision.
For the first time since its founding in 1962, the group has expanded its services to include a summer volunteer program from July to the end of August at Pio Pico Middle School, which is less than 10 miles from UCLA.
Members of Amigos de UCLA saw a need for the volunteer program at the middle school, where the majority of students are on the school's free or reduced lunch program and come from low-income backgrounds, said Alie Riiska, a fourth-year history student and four-year Amigos de UCLA volunteer.
The free-of-charge program – funded by the Community Activities Committee summer fund – lasts for about three hours and allows kids in the second to fifth grades to be physically and mentally active during their summer breaks, said Omar Arce, the transportation director of Amigos de UCLA and USAC community service commissioner.
During the school year, the group usually focuses more on one-on-one tutoring, Arce said.
The program participants do arts and crafts and play team sports such as basketball and soccer with the UCLA volunteers, Arce said.
Ruth Monzon, a fourth-year Spanish and community and culture student and co-executive director of Amigos de UCLA, said this is the first time the group has applied for funding and run a project during the summer.
Monzon said the program gives the summer camp experience to kids whose parents cannot normally afford other more costly options.
"Those (summer programs) are expensive, so if we can get funding and volunteers to go during the summer, then why not (host one of our own)," Monzon said.
Some UCLA students in Amigos de UCLA have made working with the kids at Pio Pico Middle School a long-time commitment.
Enrique Magdaleno, a fourth-year history student, said he has been volunteering with Amigos de UCLA for more than a year.
Magdaleno said he's developed a particularly strong bond with one student while playing soccer and working on homework together.
"You really do become friends with these kids as well as inspire them," Magdaleno said.
The Pio Pico student paired with Magdaleno said his favorite part of Amigos de UCLA is eating goldfish crackers with Magdaleno and talking about the TV shows they both like to watch.
For almost three years, Riiska organized her class schedule around her visits to see Kam-Ren Crawford, a 10-year-old student.

In May, she received via text message from Kam-Ren's mother a thank-you for all those hours she tutored and spent time with him: a picture of Kam-Ren's fifth-grade graduation.
"(Kam-Ren) needed that person to keep showing up for him," Riiska said.
Tonya Watts, the mother of Kam-Ren and Kysen Crawford who have both had tutors from Amigos de UCLA, said her children grew academically during the one-on-one tutoring provided during the year and could not pass up on the opportunity of an Amigos de UCLA summer program.
The community service the group encourages kids to enjoy learning and inspires them to dream about going to college, Watts said.

"It's not like (Amigos de UCLA) is doing this because of money being invested or anything; you can really feel that they're donating their time and that they really love the kids," Watts said.
Students who want to volunteer with Amigos de UCLA can contact the group at [email protected].