Chess champ, 14, looks to revitalize game at UCLA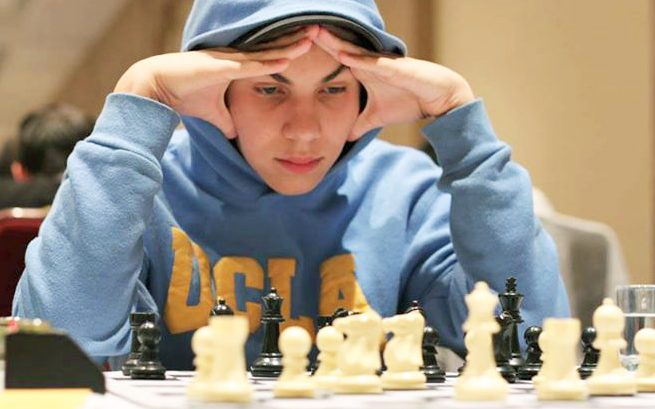 Luke Harmon-Vellotti is a 14-year-old chess champion who plans to study computer science and mathematics at UCLA in the fall.
Luke Harmon-Vellotti is used to being the youngest person in the room.
The 14-year-old mastered his times tables before he could see over the kitchen counter and was beating his dad in chess by the time he was 9 and a three-time national champion.
Luke, now a nationally ranked chess player, will enter UCLA as a first-year computer science and mathematics student this fall alongside his 18-year-old brother Carl Harmon-Vellotti, an incoming first-year bioengineering student.
A passion for chess runs in the family. Daniel Vellotti, the boys' father, has been playing chess since he was 9 and was also an esteemed chess player.
Luke said his father started teaching him chess when he was just 4 years old. He has been playing ever since.
Luke's parents would play games such as "chess Monopoly" where they would play both at the same time, and use things like puppets to keep Luke engaged and interested as a young kid, something they also did with his older brother Carl, Vellotti said.
Luke started competing in tournaments when he was only 6 years old, and became a chess expert by the time he was 10. He became a World Chess Federation master at the age of 13. Now, he has the current ranking of an international master.
He recalls his favorite game as one where he was losing, his opponent had an extra knight and just as the player finished his 40th move – giving him 30 extra minutes – he made an error that allowed Luke to checkmate him and win.
The oldest person Luke has ever competed against? He was 75.
During the summer, Luke typically practices chess four to five hours a day by playing people online and by completing chess puzzles.
He said that part of playing chess is learning how to adapt to your opponent. Though there are theories on the best moves to make for the first few turns of the match, chess games vary widely as they play out, and you have to adapt to your opponent quickly.
The brothers also help at their father's chess school, the Vellotti's Chess School, when they aren't at a tournament competing.
"(Luke and Carl) are hugely valuable to the Vellotti's Chess School because they have caught on to the spirit of how to work with children," Vellotti said.
Carl Harmon-Vellotti said he and Luke are close friends, but it took time for him to get used to having his younger brother be in the same classes as him at school.

Luke started high school curriculum when he was just 8 years old and caught up to his brother's curriculum when he was 10 years old.
"Once we started taking classes together, I wasn't really sure how it was going to work," Carl Harmon-Vellotti said. "But because of things like chess we have always been able to work together."
The brothers decided to go to UCLA as a joint decision, Harmon-Vellotti said.
"We have taken a lot of classes together in high school so it made sense for us to go to school together," he said.
The move to Los Angeles will be a Vellotti family affair. Their parents plan to relocate to Los Angeles from Boise, Idaho.
The brothers plan to commute to campus from their new home.
Luke said he applied to many of the same schools as his brother, and that when he was the recipient of the Stamps Family Charitable Foundation Scholarship they decided UCLA was their school of choice. Each year, UCLA nominates five out-of-state students and five in-state students to receive the scholarship.
Luke said that he hopes to revitalize the chess team at UCLA and wants the team to compete in the Pan-American Intercollegiate Chess Championships. Carl Harmon-Vellotti plans on joining his brother on the chess team.
Luke and his brother will also continue to compete outside the collegiate chess arena even with the new challenges they will face juggling their college school workload.
Their parents also are joining in on expanding the game across the city.
The parents said they have already reached out to the Los Angeles Unified School District and asked to have their chess program expanded in Los Angeles.
The Vellotti parents also hope to eventually teach chess classes at UCLA, they said.
Though the family is moving to Los Angeles together, it's still difficult for the parents to let their kids go.
"It's hard because it's a big change and you miss them, but they need to get out of the nest and they need to fly," Vellotti said. "If you keep them back longer they wouldn't be happy, and I know they really have a good opportunity (at UCLA)."
Though the brothers are starting college in the fall, and things are changing in the Vellotti house, they will still all have something to keep them connected: chess.