Junior Anthony Barr remains humble despite big defensive impact, elects to stay at UCLA for senior year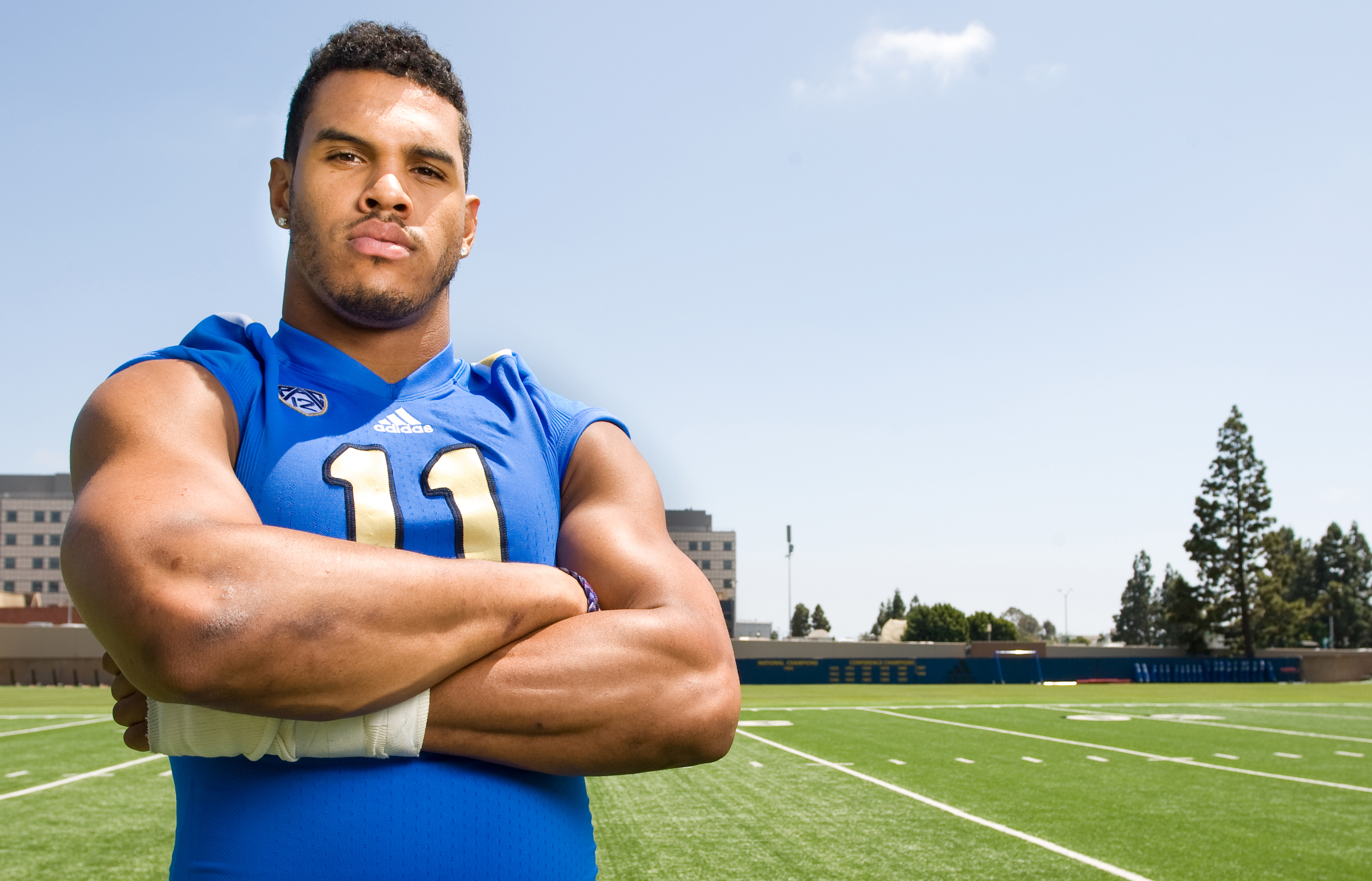 After beginning his UCLA football career on the offensive side of the ball, junior Anthony Barr made an instant impact this year as an outside linebacker, becoming one of the top defensive players in the nation.
Anthony Barr lined up split out wide in the red zone during a spring practice, creating a sense of déjà vu. But this time, everyone noticed.
His first time on the offensive side of the ball at UCLA wasn't so memorable relative to his first season on the defensive side of the ball.
As an F-back in the pistol offense, the then-sophomore amassed a total of 41 yards. This past season as a junior, starting as an outside linebacker, the cumulative yards lost from Barr's tackles for loss and sacks more than quadrupled the numbers he gained last season.
"You just have to be selfless," Barr said. "I was an offensive-minded guy. That's all I wanted to do. But as time went on, I realized maybe my future is best suited somewhere else."
Once barely a blip on the radar, Barr's name blared nationwide as he had the second-most sacks in the country with 13.5.
But the process of transition proved to be much more than just the mind-set of being selfless.
"The first few games of last season, I was kind of running around out there not understanding what I was supposed to do," said Barr.
"It's just about transferring what you learn in the meeting room and in film and transferring that to the football field. I think that's where a lot of people struggle. I definitely struggled with that my first couple years but as you mature and get older you get more comfortable with it."
As he's matured, his demeanor remains the same – always soft-spoken and deflecting attention to others.
Humility is at the crux of his personality, accepting the success he's had in stride – always first and foremost thanking his teammates, coaches and family.
"If you lose (that humility), you kind of lose a sense of who you are and what you're trying to attain and how you got there," he said. "If you keep your focus, keep your head down and work hard, things will pay off."
But while he tries to take the attention off himself, opposing offenses won't as they scheme against one of the nation's best players. But once again, he's confident his teammates will seize the opportunity.
"When teams focus on me it's going to leave a lot of guys one-on-one," Barr said. "We have some great defensive players on our side of the ball. Some guys are going to have some breakout years, some guys you might not have known about, so I'm really excited for that."
Not only will Barr provide an opportunity for his teammates to perform, but also to improve.
Barr often goes head-to-head in practice with another potential first-round draft pick in junior offensive lineman Xavier Su'a-Filo.
"I love (the competition)," Su'a-Filo said. "Anthony's a great player and he brings it every day. I would be doing him a disservice and he would be doing the same thing to me if we didn't bring it. And so we learn it from each other. And I love going against him and it's fun."
Although it may seem as though Barr shies away from the spotlight, he's ready for the biggest stage, and to embrace impending glory – the possibility of winning the Heisman Trophy.
"UCLA needs to promote him, and I'm going to promote him. And he needs to go out and promote himself by going out and playing great and helping his team win," said coach Jim Mora.
And while Mora is lending a helping hand to the Heisman campaign, Barr knows the most important attribute a Heisman Trophy-winner can have – being a winner.
"I just want to see some wins – as many wins as you can get," Barr said. "You're not going to win any awards if you're not going to win any games. I think first and foremost with the team and then all those personal awards and accolades those will all fall in place at the end of the year."
Offensive coordinator Noel Mazzone is getting involved too, designing plays in which Barr can flex his exceptional athleticism on the offensive side of the ball.
Barr isn't afraid to put the ball in his hands either, and it'll help his Heisman chances. Only one other defensive player has won the award – Charles Woodson, who doubled as a punt returner and occasionally wide receiver.
Last season, then-redshirt senior defense end Datone Jones was able to haul in a touchdown grab in the red zone and Barr is ready to fill that role.
"You get a big, good-looking guy with long arms like Anthony or a guy that's athletic like Cassius (Marsh), those size mismatches – you're going to try and utilize them," said Mora.
Barr agreed with Mora, saying, "The more you can do the more useful you are, so if I can get us six points here or there I'm all for that."
But despite how far Barr has climbed up draft boards and Heisman watch lists, he understands how much he can improve, continually staying humble and working hardest when no one sees.
When asked how much time he still spends learning about the position this offseason, in meetings and on film, Barr said, "Just as much if not more than on the practice field. You go home and you're just chilling, you just turn on some film just to keep your mind refreshed and to keep that in the back of your head. I was watching Nebraska just the other day just to get your feet wet a little bit and to get ready for that first game coming up."
That game coming up he's referring to is 12 weeks away. And that Nebraska rematch? Not for another 14.
But as much as he's preparing for the future season, he knows where he stands on his future career. After a breakout season, Barr was widely considered as one of the top picks in the entire NFL draft.
He thought over the decision to turn pro, but decided to return to school for his senior season.
"It was pretty tough," Barr said. "I took my time with that. When you're 20,21 years old, you just see all these zeros at the end of a check – it kind of entices you to turn pro.
But I think you need to sit down and think what's going to be best long-term. Definitely a degree from UCLA is pretty decent and that'll pay off in the long run. I also had to grow and mature as a football player and a person, and I don't know if I was ready to be completely on my own yet. So I think it was best for me to come back and further develop myself."
And with Barr's mind off that decision, his focus can shift to the future.