UCLA's BruinBus to introduce new route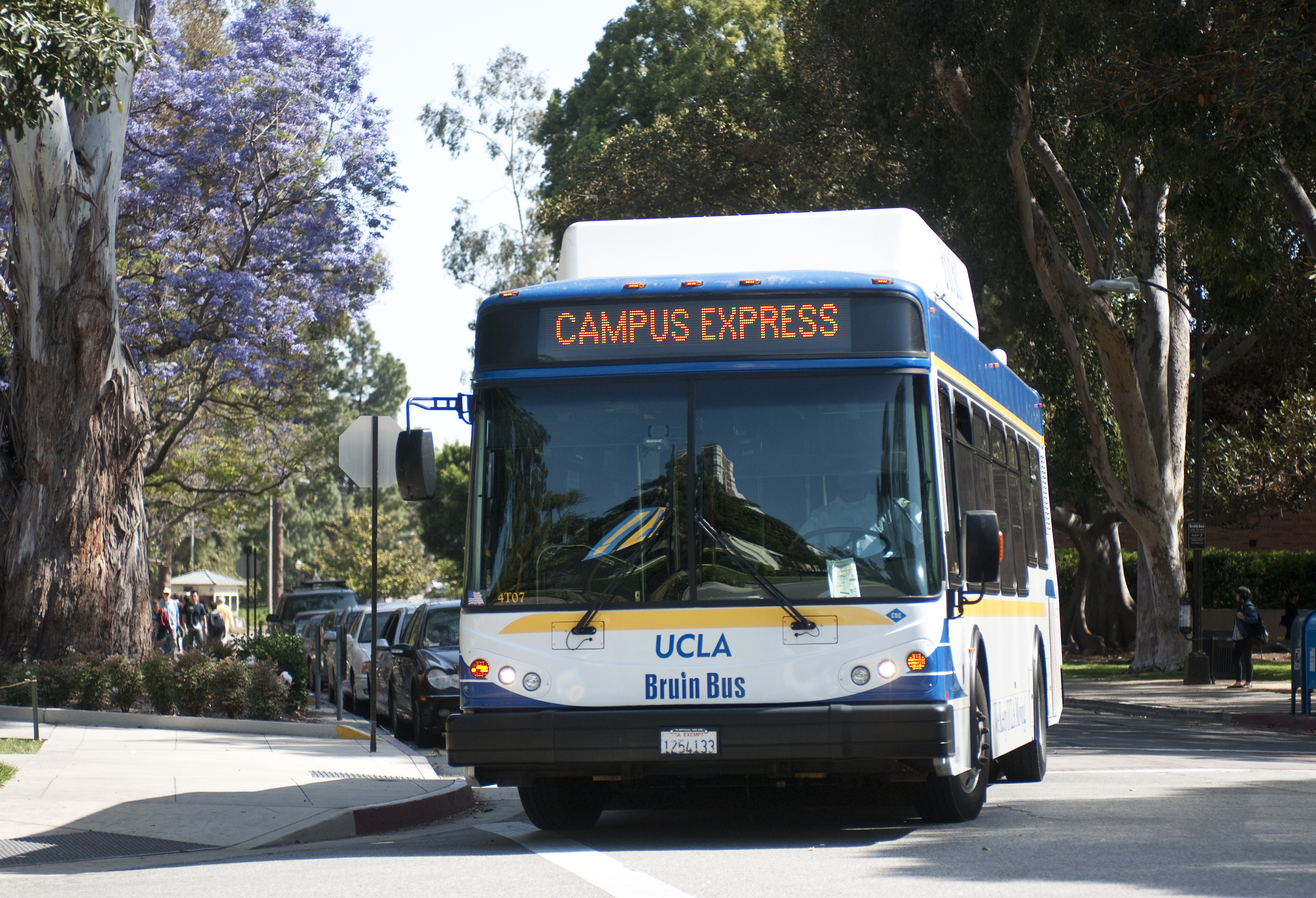 UCLA Transportation Services plans to put in place a new express bus route that will only have two stops, Weyburn Terrace and Murphy Hall. The Northwest Shuttle Van, which runs between Southern Regional Library and Macgowan Hall, will stop its service due to limited hours and low student demand.
Starting this summer, UCLA Transportation Services plans to discontinue a current BruinBus route in favor of a new express route.
Student demand for transportation during high-travel hours determined the need for another route, said Sherry Lewis, director of UCLA Fleet and Transit.
Currently, the BruinBus has routes serving the university apartments, Wilshire Center and the Hill.
The new Weyburn Express will follow a route between Weyburn Terrace and Murphy Hall.
However, while Campus Express, the most popular of all BruinBus services, serves six bus stops, the new route would serve only the first and last stops in order to quicken student transportation to and from campus.
The Weyburn Express will start its service Sept. 26 and will run Monday through Friday from 7:30 to 10:30 a.m. from Weyburn Terrace to Murphy Hall and from 3:30 to 6:30 p.m. from Murphy Hall to Weyburn Terrace.
The Northwest Shuttle Van, another route the Transportation Services offers, will be discontinued on June 17, according to the UCLA Transportation Services website.
The shuttle runs Monday through Friday between 11:30 a.m. and 2 p.m., servicing Macgowan Turnaround, Krieger Child Care Center, the Southern Regional Library and Hedrick Hall.
Lewis said that route will be canceled because of the small number of riders and limited hours of operation.
Alice Thai, a third-year political science student, said she thought it was reasonable to cancel a bus that not many people use. Thai said she does not use the Northwest Shuttle herself.
"It doesn't seem like a lot of people use that shuttle, and it doesn't even run all throughout the day," Thai said, while waiting for the southbound Campus Express on Tuesday.
Lewis called the Northwest Shuttle "a leftover" route, a result from previous demands during a time when the northwest region of the campus was affected by construction.
The funds that would have been used on the Northwest Shuttle and revenue from parking costs will be used to help create the new bus service, Lewis said.
Lewis said she did not want to comment on specific costs of the program until the service is in place.
She added that the cost for the extra bus route would not directly affect students, unless they pay for on-campus parking.
According to Daily Bruin archives, parking fees will increase in January 2014 by $3 a month for yellow permit holders and $1.50 for two-person carpools.
Students said that the new route would be beneficial for a bus stop that consistently has long lines of riders.
Lisa Lambert, a third-year anthropology student, did not know about the additional route. She said she was pleased by the information and plans to use the Weyburn Express when possible.
"It will be nice to know that I'll have that extra option, and even cut out 10 minutes from my commute," Lambert said, as she sat in the Campus Express on her commute home.