Fourth-annual WOMP event consolidates, shifts focus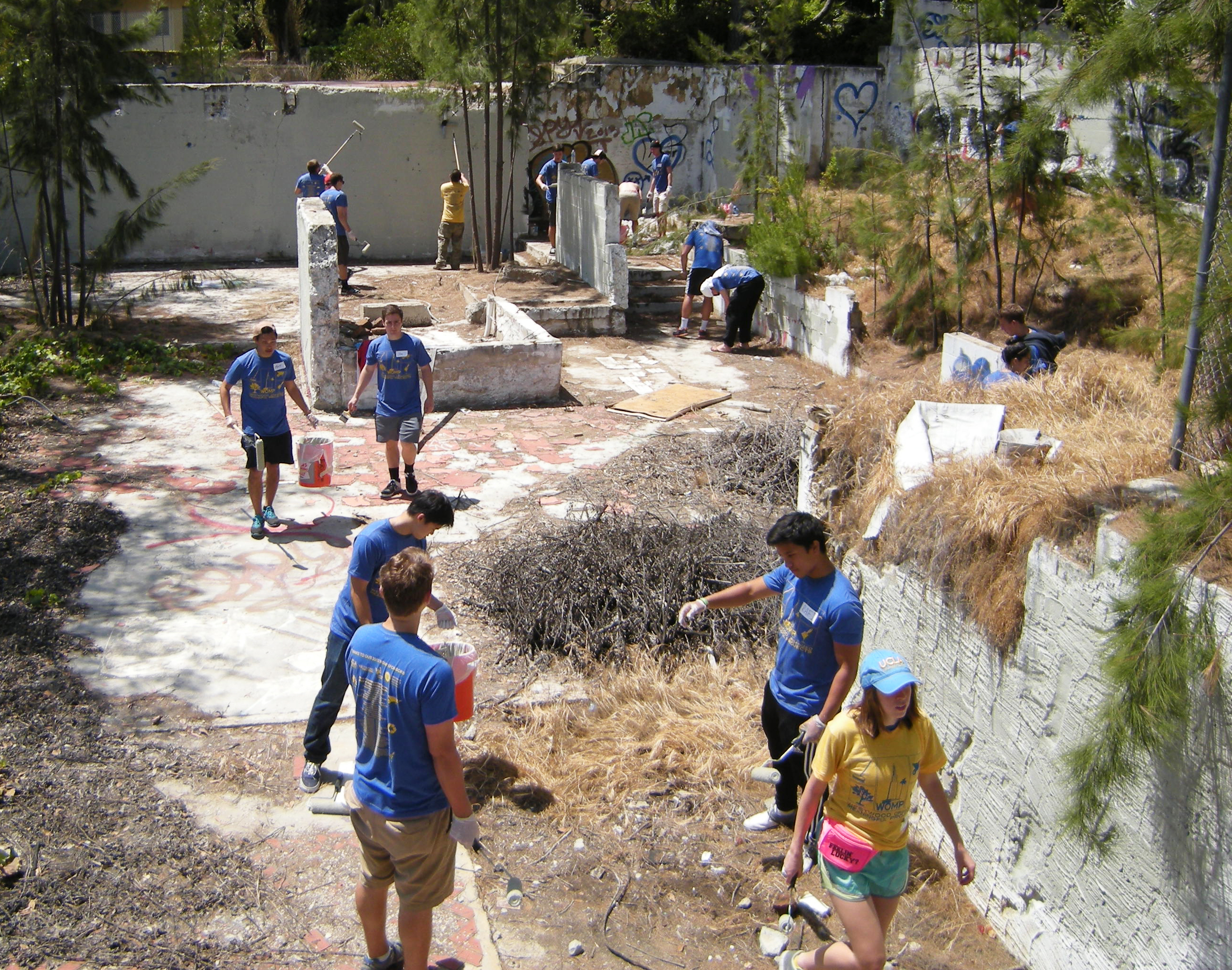 UCLA students participated in the fourth annual Westwood Organized Meaningful Projects event, which aims to clean and beautify Westwood.
Armed with buckets, wheelbarrows and paint, volunteers in blue and yellow shirts fanned out across Westwood Village Sunday morning.
By the time they left nearly four hours later, curbs were painted, trees were planted and the streets were cleaner.
More than 300 UCLA students participated in the fourth-annual Westwood Organized Meaningful Projects event, which aims to clean and beautify Westwood Village and the North Village, said Rachel Corell, the director of the UCLA Volunteer Center.
Organizers renamed the annual event this year, changing the word "MEGA" to "meaningful."
"The name change came up in a lot of our discussions, because we wanted to make sure that the projects were meaningful for students," Corell said.
Rather than attempting to bring in as many students as possible, organizers this year tried to maximize volunteer enjoyment and to make sure projects were worthwhile, she added.
Last year, 740 students attended the event. As a result, some projects were finished sooner than expected and some people said their time was not well spent, said Steve Sann, co-chair of the Westwood Community Council and an organizer of the event.
Event leaders focused on making this year's event smaller and more tightly organized than in the past, said David Tracy, the event's student co-chair and a fifth-year business economics and architecture student.
Organizers shifted the focus of the event from curb painting and covering graffiti to planting trees, which requires fewer volunteers, Sann said.
Corell said that the UCLA Volunteer Center also made changes to the sign-up process this year to make the most use of volunteers' time and to make the projects more personal for volunteers. For the first time, participants listed in order of preference which projects they were most interested in.
The Volunteer Center reduced the number of participants by starting sign-ups later in the year, discouraging same-day registration and targeting their outreach only to groups that traditionally volunteer often, such as members of the Greek system and athletes, Corell said.
Fraternities and sororities often expect members to participate in community services projects.
Garrett Morgan, a third-year sociology and Afro-American studies student, was assigned to plant a 24-inch box tree near the corner of Le Conte and Broxton avenues.
This was Morgan's third year volunteering at the WOMP event with his fraternity, Theta Chi.
"Every year, we do something new to help Westwood," he said. "It's the least we can do."
Sann said 22 new magnolia, jacaranda and Chinese flame trees were planted this year as part of the project. This was the most ambitious tree-planting project in the event's history, he said.
Students also created 75 hygiene kits, which included razors, shampoo, soap and inspirational messages, for homeless individuals, Corell said.
"When the event was big in years past, it was harder to make sure that everybody was taken care of," Tracy said. "I'd much rather have everybody feel like their time's been put to good use, which is what we're seeing now."