UCLA prepares for scheduled worker strike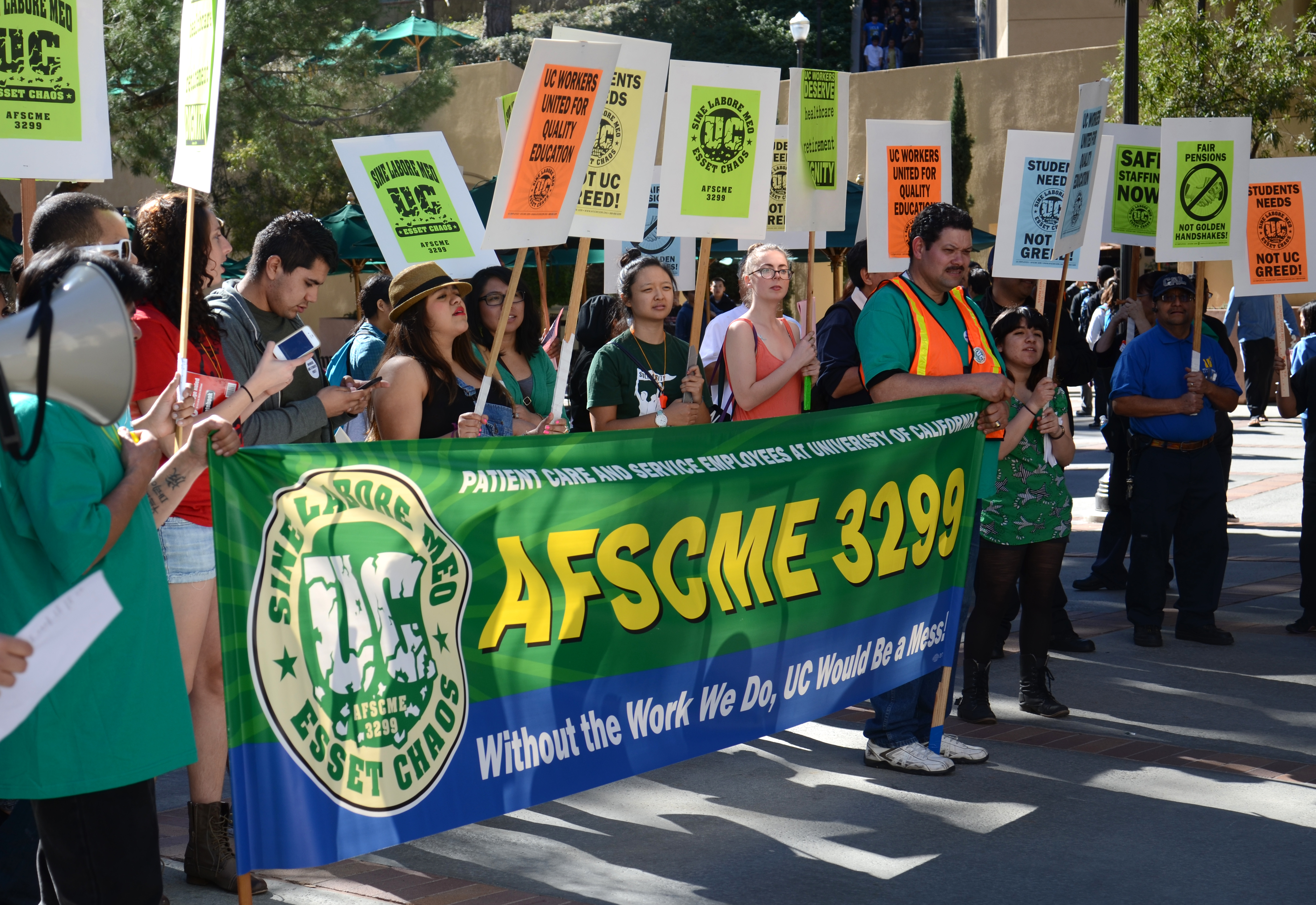 A union representing University of California patient care technical workers protested outside of Covel Commons.
Impacts of scheduled union strike
Possible postponement of elective surgeries at the UC Medical Centers
$20 million spent by the UC to replace workers going on strike
Possible changes to UCLA dining and housekeeping services on the Hill
SOURCE: University of California Health Sciences and Services, Los Angeles Times, UCLA Housing Services Compiled by Katherine Hafner, Bruin senior staff.
UCLA is looking to make a number of changes this week – including adjustments to dining services on the Hill and patient care at the medical center – in anticipation of an upcoming worker strike across the University of California.
The American Federation of State, County and Municipal Employee Local 3299 – a union that represents about 13,000 patient care technical workers across the UC – is organizing a strike from Tuesday through Thursday in light of stalled pension negotiations with the University.
Thursday night, UCLA Housing Services sent an email to students living in residential complexes, stating that the strike could affect housekeeping and dining services on the Hill, forcing them to revise hours of operation. The email stated that a revised dining schedule will be posted in prominent locations later today.
UCLA Housing was not available for comment about the exact changes it plans to enact.
UC officials are also concerned about the effects of the strike on patient care at the five UC medical centers, including the UCLA and UC San Francisco medical centers. Medical centers will have to adapt out of necessity to the lower staffing numbers, like reducing the census of patients in the hospitals, said Steve Montiel, a UC spokesman.
Many elective surgery procedures at the five hospitals across the state may also be postponed until after the strike, according to the Los Angeles Times.
About 8,500 other service workers, who are in a different bargaining unit of AFSCME 3299 and work alongside patient care workers, also plan to go on a sympathy strike for two days, according to Todd Stenhouse, a spokesman for AFSCME 3299.
A separate union comprised of people, including pharmacists, who work closely with AFSCME workers, announced it will also participate in a one-day strike on May 21, said Kathryn Lybarger, president of AFSCME 3299.
"We will do everything possible to ensure the safety of patients at UC hospitals, and that will cost up to $20 million … But the real cost is the human one," said John Stobo, senior vice president for health sciences and services, in a press release on Friday. "It will mean someone suffering from chest pains may have to travel an additional 15 minutes for treatment because a UC emergency room is backed up for lack of staff."
The UC is trying to stop the strike from taking place, based on the argument that it will endanger patient safety.
The UC announced on Friday that the Public Employees Relations Board would seek a partial injunction to limit the number of about 13,000 striking workers – of which 97 percent earlier voted to authorize a strike – by about 120 people.  An injunction is a court order that prohibits a party from doing specific acts.
The California Superior Court is expected to rule on the injunction today.
But the UC wants the court to restrict more than 120 employees from striking, and that the UC will still attempt today to get more workers covered by the injunction, Montiel said.
The UC and union both have said they have contingency plans in place to ensure patient safety while the workers abstain from their normal duties.
Stenhouse said the union has created a patient protection task force of members who will be available to treat patients in case of an emergency.
The upcoming strike comes after months of stalled contract negotiations between the University and the union that started last year regarding worker pay and pension contracts.
AFSCME is striking in protest of what members call unfair worker compensation. UC officials have said the union will not agree to the pension proposals the University put forward, while the union raises the issue of high executive salary and low worker pay throughout the system.
Montiel, however, said executive compensation does not concern and should not affect negotiations between AFSCME and the UC.
Other unions are under contracts, which may prevent them from sympathy striking, Lybarger said. Because University Professional and Technical Employeesand other AFSCME 3299 workers are still in negotiations with the University, they are not under the same restrictions, she added.
"The strike and executive compensation are diversions from the real issues, and patients are going to suffer for it," Montiel said.
Lybarger said there could possibly be another strike depending on the outcome of the one this week, which is scheduled to begin Tuesday at 4 a.m. and last until 4 a.m. on Thursday.