Cricket club offers international students piece of home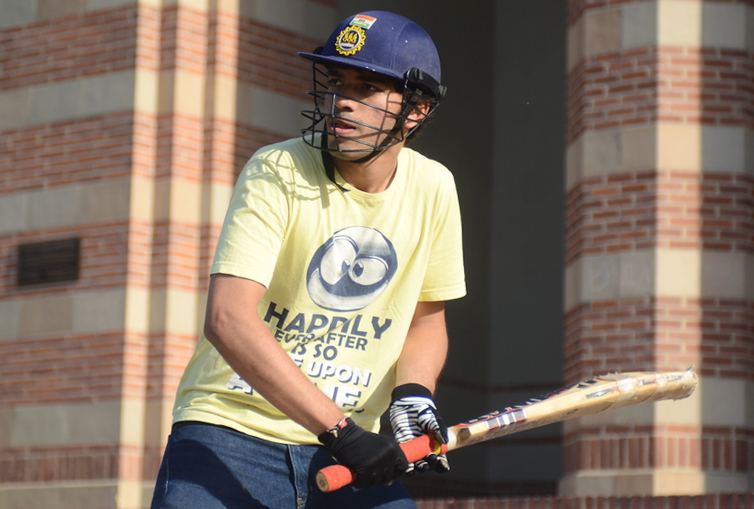 Meet Bhagdev, a second-year computer science student from India, is shown here wearing a helmet and batting pads which are standard for every batsman in cricket. The unofficial club meets up regularly to play the game at the Intramural Field.
In his first quarter at UCLA, second-year computer science student Meet Bhagdev was on his way to watch a soccer game at Drake Stadium when something grabbed his attention.
As he was passing the Intramural Field, he noticed a group of students playing cricket – a game the international student grew up with in his hometown of Rajkot, Gujarat, India.
Excited, Bhagdev asked if he could join in on the casual game.
He's been playing with the group ever since.
The group that Bhagdev stumbled upon is UCLA's unofficial cricket club, comprised of a group of about one hundred students who share a passion for the sport, which is rarely publicized in the United States.
"I was definitely surprised to have found a group of people who play cricket. I did not expect anyone at UCLA to play," Bhagdev said.
In his home country of India, cricket is analogous with American football or baseball, with nearly everyone playing cricket and following a favorite professional team.
When kids are not in school, Bhagdev said, they are usually picking up or organizing a game of cricket.
The national passion for the sport is a fond memory for third-year electrical engineering student Aditya Ram, who is from Southern India.
"We would play between classes, after school, any free time we had– we would play cricket. It's 10 times more crazy than how baseball is here," he said.
After growing up in that culture, Ram said finding a cricket community in the United States was a high priority when he came to UCLA.
"The first thing I did after I transferred was to see if people played cricket," he said.
Many of the team's members from India compared the enthusiasm that Americans have for the Super Bowl to that of Indians for the Cricket World Cup, played every four years and most recently won by India in 2011.
But the players on UCLA's team hail from many other cricket-obsessed countries, such as Pakistan, Sri Lanka, Australia and England. The group allows these students from different backgrounds to come together and bond over their common interest.
"I'm so happy to have found people with my same passion," Ram said. "It's the place I go when I want to do something I love."
Fourth-year aerospace engineering student Raqeeb Thameem, who has played cricket for most of his life, said he hoped he would be able to find just such a community when he came to UCLA from his home in Chennai, Tamil Nadu, India.
"I knew that cricket wasn't a major sport in America, but I knew there would be enough people around to be interested in playing regularly," Thameem said.
Bhagdev said he hopes the next step for the group will be to officially register as a UCLA club, adding a competitive element to the casual team dynamic.
The group's ultimate goal, he said, is to enter American College Cricket, a competitive league that has been expanding its numbers since its founding in November 2008.
UCLA Cricket will have to win an official tournament in order to gain a bid into the league, but Bhagdev said the team will never be defined just by its competitive presence.
"If we don't get into the league, we will still continue playing for fun," Bhagdev said.
"The only difference when you play for fun versus playing competitively is that you are less intense and you play for the spirit of the game. I enjoy both but I think it is important to play for fun sometimes."