UCLA alum solves mysteries of WWII soldiers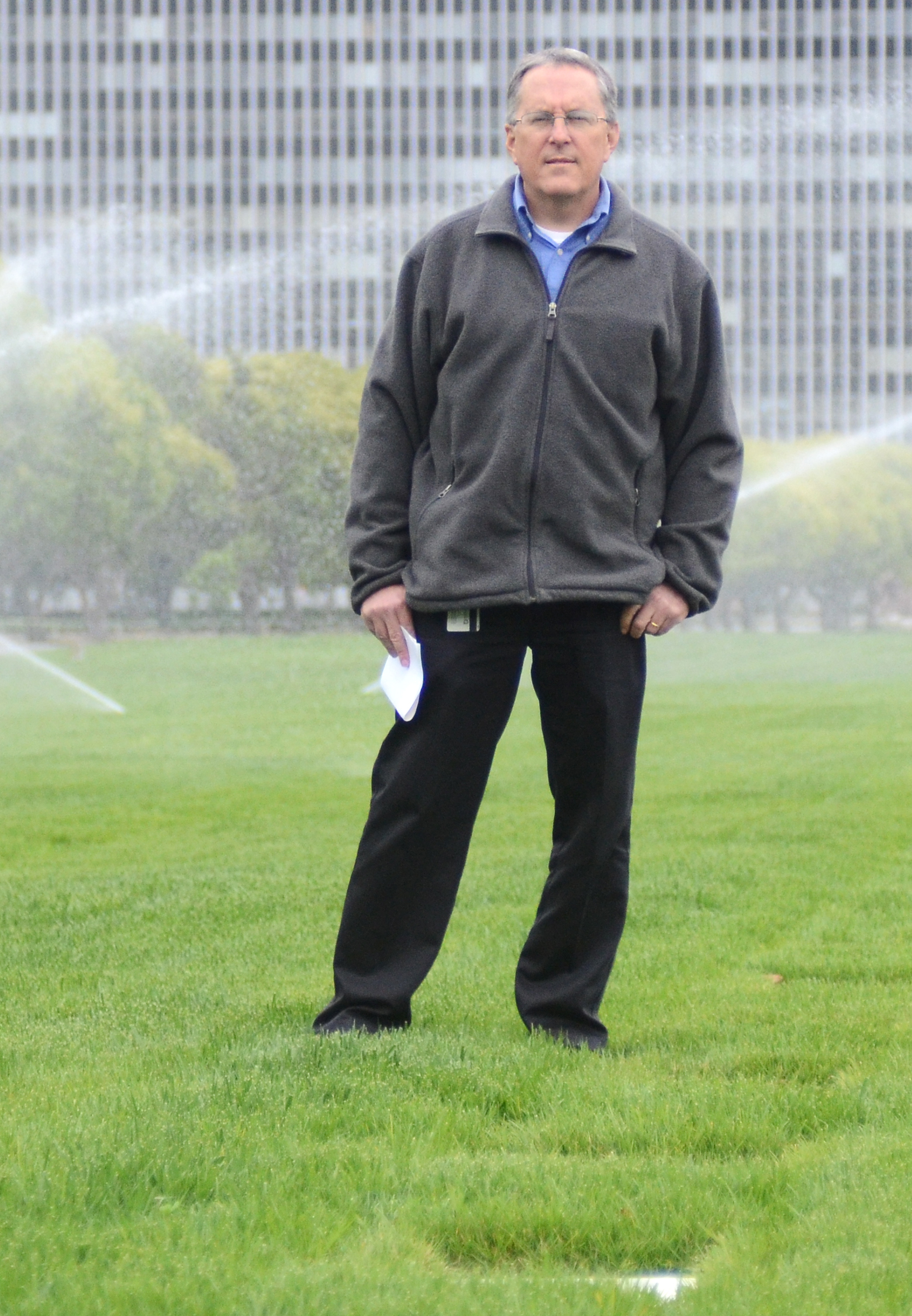 Top right: William Beigel, a UCLA alumnus, stands on the grassy lawn of the Los Angeles National Cemetery in Westwood. He started researching UCLA's World War II casualties in 2009. At the cemetery, he found the final resting spot of one of the Bruins from WWII he researched.
This article was updated on May 8 at 11:05 a.m.
Walking through the Los Angeles National Cemetery in Westwood brings back memories for William Beigel – but not all of them are his own.
Many of them belong to the Bruins he still dreams about, whose stories he has finally been able to tell.
The UCLA alumnus works during the day as a contract negotiator.
But at night, he spends hours at his kitchen table or on his computer, poring over countless pages of military records and documents while investigating UCLA's dead from World War II.
Beigel earned his degree in history in 1980 at UCLA, followed by his master's in geography three years later.
His search for UCLA's dead started in 2009; however, his career as a World War II researcher began much earlier.
Beigel's father's 19-year-old cousin Morris Meyers was listed as missing in action shortly after being deployed in the U.S. Army Air Corps in 1943 and was never heard from again.
"My dad always wondered about it and he would tell the stories and it made me curious," Beigel said.
That curiosity, along with research techniques he learned as a history student at UCLA, led Beigel to discover that Meyers set off on a plane for Scotland from Newfoundland in bad weather.
The plane went down in a storm, and he died.
Solving the family mystery sparked in Beigel a passion to investigate other cases and, in the late 1990s, he started taking private clients who wanted to know more about their lost loved ones.
Beigel, who lives in Torrance, Calif., said his wife and children are supportive of the work he does.
Jeanne Horton, one of Beigel's clients, was only nine years old when her father, Howard Jersild, was killed in the Philippines after a Japanese plane crashed into his boat.
"I knew he was gone, but you don't learn anything other than that when you're that little," Horton said. "It's bugged me for my whole life, wanting to know more."
She said she often thought back about her father and went to Beigel asking for answers.
With Beigel's help, Horton was able to uncover some details about her father, like the blue color of his eyes and the record of his military service, including that he was awarded a posthumous purple heart.
Horton said when she received the first package of documents that Beigel sent, which included personal letters and reports of casualties before his death, she sat down and cried.
"I know that probably sounds sappy but that's exactly what I did," Horton said. "It just took me back and I realized what a really good guy he was."
Sources of intrigue
Beigel started his investigation in 2009 when he found a list of 200 names detailing the UCLA-affiliated people who died in World War II posted online by the UCLA Department of Military Science.
Victoria Sanelli, the manager of the Department of Military Science who compiled the original list, said it was created from the memories of former students and records from the alumni center's archives.
She said she brought together the list to have a record of UCLA military deaths for the department's annual Veterans Day celebration.
Sanelli said Beigel offered to research the list further free of charge.
As he started to delve into the history of UCLA's military dead, he hit some roadblocks.
Details and circumstances surrounding the deaths were often unknown and non-digitized WWII era files contributed to bad record-keeping, he said.
"For WWII there's no database that's got (all of the information)," Beigel said. "There are their names, but for most of them it's only a name and a home county, nothing about the circumstances of their life or death – not even a date of death in most cases."
He said many of his normal sources of information like the National Archives in Maryland or the National Personnel Records Center in St. Louis, Miss. did not have information about some of the UCLA names.
This led him to turn to less traditional methods of research, like online message boards, genealogy websites and online cemetery records, as starting points.
Cy "Slats" Wy, for example, was a mystery that took Beigel 3 1/2 years and a stroke of Internet luck to solve.
Beigel said no one with that name could be found anywhere, but with information stating that he served in the Air Corps, along with the fact he was stationed in Italy, Beigel was able to deduce some possibilities on which bomb group he was with.
A last-ditch posting on an Air Corps' online message board finally gave him what he needed. A man replied saying he not only knew Wy but was there when he died, and the reason why Beigel couldn't find anything was because his full name was actually Celestine Wyrick.
With the man's help, Beigel was able to find out that Wyrick, a photographer, was working on a plane to get a better picture when he hit a live wire and electrocuted himself.
Sanelli said Beigel has been extremely thorough in his research and she receives a large package of documents, letters and pictures every few months from him, some of which have already been sought out by curious family members looking for lost relatives.
"It's great information and every once in awhile someone will be looking specifically about someone and we're able to go in the archives and find out information about them," she said.
The original list of 200 was expanded and edited to 260 as Beigel found more UCLA casualties in yearbooks and archived records.
More than just a name
Janovsky. Tashjian. Zabriskie.
These names reflect the immigrant backgrounds of many of the Bruin soldiers that fought for the United States in World War II.
"Each name is very different," Beigel said. "Every one is a story."
UCLA military members ran the gamut from football players, fraternity brothers and members of the rowing team to Japanese soldiers with parents in internment camps  – also among them was Francis Wai, the only Chinese-American to ever be awarded the medal of honor.
One of the stories that most intrigued Beigel was that of Marilyn Weeks, a microbiology student who joined the war effort as an apprentice hospital maid and died from an infection after dental surgery.
"You read her file and you say this was a very, very sharp young woman," Beigel said.
"I'm sure in today's world they would have made her an officer and put her somewhere where she maybe could've contributed a little more than being a hospital apprentice maid."
Another name on the list was Marshall Riddick, a UCLA student who joined the Air Corps when he was 20 years old.
Less than a year later, he was laid to rest at the Los Angeles National Cemetery in Westwood after the training aircraft he was piloting crashed, killing him and a fellow cadet.
Beigel said the substandard training that airmen received resulted in scores of deaths even before being deployed.
Walking through the cemetery, Beigel spots the flat marble marker that marks the final resting spot of AVC Marshall P. Riddick.
More than half a century after Riddick's death, Beigel stood staring at his grave under an opaque grey sky, smiling at finally finding the person whom he only got to know through files, documents and frayed yearbook pages.
He added that he feels a special bond with the people on the list as a fellow Bruin, and by telling their stories he puts a face and a personality to what would have been just another anonymous name.
"Many are the days when I look at a name and think – this guy is glad that I'm finding out what happened to him," Beigel said. "What I really liked was taking all these names and bringing them back to life again for just a few moments."