UCLA sand volleyball player named All-American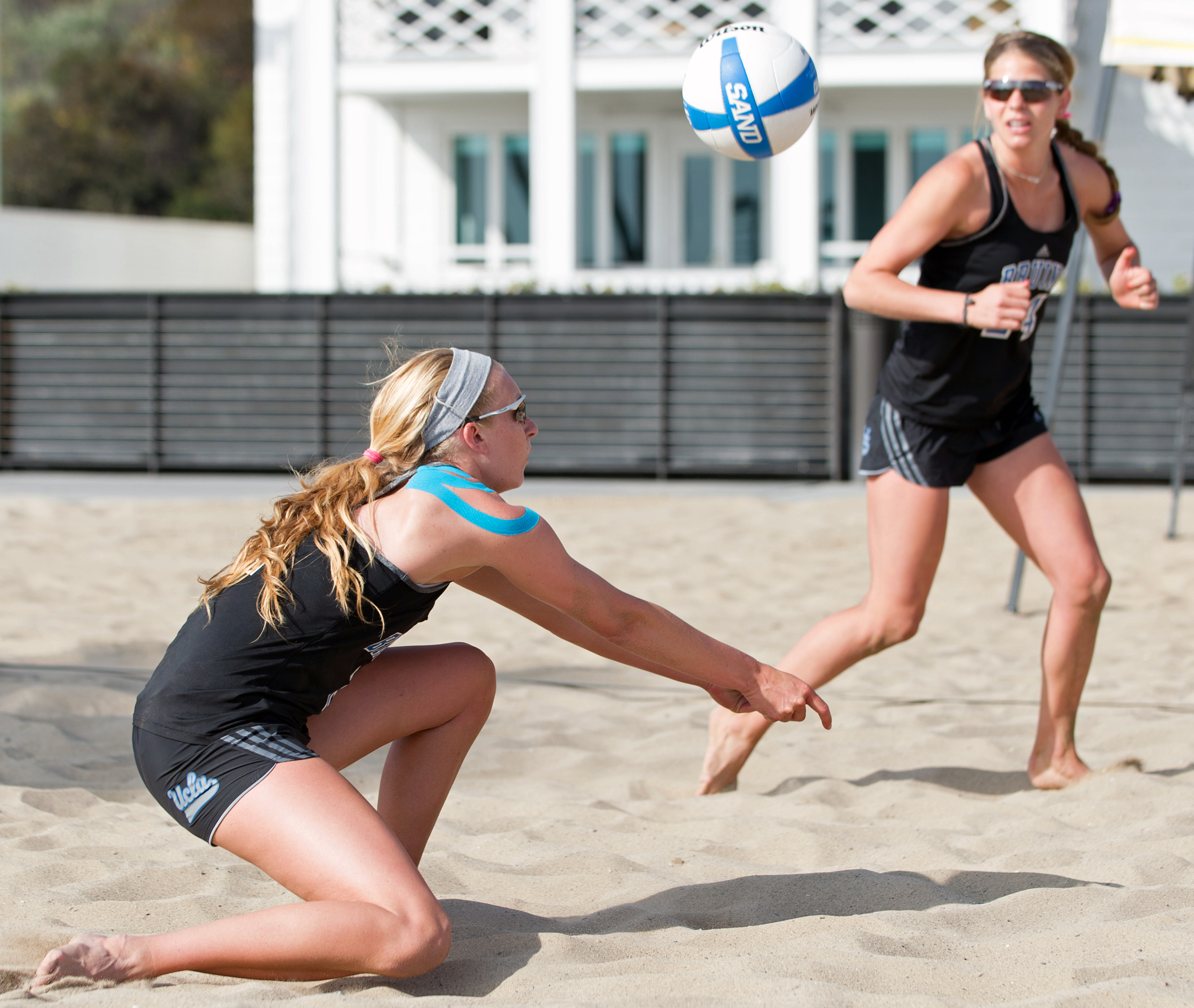 Kelly Reeves almost missed the news that she had been named an AVCA Collegiate Sand Volleyball All-American in sand volleyball after she was knocked out of the AVCA championship this weekend.
After the sand volleyball national championships, it was an off-the-sand moment that best encapsulated the Bruins' inaugural season.
UCLA's top pair, juniors Meg Norton and Kelly Reeves, had made it to the championship round but lost in their first match, and the team had returned to its hotel room overlooking the courts.
Unbeknownst to the Bruins, however, the list of AVCA Collegiate Sand Volleyball All-Americans – which included Reeves – was announced soon thereafter.
The team only heard the news because assistant coach Kaitlin Nielsen overheard it from the balcony, a fitting end to a season that was focused more on learning and internal improvement than competitive honors.
"I wasn't expecting that at all, it's a huge honor," Reeves said of the award. "I would have never guessed to even be in this situation. It's been a fun ride."
The team's tumultuous ride began less than two months ago with a group of indoor players learning the ropes of a new sport and ended with two pairs qualifying for the national championships.
Reeves and Norton were joined by the duo of duo of freshman Becca Strehlow and sophomore Zoe Nightingale, who did not qualify for the championship round.
Reeves and Norton were able to qualify by finishing second in their bracket, despite losing both of their games on Saturday.
But against the nation's top 16 pairs, the relatively inexperienced Bruins were unable to hold out. Norton and Reeves fell in two sets to a pair from the University of Louisiana at Monroe.
The Bruins said they were happy, however, to be facing such stiff competition.
"We learned a lot by watching and playing with these teams throughout the weekend," said coach Stein Metzger. "We played exceptionally well at times and we faced some really tough teams – the best of the best."
Among the most important of those lessons was how to play effectively in high winds, which Metzger said is much more familiar to teams from areas with more extreme weather.
Upon arriving at the venue on Thursday, the Bruins immediately took to the court to try to adapt to these new conditions, a change which Norton said proved relatively successful on their first day of competition.
"We went out when no other teams were really there and just kind of played with our coach. We were serving underhand because we couldn't even get it over," Norton said.
"Then, the first few days were a lot of games of just being able to serve over the net – we did a pretty good job of that."
As the team turns its attention to the indoor season in the fall, Metzger said he believes the team's prowess in the beach game will continue to grow even when they play on the court, with every match serving as a crucial learning experience.
"This game is the kind of game that takes a lot of experience. People don't really peak until they get close to thirties," he said. "They're babies in the game, but we're well on our way."