Uncontrollable elements at sand volleyball championships call for UCLA to keep focused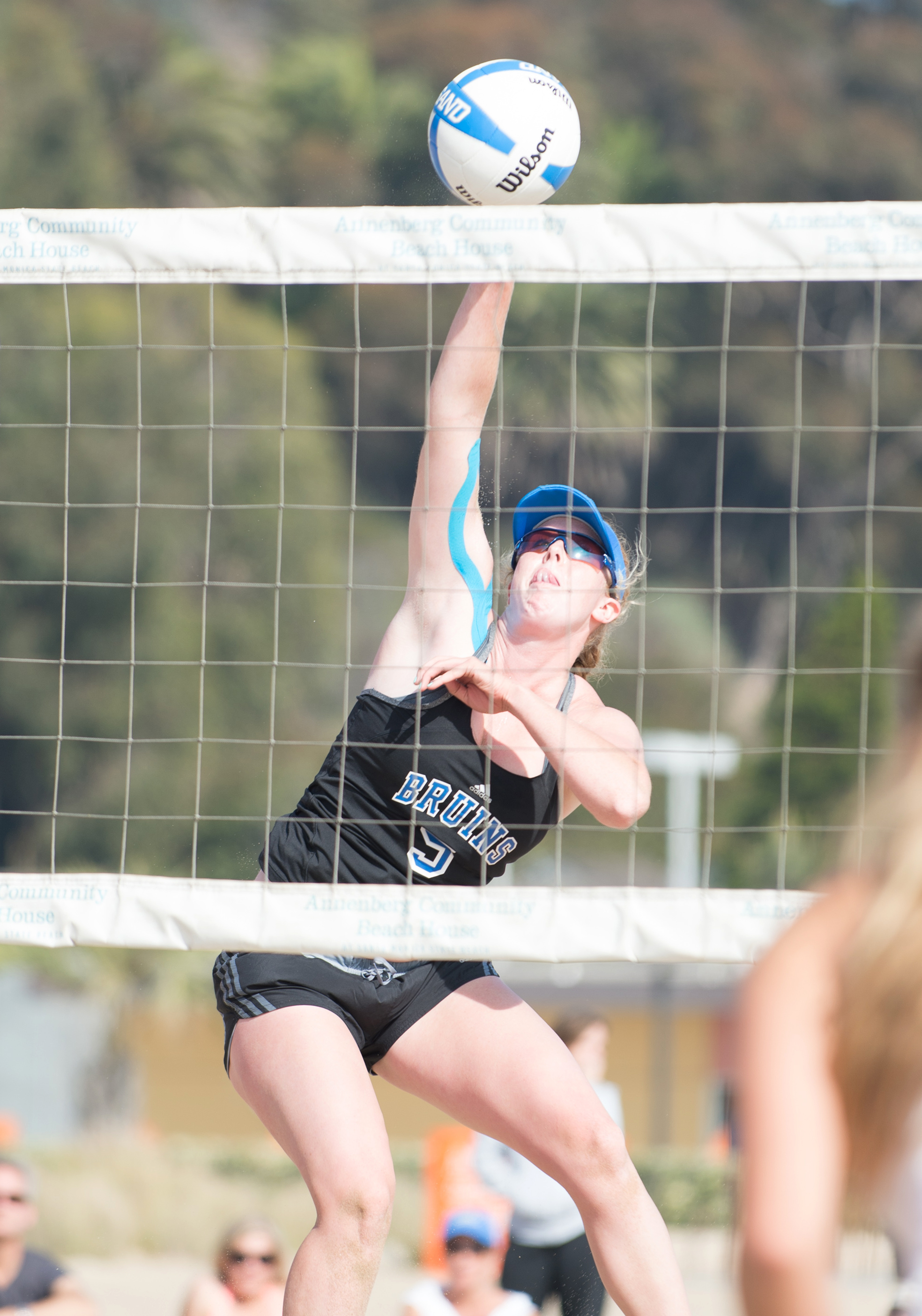 Freshman Becca Strehlow said the wind could change the results of the AVCA championship, as it will make vital aspects of the games more difficult.
Sand volleyball
AVCA COLLEGIATE National Championship
Today to Sunday
Gulf Shores, Ala.
No TV info
On the eve of the American Volleyball Coaches Association sand volleyball national championships, the conditions in Gulf Shores, Ala. were anything but beachy.
Winds around 15 mph and the possibility of thunderstorms promise to add another unknown element to the competition, which will pit two pairs of Bruins against the best duos from around the country in pursuit of the individual title.
But there's one aspect of the competition site that coach Stein Metzger said favors UCLA's athletes specifically.
The sand in Gulf Shores is light and powdery, he said, which causes it to be harder packed than the more coarse "deep sand" of Southern California.
"Hard-packed is an advantage because we're more familiar with the indoor game," Metzger said, adding that the hard-packed sand more closely resembles a court and makes it easier to move.
"We have pretty physical athletes and I think that plays into our favor, being able to jump and bang and play a big person's game."
As the Bruins headed out into the gloomy Thursday afternoon, they hoped to familiarize themselves with the courts they'll be playing on.
But as sophomore Zoë Nightingale watched other teams practice through her hotel window, she said the wind was strong enough to determine the course of the tournament.
"I've been watching people trying to serve and they're trying as hard as they can and it's just not going over the net because the wind is just blowing so hard," she said. "Really, whoever can get the ball over the net is going to win."
With such a crucial part of the game falling entirely out of the players' control, freshman Becca Strehlow said sand volleyball requires a different kind of mental toughness.
"If this wind thing keeps up, it's going to change everything," she said. "The wind has a mind of its own, so it's more about trying to stay composed and relaxed when this situation occurs."
Part of this mindset, players said, is about focusing on their own game – particularly since the bracket nature of the tournament means they haven't been able to prepare for their opponents in advance.
Metzger, however, said he is confident in the players' abilities to continue to adapt to game-time situations throughout the weekend, regardless of the conditions or the disparate strategies they'll face from the nation's top pairs.
"There are quite a few good players, but by no means do I think our teams can't beat them … if we come out ready to play and execute," he said. "Consistency is the name of the game. You've got to play well but you've also got to hold up for three days."