Scates' Students: Sealy and Speraw reunite as UCLA's volleyball coaches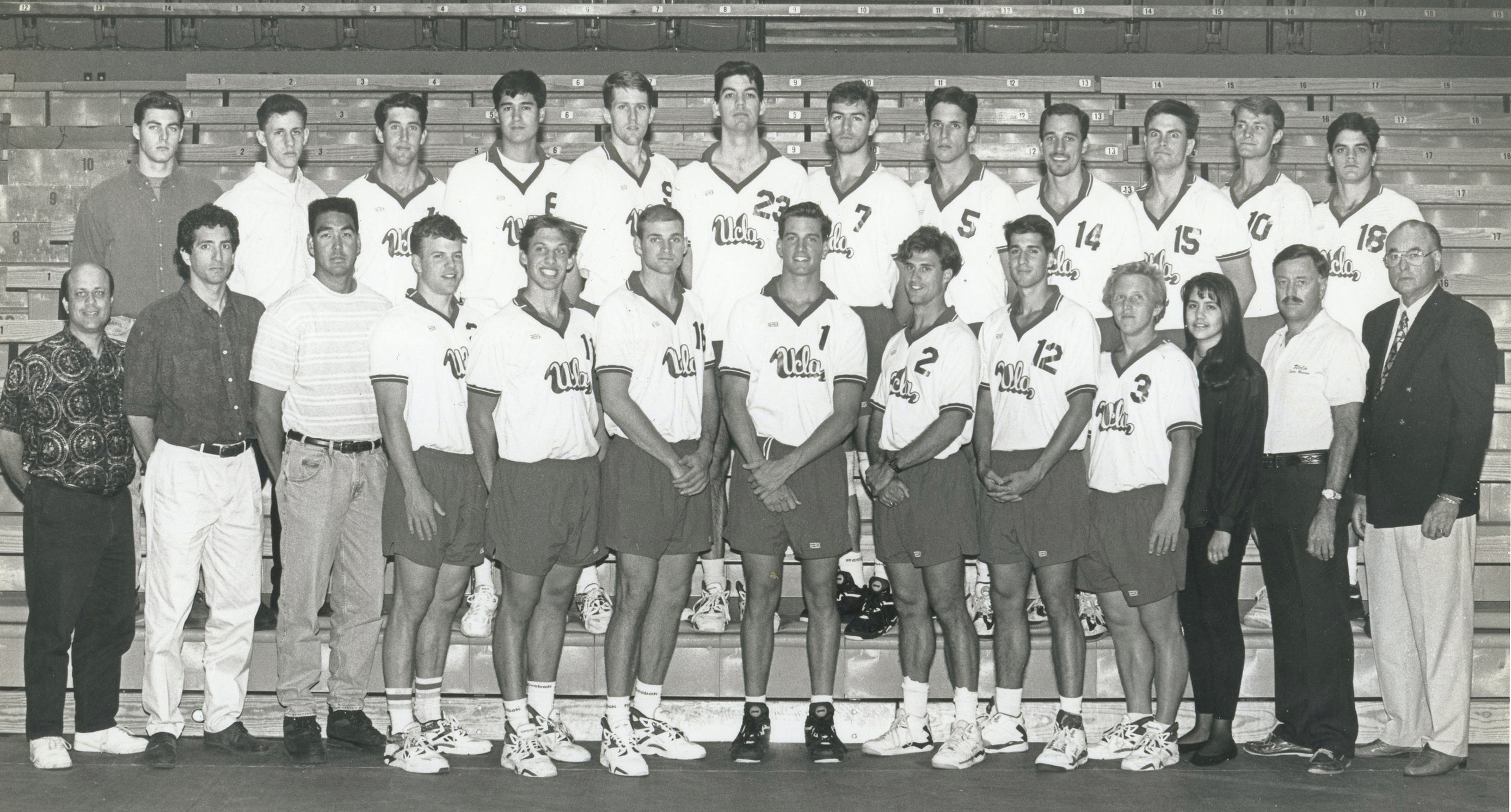 The current UCLA men's and women's volleyball coaches, John Speraw (No. 14) and Michael Sealy (No. 7), were both members of the 1993 men's volleyball squad.
TIM BRADBURY / Daily Bruin senior staff
Bruin women's volleyball coach Mike Sealy (top) won a national title with UCLA in 2011, his second season. Men's volleyball coach John Speraw just completed his first season as UCLA coach after winning a title in 2012 with UC Irvine.
When John Speraw was contemplating taking over the UCLA men's volleyball head coaching job last year, he didn't think about the pressure or expectations that would come from replacing the legend that was Al Scates. He thought, among other things, about the possibility of working at the same school as women's volleyball coach Michael Sealy – his old friend and former teammate.
Speraw and Sealy first crossed paths more than 20 years ago, as young college athletes on the UCLA men's volleyball team. They were both on the 1993 team that won the national championship, but that only begins to describe their deep-rooted connection. They joined the same fraternity, Phi Kappa Psi, had the same mentor, Al Scates, and most importantly, they shared a love for the same sport.
They are two apples grown from the same UCLA tree, and now they find themselves linked once again as the faces of Bruin volleyball.
Back in the day
Michael Sealy and John Speraw were in two very different sets of circumstances during the 1993 UCLA men's volleyball season. Sealy was a standout senior and one of the unquestioned leaders of the team.
"Sealy was the captain; he was the best setter in the country," said former UCLA coach Al Scates. "He set our team to a .420 hitting percentage for that season – that's an NCAA record and it's never going to be broken."
Sealy was turning heads with his individual performance, but it wasn't the stats or the records he cared about. He cared about winning the national championship – a championship that had eluded him during his first three years at UCLA. 1993 was his last chance and he knew it.
"Sealy was really intense. He felt a lot of pressure because with every team I'd coached at UCLA, every graduating class had won at least one national championship," Scates said. "If we didn't win an NCAA championship in '93, it would've been the first four-year class that hadn't won. So I knew (Sealy) was just thinking about that all the time."
Speraw was in a difficult situation of his own; he was a redshirt sophomore middle blocker just fighting to earn a starting spot on the team. He was undersized for a middle blocker, meaning he had to try to make up for his size disadvantage by being faster, stronger and more skilled. It was an uphill task, and at times the hard work would fail to translate into playing time.
"It was hard. Obviously I was pretty passionate and competitive about what I was doing, so it's always difficult when it doesn't always go your way despite all your efforts," said Speraw. "There were certainly times during my career when it was frustrating, but I think it made me tougher and it made me a better volleyball player."
Sealy recognized the difficult situation Speraw was in, but he just as easily recognized his teammate's talent and work ethic.
"John wasn't in a lot of the playing rotation in that particular year, but I remember John was the fastest middle blocker in the program," said Sealy. "He used to crush the first team in practice all the time because he was so quick."
Speraw was working hard to establish his place on the volleyball team, which sometimes made the other aspects of his college life difficult to balance.
"Here I was in this very competitive environment, and because it was so competitive it occupied so much of my mental focus," Speraw said.
"Then I was in a fraternity and I was president of that fraternity, and I didn't have any scholarships so I had to work. I had so much going on that sometimes academics took a back seat, but I worked hard in school and there's no doubt about it."
Influence of Al
Following the triumphs of 1993, Sealy graduated and went on to play professional volleyball overseas in Switzerland, Belgium, Holland and Puerto Rico. Speraw solidified a place in the UCLA starting lineup the very next year and went on to win another national championship during his senior year in 1995.
Eventually, however, both men found their way into coaching. Speraw said the lessons he and Sealy learned from Scates are crucial to their success now as coaches. They were lessons that applied to things much bigger than just the game of volleyball.
"I think (Sealy) probably learned the same lesson from Al that I did, and that's that you can have fun and win, and probably having fun helps winning," Speraw said.
"The thing that I look back on the most fondly is how much we all laughed; Al is one of funniest people I've ever met. I learned that you could have a good time and laugh with your players and enjoy what you do both as a coach and as a player, and still be successful."
For Scates, having fun with his players was a necessary but also a natural ingredient to winning.
"I always thought the athletes should love to come out there every day and look forward to practice. I know I always did," said Scates. "Of course winning was the most fun."
When it came to the technical side of the game, Scates placed a big focus on number analysis and statistics. It was part of what made him a legend, but it was a style that wasn't always adopted by his former players who went on to coach.
"I think for every coach, the No. 1 rule is that you have to be yourself," Sealy said. "Al was always amazing with statistics and analytical things, but I always try to trust my gut when I coach, and sometimes your gut is contrary to some of the numbers out there."
The replacement and the reunion
After claiming his third national championship as coach of UC Irvine in 2012, Speraw had a decision to make.
He could remain at UCI, he could pursue a head coaching job with the USA Olympic team or he could take over as Scates' replacement and become the next UCLA men's volleyball coach.
This is when his relationship with Sealy, who had taken over as the UCLA women's volleyball coach a couple years earlier, came into play.
"To be quite honest, when I was trying to make a decision about what I was going to do with my career last year, the idea of working down the hall and collaborating with Sealy was a very attractive part of coming to UCLA," Speraw said. "We're not only great friends, but I have a great degree of respect for his volleyball intelligence. I thought together we could collaborate and do great things for UCLA volleyball as a whole."
The decision was made, and Speraw took on the responsibility of following Scates' illustrious legacy. Speraw was in the position that Sealy had been in just two years before: In 2010, Sealy had taken over immediately after legendary coach Andy Banachowski, who had been the head of the UCLA women's volleyball team for 43 years.
Their situations were similar, but so were their attitudes regarding the "changing of the guard" mantra.
"I just don't think about that carrying the torch stuff," said Sealy. "I don't feel like I'm living in Andy's shadow or trying to wear his shoes, I'm just trying to be as good as I can be doing this."
Speraw said he took a similar mindset upon his arrival back in Westwood, mostly because he had been able to start a legacy of his own and grow into one of the most respected coaches in the country prior to his appointment as UCLA coach. Simply, he fully deserved the job.
"A lot of people make comments to me and use an example saying 'you don't want to be the coach that follows (John) Wooden,' but I haven't thought about that for a second," Speraw said. "I was able to develop the confidence and belief in myself as a coach away from here … I don't feel any pressure. When people tell me I shouldn't follow Wooden, I just think it's irrelevant. I can't express to you enough how little I worry about that. I haven't, and I won't."
Speraw and Sealy are now, as they were 20 years ago, together as a part of UCLA volleyball.
They represent and lead the program, just as Scates did for 50 years. But their goal isn't to live up to any monumental legacies that may have been established before them; their goal is simply to do the best job they possibly can. And they're going to have fun while they do it.