Gymnastics unexpectedly falls short in several individual events at NCAA finals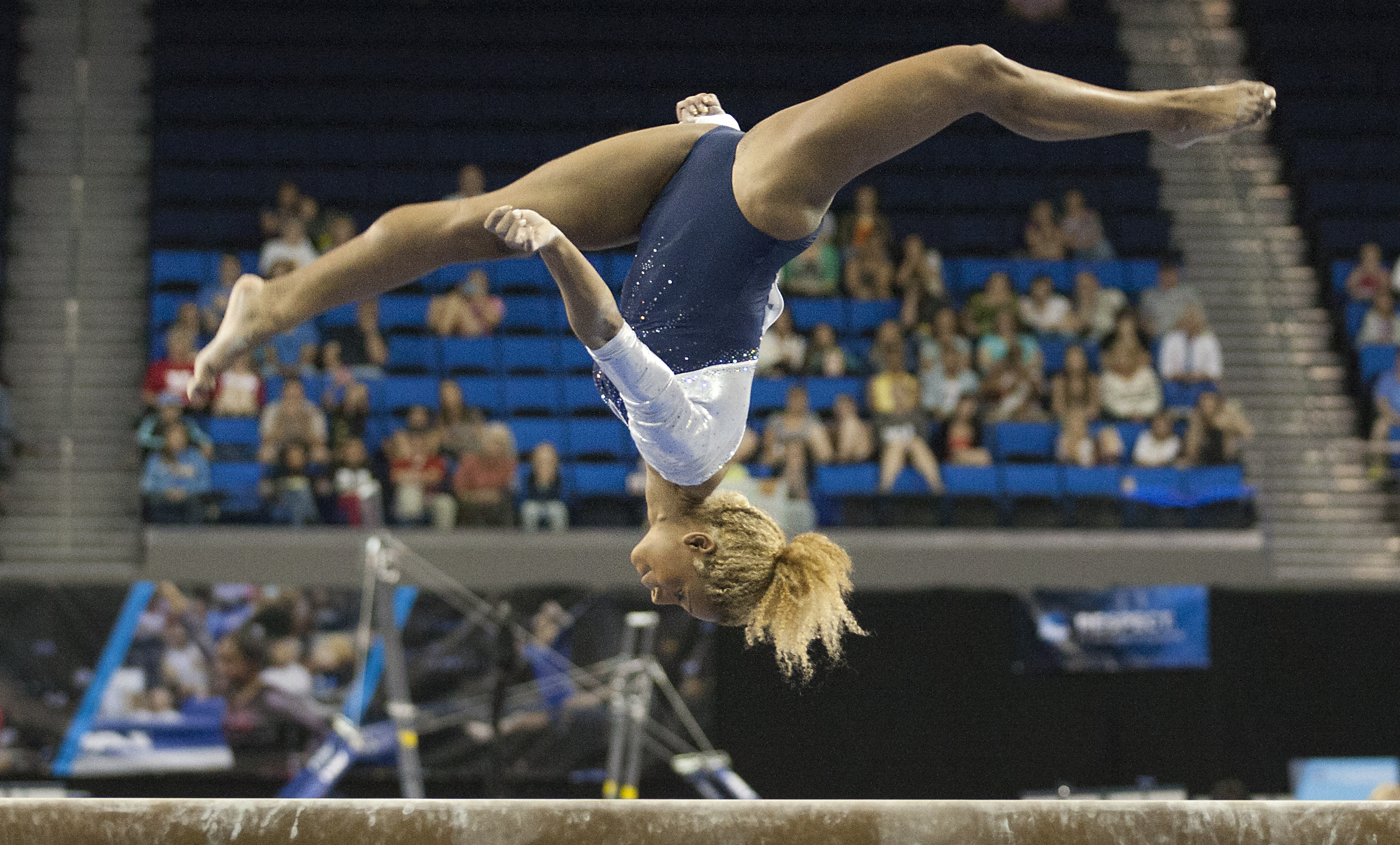 According to UCLA coach Valorie Kondos Field, freshman Danusia Francis' sideways aerial on beam was the first completed at the NCAA level.
April 22, 2013 12:20 a.m.
Standing sideways on the balance beam, freshman Danusia Francis paused, her focus visible on her face. She took a deep inhale before flipping through the air in an inverted aerial, a move never before tried in a college competition – and one she only decided to try the night before.
Francis' feet touched down perfectly on the less-than-four-inch-wide beam and the freshman gymnast broke into a smile, knowing that she had likely just secured a first-place finish.
But only moments later, she unexpectedly wobbled off the beam, dropping from possibly placing first in Sunday's individual event finals to placing second to last.
"It was obviously the adrenaline of the first skill," said coach Valorie Kondos Field. "She absolutely would have won."
Francis' performance was indicative of the Bruins' performance all weekend at Pauley Pavilion; UCLA took risks and forced its way into Saturday's Super Six competition, one some didn't expect the team to be in, only to sputter out at the end.
The Bruins ended up fourth overall while the top-seeded Florida Gators came away with their first-ever gymnastics title despite seeing two of their athletes fall in the opening event.
Florida's unexpected errors meant that, for a good part of Saturday's competition, UCLA appeared to have a real shot at winning its seventh NCAA gymnastics title.
"I say it over and over and over again: this is the little team that could," Kondos Field said after Saturday's competition.
UCLA led through the first two rounds of the team competition, but by the time senior Vanessa Zamarripa stood ready for her last event, Florida and Oklahoma had made it clear that they would claim the top two spots and the other schools would be left to fight for third through sixth.
Even if Zamarripa had closed the night with her 10th career perfect 10, UCLA would only have tied with Alabama for third, but instead she had an uncharacteristic fall and the Bruins ended the night on a low note.
UCLA put up a team score of 197.100, not nearly enough to best Florida's 197.575, which was the second-highest team score in NCAA finals history. The Gators, coached by UCLA alumna Rhonda Faehn, also set a new record in NCAA championships floor competition by posting a 49.725.
With the title out of reach, the Bruins took time to look back at how far they've come in an injury-laden season.
"My very first feeling is disappointment but rationally, it's a success," said senior Lichelle Wong. "It's a success that we're here and that we got to experience this in Pauley Pavilion with all of our fans. And being able to be in the Super Six, that's just amazing."
Wong, along with Francis, was one of five UCLA athletes to compete in the individual event final on Sunday where the strain of the past two days was visible. Along with Francis' low finish on beam, junior Olivia Courtney finished second to last on floor after an uncertain landing on one of her passes.
However, the Bruins had a stronger showing on vault – after the Alabama Crimson Tide and the LSU Tigers claimed the top two spots, Bruins snagged the next three, earning scores of 9.9 or higher.
Courtney led UCLA with a 9.9167, followed by seniors Kaelie Baer and Zamarripa. However, Wong ended up in second to last due to an unstuck landing.
After having to fight off Utah to even make it past Friday's semifinal, the stress of the Super Six competition and the mixed showing in the individual event final, Kondos Field said she was pleased to see her team perform like it did over the weekend.
"I actually feel really good, the fact that we were even in it at all is just remarkable," the coach said. "Emotionally, physically, mentally, we are spent. We left it all on the floor."
The Bruins proved this adage true with their heartfelt reactions to the weekend's events.
After her fall on Saturday, the day's high emotions were visible on Zamarripa's face, which was still teary as she faced the throng of reporters at the night's finish. But faced with disappointment in her final team competition as a Bruin, the senior tried to keep things in perspective.
"I mean, it could've been worse. We could've not been here today," she said. "Life isn't about sticking your vault or doing floor routines. Take what you learned in gymnastics and carry it on to later in your life."