Alumna's passion for learning keys second place finish in contest for top teachers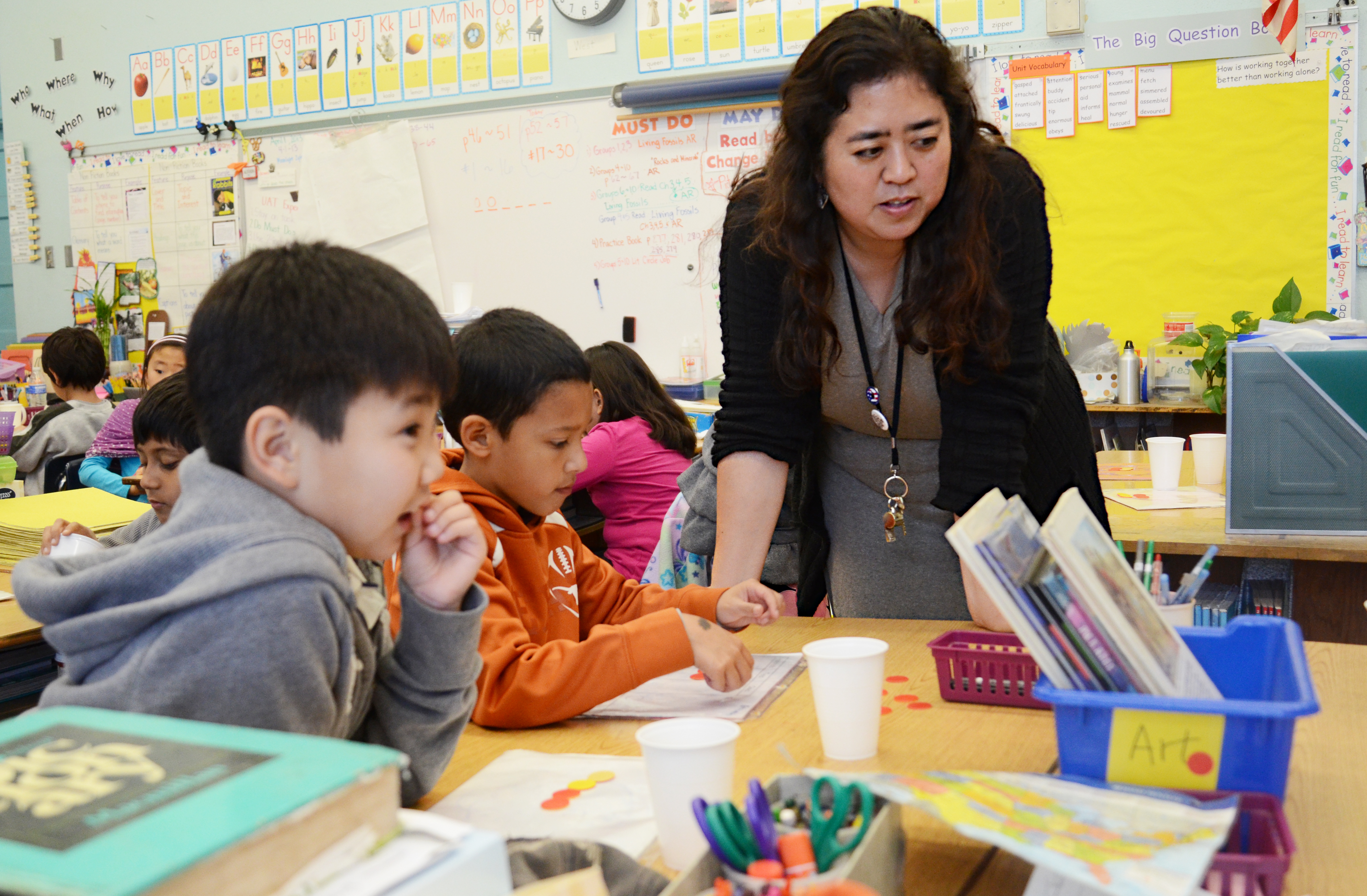 Sachiko Miyaji, a UCLA alumna, is a second-grade elementary school teacher. She received second place in the Great American Teach-Off, a competition put on by the University of Phoenix College of Education and GOOD, a global networking community.
A rainbow mural and ponderings about ladybug spots from Sachiko Miyaji's second grade class lined the walls of Room 14 in Melrose Elementary School. 
Miyaji, a UCLA alumna, sat cross-legged on the purple carpet, surrounded by 22 wide-eyed second-graders as she explained a complicated fraction word problem. After she revealed clues on how to answer the problem, several of the 7- and 8-year-olds leaped up and ran to their desks to finish what she started.
"I love when students 'get it,'" said Miyaji, who graduated UCLA in 1995 with a bachelor's degree in psychobiology. "It's what keeps me going."
On Tuesday, Miyaji was named the first runner-up in the Great American Teach-Off competition put on by the online component of the University of Phoenix College of Education,  and GOOD, a global networking community that began as a stand-alone magazine.
The competition was established in 2011 to recognize teachers and to give them funds to carry out new projects in their classrooms, according to the GOOD website.
Over the course of many weeks, individuals voted on 20 finalists on the GOOD website. The two winners, one a teacher of kindergarteners through sixth-graders and the other of seventh- through twelfth-graders, each received a $10,000 classroom grant. Mika Mingasson, a parent of one of Miyaji's former students, nominated her for the contest by submitting videos of Miyaji in action, teaching in her classroom.
Mingasson said her daughter Lana had a great experience last year in Miyaji's class. Mingasson added that she felt Miyaji and the school deserved some recognition for their work.
Miyaji has enjoyed working with kids since she was in high school, and first seriously considered teaching while working as a teaching assistant at UCLA.
Initially a biology student, Miyaji said she grew tired of the grueling upper-division courses and found psychology classes much more engaging.
"I'm interested in how brains work and how kids can learn the best way," she said.
After graduating from UCLA, Miyaji said she saw an opening for a job as an elementary school teacher and decided to take it.
She thought she'd eventually end up in veterinary school, but she has spent the last 17 years teaching.
Miyaji began teaching second grade at Melrose Elementary Mathematics, Science and Technology Magnet School when the school opened four years ago. The school is located about seven miles from UCLA.
Over the course of one school day, Miyaji might refer to her students as engineers, mathematicians or writers. Miyaji said she uses the terminology of the disciplines she teaches so her students feel like their work matters.
"When you tell a kid they're an engineer, they take it to heart and think 'Well, I can build a bridge, I can design it,'" Mingasson said.
Miyaji said she implements project-based learning and emphasizes technology in her classroom through the use of laptops, iPads and animation programming.
Other instructors at Melrose Elementary School said they have taken notice of Miyaji's teaching style and attitude toward her students.
Miyaji gives her students more responsibility to make them feel important, said Stephanie Crehan, a teaching assistant at Melrose Elementary School. Teachers at the school try to follow her lead, she said.
"She doesn't have to yell," Crehan said. "She's very patient and soft-spoken, but she gets her point across."
Miyaji said it is important that she try to be a lifelong learner and stay curious so she can be a role model for her students.
When Miyaji found out she didn't win the Great American Teach-Off, she said her students were more sad than she was.
"We got close, really close, and we still feel like she's our 'Great American Teacher,'" Mingasson said.