The Show Goes On: UCLA gymnast Sophina DeJesus shines as a performer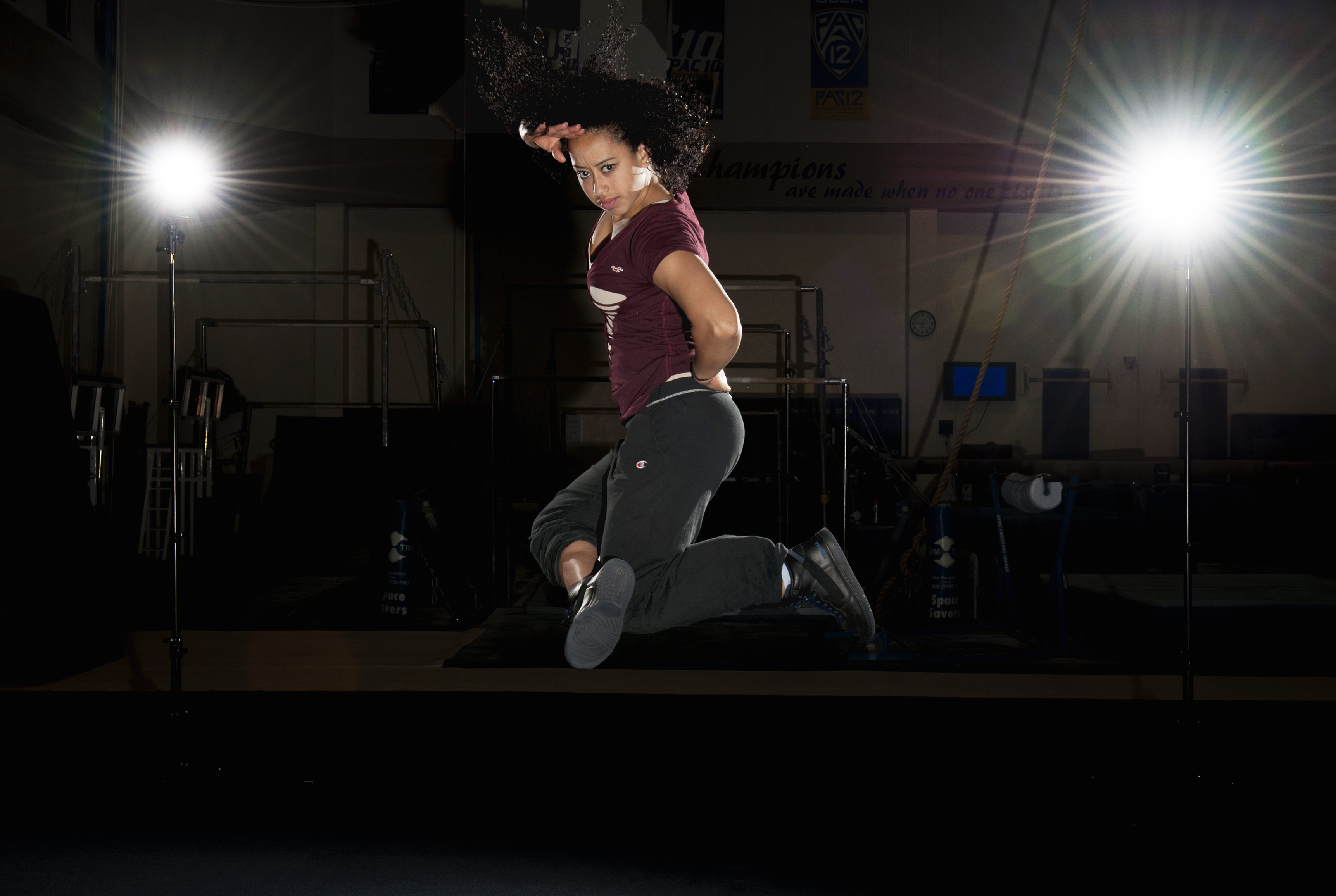 Freshman gymnast Sophina DeJesus was a successful dancer and actress as a child, encouraged to pursue her talents by dance choreographer and actress Debbie Allen. She was on a children's television show called "Hip Hop Harry," and also appeared on "The Tom Joyner Morning Show," "The Ellen DeGeneres Show" and "Maury."
April 11, 2013 12:32 a.m.
At age 13, Sophina DeJesus faced a difficult decision.
The last year had been a whirlwind of traveling the world in order to act and dance professionally.
But she had reached a critical age. If she was going to pursue gymnastics, her lifelong passion, at an elite level, she had to start then.
It was a choice that meant giving up everything that had defined her breakout year – the television appearances and the international dance contests – and the young performer struggled to decide.
"Sophina has never been one of those kids that loves one thing. She has always been all over the place with her interests," said her mother, Maria DeJesus.
After competing in gymnastics as a child, Sophina DeJesus, now a member of the UCLA gymnastics team, and her sister Savannah DeJesus decided they wanted to try dancing. Their mother drove the sisters from their home in Temecula to auditions in Los Angeles.
"My sister and I were always dancing when we were little. It was just more of a fun thing. But then we enjoyed it so much that we wanted to start doing it a lot more," Sophina DeJesus said.
At one of these auditions, actress and dance choreographer Debbie Allen, well known in the dance community, spotted the sisters and realized that the pair had talent, encouraging them to pursue their talents further.
From that point, Sophina DeJesus' career launched quickly.
The sisters filmed for a dance-based TV show, "Hip Hop Harry," on Discovery Kids.
Their hip-hop dance crew, Mix 5, took first place in an international competition. They landed appearances on "The Tom Joyner Morning Show," "The Ellen DeGeneres Show" and "Maury."
Sophina DeJesus even appeared in several commercials and acted in a Broadway play with Debbie Allen.
Maria DeJesus supported her daughter's new passion wholeheartedly, even opening up her own dance studio in Temecula so that her daughter could pursue her new passion of dance.
However, Sophina DeJesus soon realized she could not stay away from gymnastics for long.
As her first year without gymnastics drew to a close, she decided to return to gymnastics and train to become an elite gymnast.
"It was a tough decision, but I could not cut gymnastics out of my life. I figured that I could always go back to dancing and acting after gymnastics. I'm here and I love it. I made a good decision," DeJesus said.
Again, her decision led to rapid success.
She won the gold medal on floor for the Junior Japan International in 2009 and was a contender for the 2012 Olympic team.
After making it to a prestigious Olympic training camp and being selected for the short list of potential athletes for the U.S. team according to her mother, DeJesus' luck turned.
She hurt her back, forcing her to withdraw from competition and ending her Olympic aspirations.
With her Olympic dreams over, she returned to school full time and danced for her high school's team during her senior year, but still kept up doing gymnastics, if at a slightly less rigorous level. She eventually settled on the UCLA gymnastics team as her next step.
As a Bruin, DeJesus still has an opportunity to showcase her dancing ability. She is able to incorporate some of her background as a dancer into her gymnastics routines, particularly floor and beam.
"She has great movement quality. When she starts to make a mistake, she just goes with it and dances out of it," said coach Valorie Kondos Field.
Her early career as an actor and dancer has also contributed to her gymnastics by providing her with a strong stage presence.
"Regardless of what event she's on, it's showtime. She was born to perform," Kondos Field said.
Kondos Field said DeJesus' star presence will especially help her team at the upcoming NCAA championships, which UCLA is hosting.
"For Sophina, the bigger the stage, the better she does," Kondos Field said.
"I think she is going to do really well at NCAAs. We are all excited to watch her grow as she goes through the program."
Even with her commitment to gymnastics, DeJesus has not completely cut out dancing and acting from her life. She is minoring in theater and looking to join one of the many dance clubs here on campus.
"Between gymnastics, dancing and acting, I couldn't tell you which one she loves more," Maria DeJesus said.
"I wouldn't say she is a gymnast, a dancer or an actor. I would say she is a performer."