Men's volleyball topples top-ranked BYU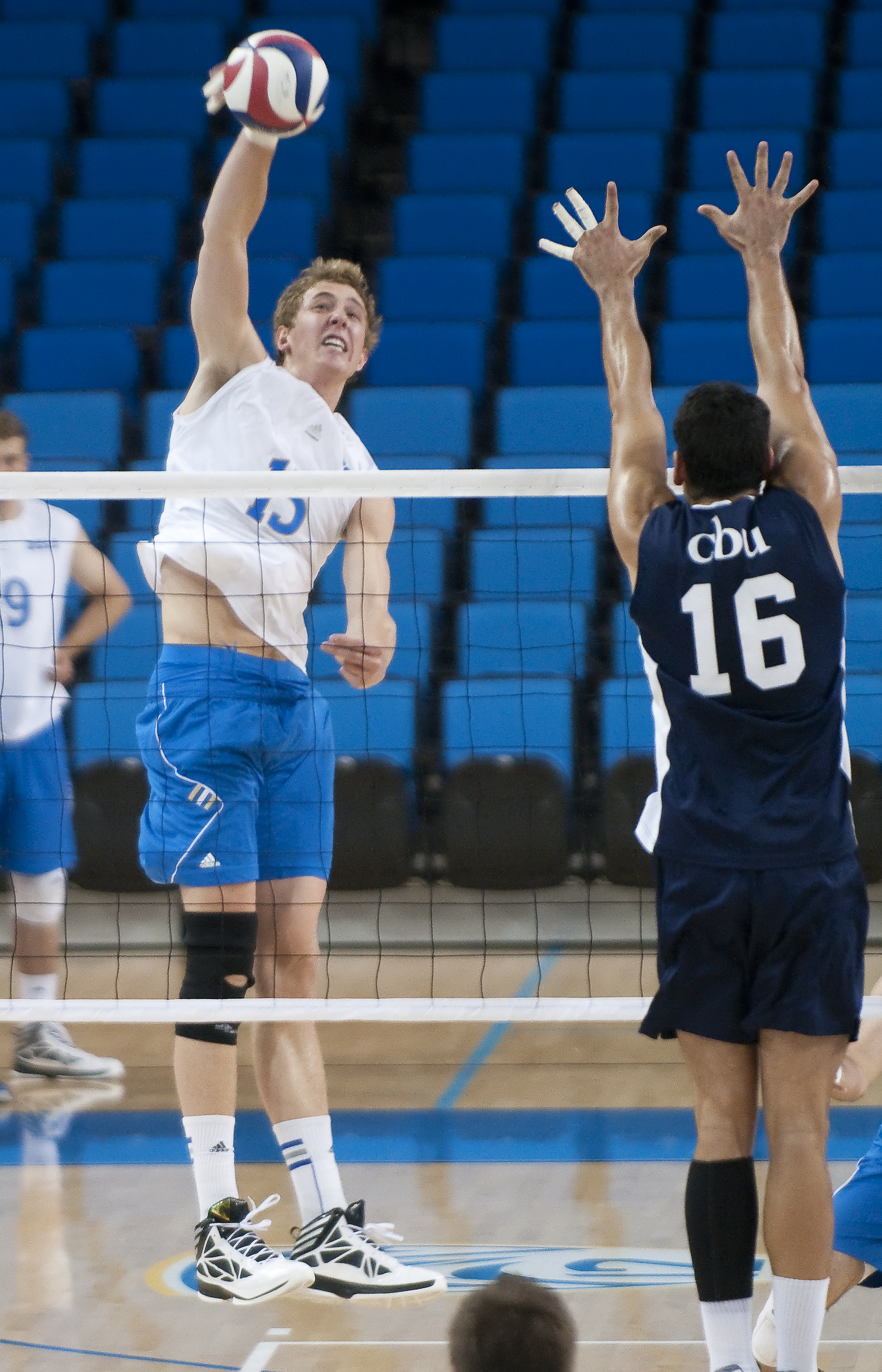 Robart Page played a vital part in UCLA's win over BYU, which was important both in terms of momentum and making sure that the team has a strong seed come the conference tournament.
Men's volleyball
UCLA 4
BYU 0
After the shocking sweep was complete, the men's volleyball team let out the waves of emotion that come with thrashing the best team in the country. But coach John Speraw barely had the tiniest of smiles on his face as he calmly made his way to center court. It was almost as if he expected this result all along.
"I think that if we bring this same level of focus and intensity we're going to be a very difficult team to beat," Speraw said. "I think there are a handful of teams that can win the national championship and I hope that we're one of them, but we still have more lessons to be learned and more things to improve on."
No. 3 UCLA (18-10, 14-8 Mountain Pacific Sports Federation) demolished top-seeded BYU (20-4, 19-3) on Saturday night at Pauley Pavilion, ending the Cougars' 12-game win streak and handing them their first sweep since they last visited the Bruins almost exactly a year ago.
This win was important because it solidifies the Bruins' current spot in the top four of the MPSF, but it could also prove important for these two teams' psyches down the line. At the moment, these two teams are on track to meet in the semifinals of the conference postseason tournament.
"At least now we know we have confidence to take down the number one team," said redshirt junior outside hitter Dane Worley. "We know that our offense is definitely good enough, we know were definitely big enough, and we know we've definitely worked hard enough."
The match was eye-opening on a number of levels; it wasn't just that the Bruins won, it was the way in which they won. They dominated the best team in the country from start to finish. They hit for a high percentage, as they've often done recently. They hardly ever trailed – and when they did it was only by a point or two.
Perhaps the key to this kind of domination was the Bruins' ability to side out; they won 50 out of 63 points when BYU was serving.
"Our coaches do a great job scouting teams, they know teams' tendencies and we learned this team really well," said junior outside hitter Robart Page.
"We knew what they were going to do and how they were going to do it, and we shut them down."
Their careful game planning was certainly on display, but at times the Bruins won bizarre points where preparation was thrown out the window and improvisation had to make due instead.
For example, a long rally resulted in junior outside hitter Gonzalo Quiroga producing a near-perfect set for a Worley kill, a set that any experienced setter would have been proud of. A kill attempt by Page was blocked by BYU but bounced back off his face and ricocheted back over the net for a UCLA point. BYU fans might say that UCLA got lucky on those points, but UCLA fans would say they made their own luck. At the end of the day no one could argue about the overall result – a result that shows just how scary this Bruin team can be.
"It's just one of those games where we realize the potential of this team is limitless," Page said. "We might have to face (BYU) later again this year, so this win kind of puts them on their heels and makes us hungry for more."