Gymnastics overlooks stumbles, places second at NCAA Regionals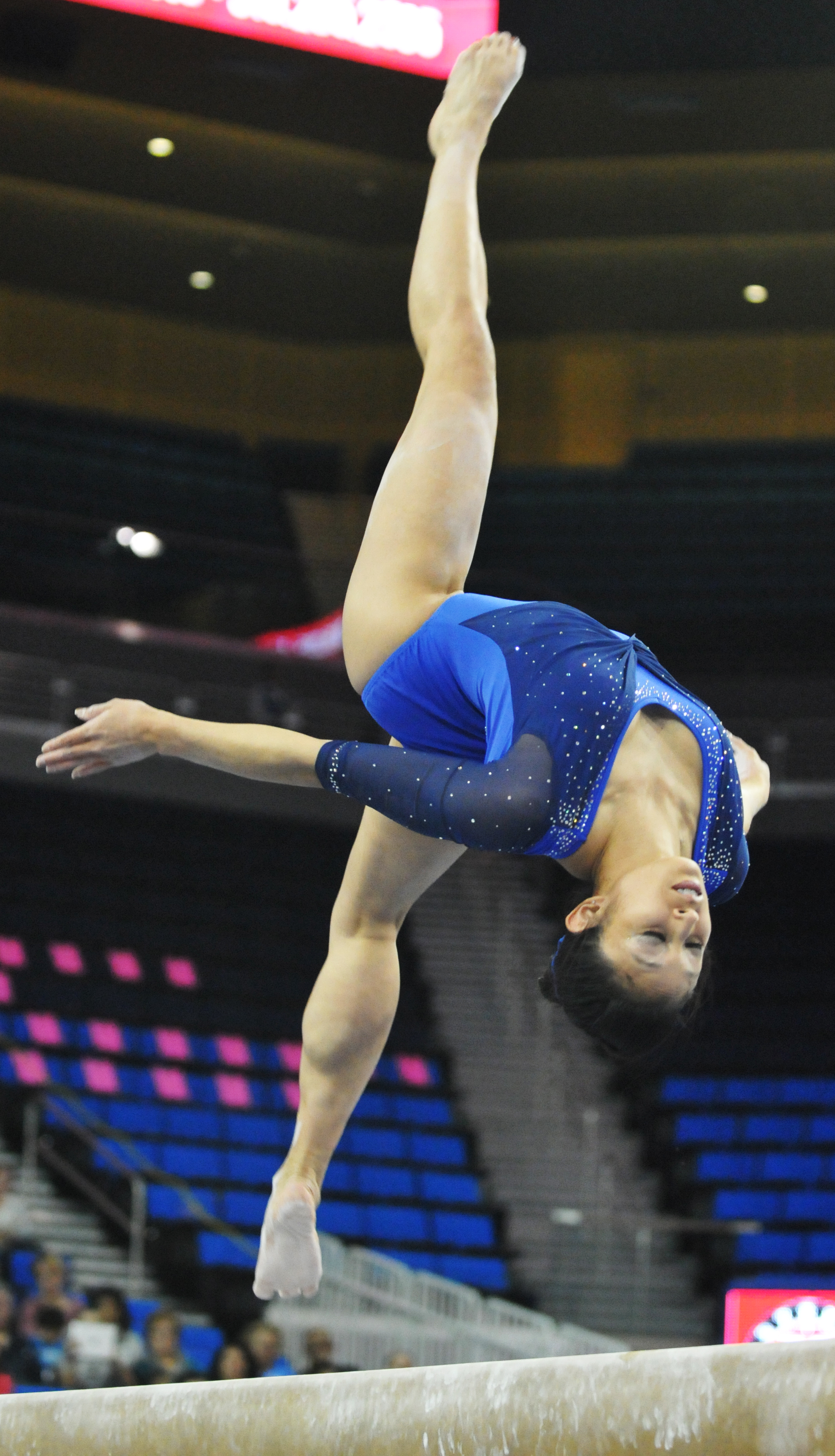 While senior Vanessa Zamarripa had a fall on the beam, her other scores and those of her teammates pushed UCLA to a second-place finish.
Gymnastics
LSU 197.275
UCLA 196.950
Over the weekend, UCLA gymnastics competed in what could have been its last meet of the season – the NCAA Columbus Regional.
But by clinching second place at the regionals, the Bruins earned a spot at the 2013 NCAA Championships, which will take place later this month at Pauley Pavillion.
Although the Bruins will get to continue their season, UCLA made some uncharacteristic mistakes, several by team veterans, and finished 196.95 behind first place LSU's 197.275.
Seniors Monique De La Torre and Vanessa Zamarripa both earned scores of 9.3 after De La Torre missed her dismount on bars and Zamarripa fell from the balance beam.
Despite these costly mistakes, however, the Bruins didn't lose their energy or back down. Both Zamarripa and De La Torre came through big for the Bruins on their other events. Zamarripa closed with a 9.9 on floor and De La Torre scored a 9.775 on vault.
"After Vanessa fell on beam, she had a great attitude. She went out there and did awesome on floor afterwards even though she might have been in pain. We were all really proud of her," said freshman Sophina DeJesus of her teammate.
Both DeJesus and junior Olivia Courtney were on point in their performances, which was crucial for the Bruins since not placing first or second meant not moving on.
DeJesus had an impressive showing in her first NCAA Regionals.
She tied for third place on beam with a score of 9.90 and earned a 9.85 on floor.
"She is like a little puppy. She is happy all the time. When we told her she was going in on floor, she responded with such enthusiasm. She is so refreshing and I was really impressed with her," said coach Valorie Kondos Field.
Kondos Field was also impressed with seasoned veteran Courtney's showing at regionals. Kondos Field said Courtney has been one of the most consistent athletes all year.
Courtney stuck an impressive Yurchenko, a complex layout that involves doing a round-off onto the spring board and a back handspring onto the vaulting table. This earned her a 9.925 and she tied for first place for the event.
Additionally, Courtney had solid performances on bars, beam and floor, winning her the all-around title and tying for first place with LSU's Jessie Jordan.
"Olivia is a rock. She is one of the best athletes in the country and it was great to see her come out with the championship title," Kondos Field said.
This is the second time that Courtney has won the all-around title at regionals; however, she was not expecting the win.
"My goal was to do the best that I could for my team. It was a nice surprise at the end to get the all-around," Courtney said.
Both LSU and UCLA will advance to the national championships, and UCLA does not plan on making any major changes for the event. They are going to work on technical details to prepare and ensure that they are ready to compete.
"This week we are going to get together as a team and attack everyone's weaknesses," Courtney said.
With a national championship on the line and the opportunity to be competing for it at home, UCLA will need to see perfect performances, weaknesses expunged in order to win the title.
"We are going to continue to train and focus on the little details. We need to make sure that we go into competition (and) we are confident that we know we have put in the work," Courtney said.