Devin Lucien eyes wide receiver spot after injury return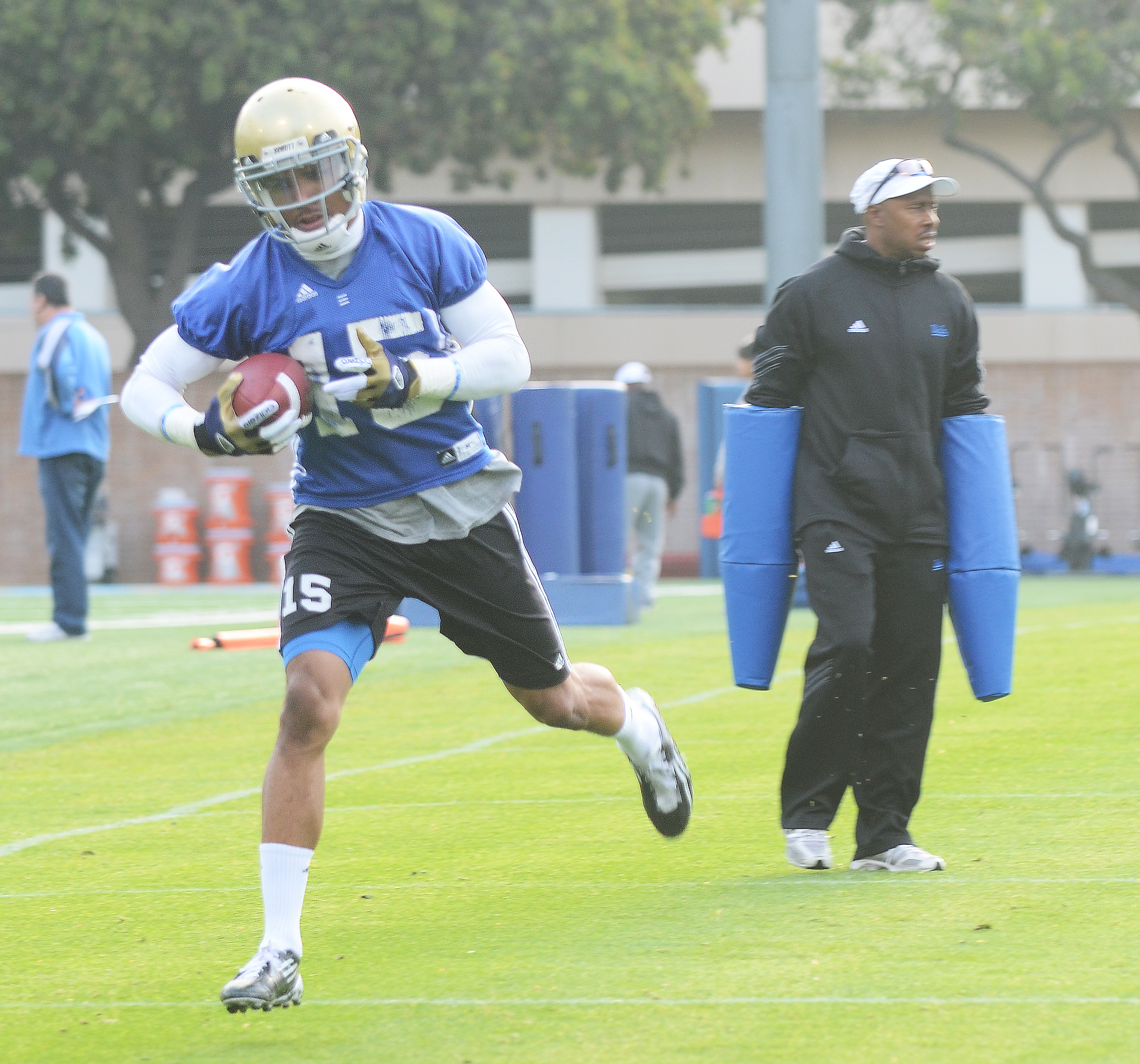 After being sidelined by injury last season, rising redshirt sophomore wide receiver Devin Lucien will spend spring practice trying for a starting spot.
After two incomplete seasons, rising redshirt sophomore wide receiver Devin Lucien has shown in just a few spring practices that he's ready for round three.
In his first year on the UCLA football team, Lucien spent his time on the sidelines as a redshirt, watching then-No. 1 wide receiver Nelson Rosario make the occasional acrobatic catch as his team limped to a 6-8 record. Last season started productively for the wideout; through five games, Lucien had hauled in 10 passes for 188 yards, including a career-high 70 yards against Nebraska in September. But in just his fifth game as a regular, Lucien broke his collarbone, sidelining him for the remainder of the 2012 season.
A healthy Lucien has returned for 2013 spring ball, and both on and off the field, he's making his excitement known.
"When you get injured, you really figure out how much you want to play football," Lucien said. "When I got injured, I didn't know how much I loved football until I got injured."
"And I'm pissed off for greatness. You can't be great when you're on the sideline."
In order to earn a starting wide receiver spot alongside rising redshirt senior Shaquelle Evans, Lucien will have to duke it out on the depth charts with rising sophomore wide receiver Jordan Payton, who caught 18 passes in his freshman campaign for 202 yards and a touchdown.
Lucien said he understands his time healing from injury justified the decision, but was candid about his intentions to compete in the coming three weeks of workouts.
"Best believe, I'm coming for that spot," Lucien said. "So I want Jordan (Payton) to know, I'm coming for that spot."
"That's going to get Jordan better. Period. Iron sharpens iron."
In a one-on-one drill in Saturday's practice, Lucien was extremely vocal and celebratory after rising up over rising redshirt freshman cornerback Ishmael Adams for a touchdown – perhaps a little too much in the eyes of his coaches.
"I love his passion, I love his energy, his enthusiasm, he's got to be careful," said coach Jim Mora. "When he scored that touchdown, he threw the ball down. You know we can't have things like that. You know we're always playing with as much discipline as possible."
Curtailing his post-touchdown celebrations and high-flying athleticism at certain times in practice might be even more important now that Lucien is just returning from a serious injury.
But rather than becoming timid as a result of his past collarbone break, Lucien insists his energy this early in spring practice is just an opportunity for him to make up for lost time.
"I feel like that collarbone injury really hurt me a lot and every practice I come out here is like a game now," Lucien said. "Every practice I'm taking full advantage of it like a game."
Role Reversal
Lucien made it clear Saturday that he's back in his same high-energy receiving role, leaping and jawing with UCLA's defensive backs, but wide receivers coach Eric Yarber wasn't as lucky.
While demonstrating a route to one of his players, Yarber tore a tendon in his quadriceps and had to be carted off the field.
"He's a very enthusiastic coach, so he was probably doing a little something," said rising sophomore wide receiver Devin Fuller. "He's a great coach, so you know I'll just keep him in my prayers tonight and hope he gets better."
The Bruins hope to return their wide receivers coach as soon as possible, but for now the incident serves as a painful reminder of age and caution, even in practice situations.
"When you get a guy like (Yarber) … he's got to remember that he's almost 50 and his body doesn't work like an 18- to 20-year-old anymore," Mora said. "I think he learned that rather dramatically today."