NFL player Maurice Jones-Drew returns to UCLA to obtain degree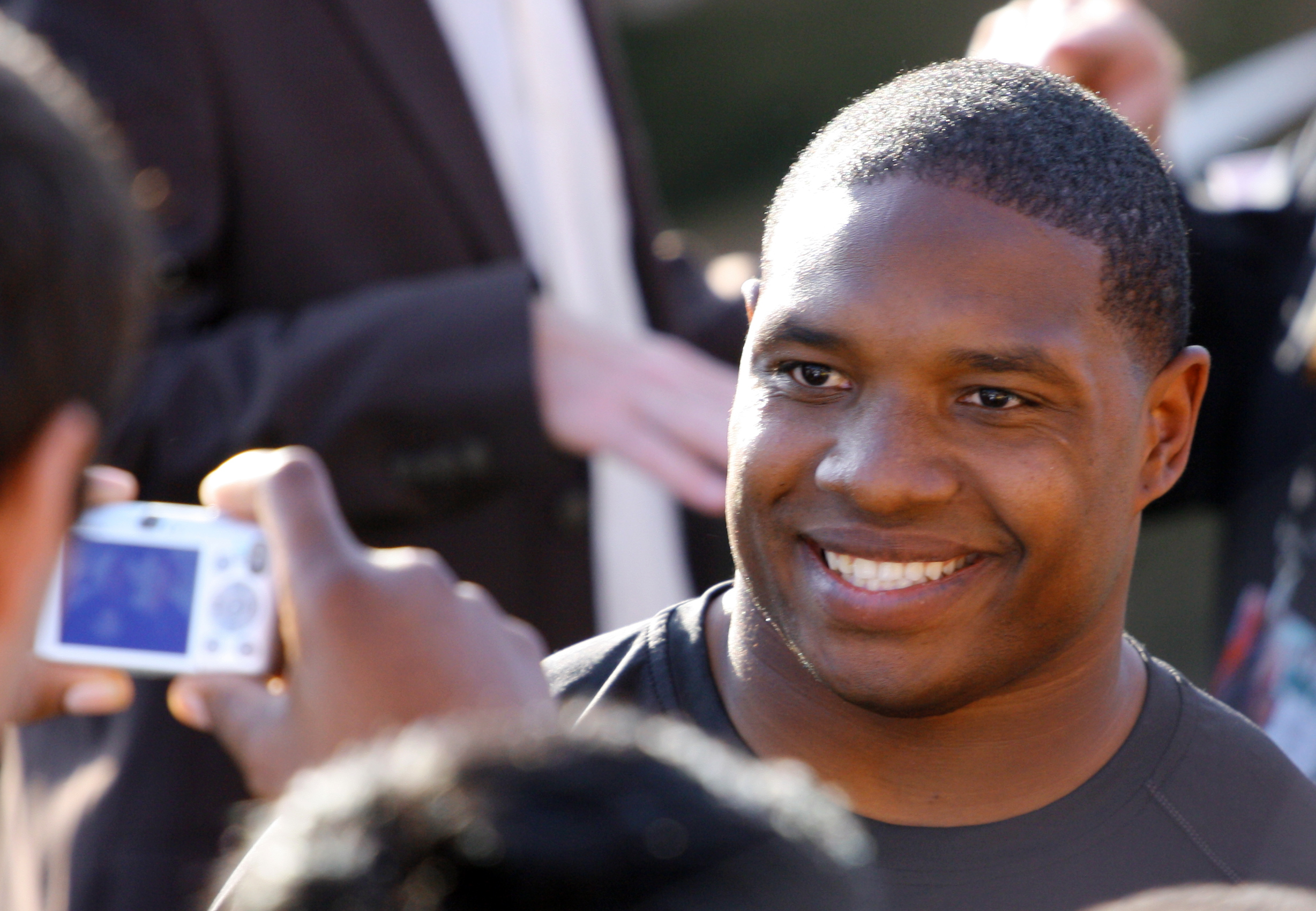 Maurice Jones-Drew, pictured here at an event on the UCLA campus in 2011, returned to school for winter quarter this year. The Jacksonville Jaguars running back left school following his junior year to play in the NFL, but Jones-Drew made a promise to his grandmother before he left UCLA that he would return to obtain his degree in history.
March 19, 2013 12:00 a.m.
Maurice Jones-Drew casually strolled into a small office inside the J.D. Morgan Center wearing a simple tracksuit, beanie and backpack and sat down for an interview.
He politely answered questions openly and honestly for a good 20 minutes, but the conversation really started when Jones-Drew started talking about what he learned on a standard school day.
Jones-Drew lit up and went on a tangent discussing what he considered to be the United States' unethical annexation of Hawaii, followed by commentary on the Cold War.
"When we first took over Hawaii, our government said, 'Hawaiians are barbaric, we have to spread democracy,' but they only took it because the land was beautiful and that's what they wanted it for. And the Cold War was technically about fighting communism, but it was more about spreading fear than anything. Around those times, we were trying to spread what 'our way' was to everybody so we felt more comfortable. So that's a typical Monday."
Jones-Drew went on to discuss his developing beliefs about taxes and social media, his initial plans to study engineering at UCLA, life in the dorms and his enjoyment of video games, specifically Madden.
To put it simply, Jones-Drew is a college student, and he's loving every second of it.
"I really enjoy it," he said. "I'm learning, which is fun and you get to speak your mind. When you're (in class), there are no repercussions, you say how you feel and the truth comes out."
While Jones-Drew spent winter quarter relishing life as a full-time UCLA student, he is not normally known for his work in the classroom. Jones-Drew is a three-time Pro Bowl running back for the Jacksonville Jaguars and is currently entering into the prime of his NFL career.
Jones-Drew left the UCLA football team for the NFL following his junior season in 2006 and was drafted by the Jaguars in the second round.
He has since become one of the most prolific backs in the NFL, leading the league in rushing in 2011 while also eclipsing 1,300 rushing yards in 2010 despite playing the entire season on a torn meniscus.
While his decision to go pro early has proven to be a successful and lucrative choice, Jones-Drew made a promise to his grandmother before he left UCLA that he would eventually return to Westwood and finish his degree in history.
"She's getting on the last couple of legs of hers so I decided I'm going to start working this thing back," he said.
Familial commitments aside, Jones-Drew made a promise to himself that his departure from UCLA would only be temporary.
"You start something, you always want to finish it," he said. "I started here and I wanted to finish here. I could have transferred the credits to another school and graduated from there, but there's nothing like having a UCLA degree."
***
During one of his first weeks back on campus, Jones-Drew spotted a student attempting to take a picture of him with his phone from afar.
Jones-Drew immediately walked up to the student and asked if he wanted to take a picture with him instead.
The student was taken aback by his openness, but they took the picture and moved on. Then, whenever Jones-Drew saw him on campus, they would stop and talk.
"With the whole Twitter and social media stuff, things are totally different now," said the 27-year-old Jones-Drew. "People were more outgoing when I was here because now, all you have to do is follow them on Twitter or see what's on Facebook, so it's not as much verbal communication as I thought there was going to be."
Despite a drop-off in social interactions, the opportunity to be a student again came as a welcome break from Jones-Drew's usual public and monitored NFL persona.
He is able to sit in class and discuss his viewpoints with other people without fearing a phone call from the commissioner or a fine.
"In the NFL, a lot of players want to say something and they won't because they know that there are repercussions that can come," Jones-Drew said. "When you're here, I can say something and some people felt the same way I did and some people didn't. Either way, it was great to hear how enthusiastic they are about and how they are willing to fight tooth and nail for how they feel; it's good to finally see that again."
***
It can be hard to measure exactly how Jones-Drew was perceived on UCLA's campus by the student body, but to current UCLA football players, Jones-Drew is an idol.
He is a successful NFL player who is so famous that millions nationwide know him simply by a three-letter acronym: MJD.
While the players respect him for what he's done on the field, his return to the classroom means even more.
"He could have gone anywhere else to finish his degree, but he came back to UCLA," said redshirt freshman quarterback Brett Hundley. "I mean, he's living nice with a big house and a family and kids and he left it all to stay in Hedrick Summit, in the dorms, to finish out his degree. That's huge. It's an honor to be able to see him do something like that."
Meanwhile, coach Jim Mora and his staff are well aware of what Jones-Drew's presence has done for their program.
Mora did say that he hasn't had many conversations with the All-Pro running back, but he knows what Jones-Drew means to the players.
"It is a great example to our players when a well-known NFL player is looking towards his future, beyond football," Mora said. "We can talk about it best when our players see it firsthand. The impact is profound."
Jones-Drew expected the recognition that he gets on campus, but he didn't necessarily enjoy the idea of it.
For the same reasons he wore a tracksuit and beanie to class instead of a flashy suit or Jaguars paraphernalia, Jones-Drew preferred to be seen as a student instead of as an NFL star.
"I'd rather blend in than stick out, that's never been me. I try to dress like a regular student with my backpack going about my day," Jones-Drew said. "To me, football is so shallow. People shouldn't want to be around me because I play football, they should want to be around me because of who I am and what I've done and who I've affected."
Jones-Drew does not shy away from talking to others about his experiences, but he is not one to offer up advice without being asked.
He knows that each person is an individual, and he believes that it's not his place to try and mold anyone in his image.
"I always tell people don't be like me, be better than me," he said. "You don't want to use me as a model because you put a limit on yourself. Do better than what I did."
***
After receiving the grade for his first paper in seven years, Jones-Drew was admittedly disappointed in his B-plus mark.
He felt that his argument was good enough to warrant any miscues in format, but he took the grade in stride and knew he would have another shot soon.
Following the conclusion of this quarter, Jones-Drew will not receive another grade for at least a year, as he will be returning to Jacksonville, Fla. to prepare for the coming NFL season.
He is excited for his return home, especially because it is his only daughter's third birthday next week.
But Jones-Drew knows that his return to UCLA is once again imminent, as he has four quarters left to finish his degree.
But before he moves on to his normal life as an NFL player, father and husband, Jones-Drew still has to get through finals, and strangely enough, that is what he is looking forward to most of all.
"We're doing a war-on-terrorism paper and it's going to be a good one," he said. "My professor gave me good feedback on my B-plus paper so hopefully she'll like this next paper. I can't wait."