Gymnastics falls behind Michigan at Heart of a Champion Meet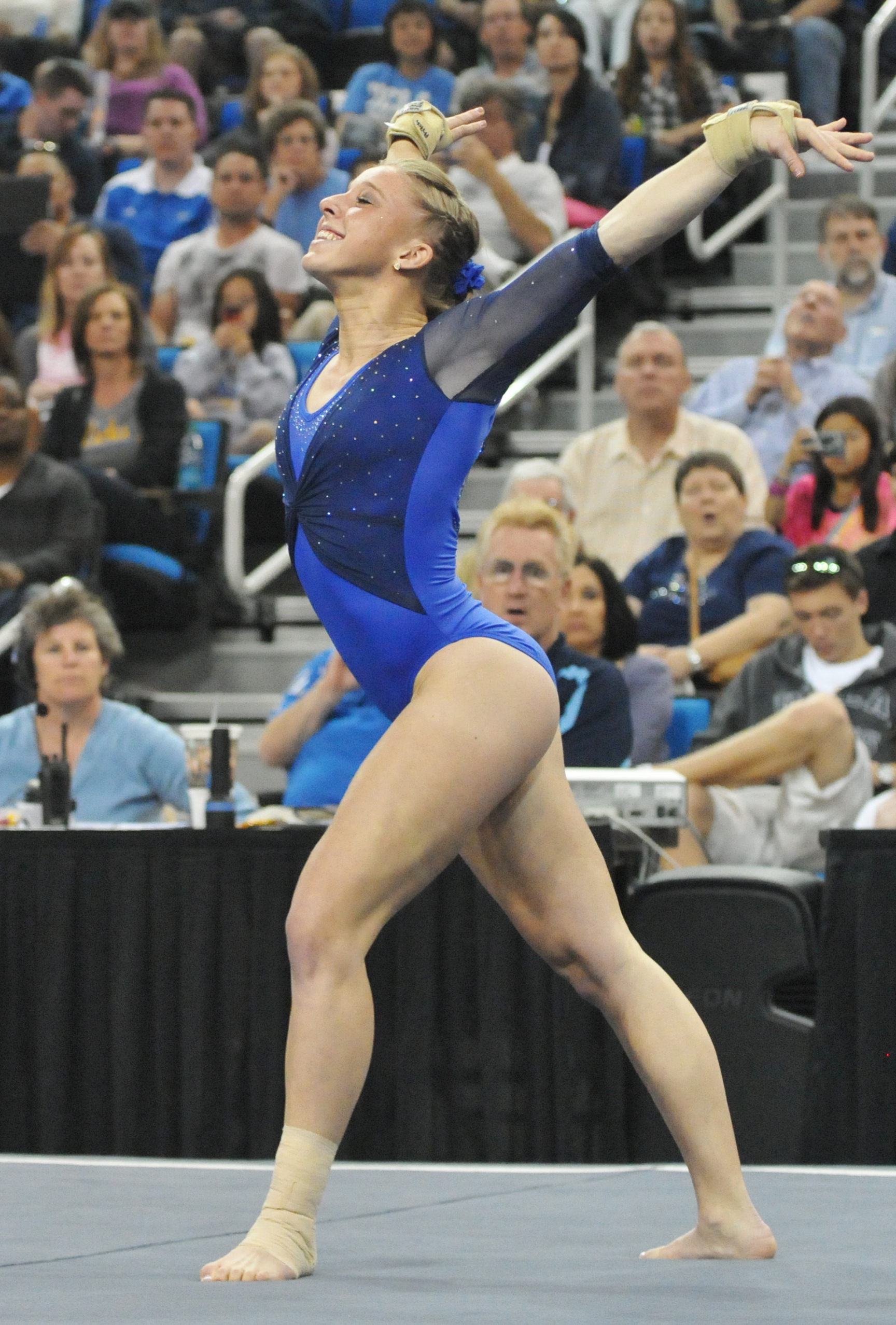 Senior Alyssa Pritchett finished with a personal-best score on her floor routine as the Bruins came in second in Sunday's meet.
March 11, 2013 10:42 a.m.
The original headline contained an error and has been changed. See the bottom of the article for additional information. 
4,424 gymnastics fans filed into Pauley Pavilion Sunday afternoon for the Heart of a Champion Meet. This was UCLA's return home after a three week-long road trip.
The team was set to face California, Iowa State and No. 3 Michigan.
UCLA came in second after falling behind Michigan during the third rotation, but it still believed it exemplified the heart of a champion.
"I think the heart of a champion means to keep fighting even if things don't go the way you planned. That's what we did today," said redshirt senior Vanessa Zamarripa.
Things did not go as planned for the Bruins.
Sophomore Mattie Larson dislocated her knee during warm-ups.
Then, minor technical errors plagued the Bruins throughout the meet.
Despite these obstacles, UCLA remained poised and finished with a 197.075, finishing over both California and Iowa State.
"I'm extremely proud of my team in terms of the team effort. They kept fighting the whole way through," said coach Chris Waller.
One of Waller's proudest moments was senior Alyssa Pritchett's floor routine that earned her a personal best score of 9.950.
"She has worked so hard for that and it is completely because of her dedication and mental and physical effort," Waller said.
Members of the UCLA team said that they are going to continue working hard, as they begin to approach the championship season.
They plan to perfect their routines by focusing on details. Despite recent losses, the Bruins are confident that they are capable of nationals-quality routines.
They stressed that each season is a process until the finish, and the end goal is to be prepared for the postseason.
"We are on track to where we need to be for nationals," said senior Monique De La Torre.
"Yes, everyone didn't have their best meet but we are going to go back into the gym and work harder."
The Bruins still have five weeks left to prepare for the national championships in April, and they plan on utilizing that time.
"We plan on making our heartbeat stronger for our team everyday in practice," De La Torre said.
Correction: UCLA gymnastics fell behind Michigan at the Heart of a Champion meet.