Alyssia Brewer shines as unquestioned leader of women's basketball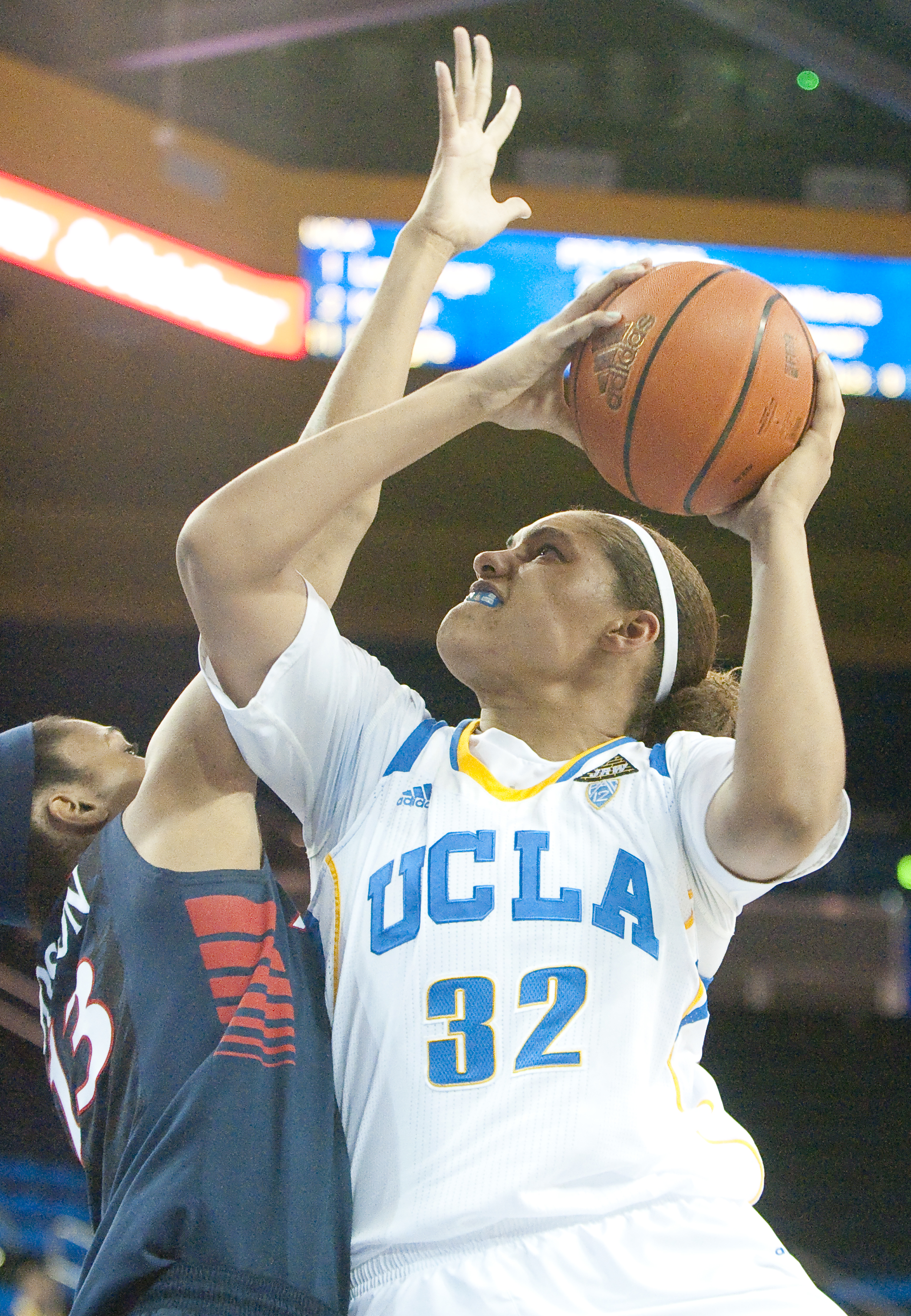 Redshirt senior Alyssia Brewer has been a leader since she arrived at UCLA.
By
Daily Bruin Staff
March 7, 2013 1:12 a.m.
Alyssia Brewer flapped her arms and flashed a hawk-like glare as she played traffic cop, directing her UCLA women's basketball teammates this way and that way. Whether it's practice or game day, she is always guiding her teammates on the court,
"She's commanding what's going on, you know, reminding people, 'Don't do this,' or 'Let's pick it up. Let's get a stop right here. We got this,'" said junior guard Thea Lemberger. "Constant vocal communication is really important during games and she brings that."
Brewer, though, hasn't appeared in many more UCLA games than some of the freshmen have.
The redshirt senior forward is playing her first season at UCLA, after transferring from Tennessee two years ago.
She practiced with the team last season, but didn't play in games per NCAA transfer rules.
Still, her lack of UCLA game experience hasn't stopped her from becoming the unquestioned leader of the No. 14 Bruins.
It's a role coach Cori Close placed on her when she first arrived in Westwood. Even though Brewer hadn't been burdened with such responsibilities before, Close knew she would succeed.
"She's one of the only players I've coached in 20 years that arrived on campus and could lead," Close said. "She hadn't even practiced a day and everybody listened to her."
Close said Brewer's teammates responded to her because "she had already produced at the highest level," referring to her past success, which included SEC Tournament MVP honors and an NCAA tournament Elite Eight appearance.
But when Lemberger was asked what first came to her mind about Brewer, she didn't mention her accomplished past at all.
"Caring. She's caring. I know I can depend on her … in every aspect. When I throw her the ball, I'm confident that she can deliver. (And) if I'm struggling myself, like with frustration, I know that she's there to pick me up, talk to me," Lemberger said.
Brewer, though, has brought that same personality off the floor as well, and that's what has earned her teammates' respect more than anything else.
"Everyone I feel like respects her because they feel like they can talk to her," Lemberger said. "She has that way with everyone kind of, just by her personality. Kind of like grandma-ish. You know we joke around, call her grandma sometimes – Grandma Lyssi. She's old and she's easy to talk to. She's a good listener."
Close, though, compares Brewer to a different member of a family.
"She's really sensitive and she's very tuned in the locker room of who might need a little extra time or who might the coaches need to spend some time with or encourage. She's just got a great pulse because she's sort of the mom of the team," Close said.
Before the season began, each of the players voted on two teammates to be chosen for the three co-captain positions, and Brewer was the only unanimous selection, appearing on every single player's ballot before she had even donned a UCLA jersey. It was clear that Brewer had already made a lasting impression.
"I was definitely humbled by that, to see that my teammates looked at me like that," Brewer said. "But I also see it as a level of responsibility that they see me as a captain. I got to be able to step up in that position and help my teammates when they need to be helped."
As UCLA starts postseason play in the Pac-12 tournament this weekend, Brewer, a "program changer" as Close calls her, figures to play a pivotal part in how her team fares in March, just as she has all season.
But to Close, Brewer has changed more than just the direction of the program. She has evolved herself as well.
"I don't think she really saw herself as a leader before she came here. And a lot of people use second chances and transfers to bring their baggage with them, and they never quite recover," Close said.
"She didn't do that. She used her second chance at UCLA to become a leader, to develop new skills and to push her comfort zone."