Close to home: Bruin's homeless summers a test of self-reliance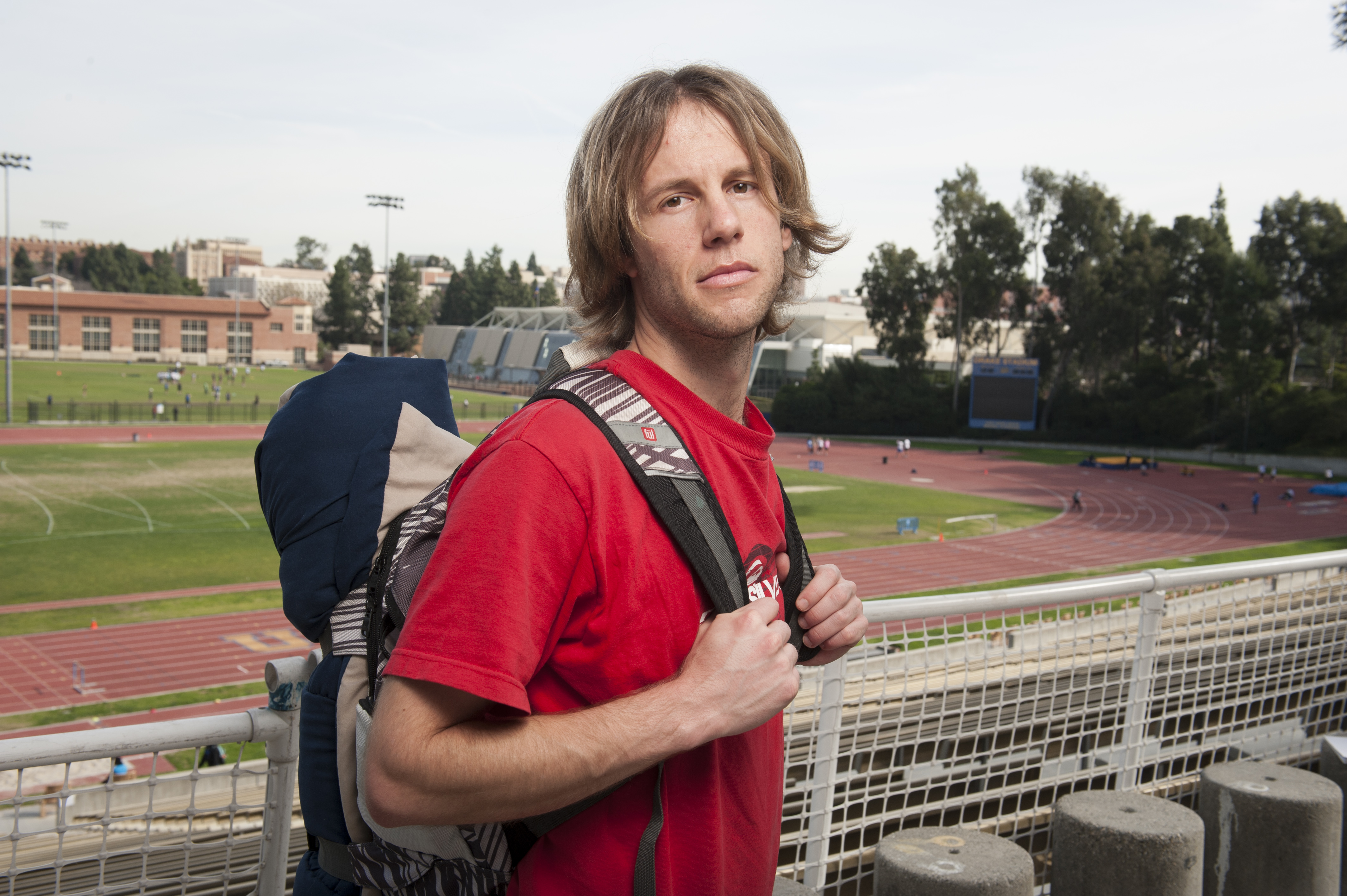 Brandon Christensen wakes up every morning on a well-cushioned green couch to the sound of his cellphone's alarm.
The living room he sleeps in is situated opposite a pair of windows overlooking the small courtyard of his Santa Monica apartment complex.
His belongings are stacked in boxes on one end of the couch and his homework and textbooks are scattered between the couch and a nearby table.
It's a small room, but it has a roof and four walls and offers protection from the weather and falling tree sap that inconvenienced Christensen in his previous summertime living arrangements: the stands of UCLA's Drake Stadium.
Christensen, a fourth-year anthropology student minoring in African and Middle Eastern studies, spent his last two summers as a homeless student on campus. While he was able to finance living arrangements on futons and couches during the school year with money saved from his job at the UCLA Call Center, complications with his financial aid awards and the difficulty of starting life in a new city after he moved from Santa Cruz made his summer housing situation uncertain.
On most nights during those summer months, Christensen would head to Drake Stadium shortly after 10 p.m., walk down the stands to the sixth row of metal benches and roll out his blanket.
Here, he would be out of sight from runners on the track below and any police or community service officers on the pathway above. On the stands, Christensen was removed from the noise of traffic and, once the stadium's lights shut off, was allowed a dark place to sleep.
His daily routine often took him around campus. The alarm on his cellphone, which Christensen charged in the small announcer's booth at the top of the stadium's bleachers, would wake him up around sunrise. As he stretched out and collected his belongings from the stands, runners circled the Drake Stadium track, looking up at him.
"A lot of them would stare at me, that would take a while to get used to," Christensen said. "It wasn't a good stare."
After gathering his belongings, Christensen would strap his blanket to his backpack and walk to Charles E. Young Research Library. At the library, he would stop by a pair of rented lockers on the second floor that contained all his extra belongings – books, clothes and toiletries.
After shaving and brushing his teeth in the library's public restrooms, Christensen would head to the John Wooden Center to use its showers.
Finally, he would trudge up Bruin Walk to Kerckhoff Coffeehouse for breakfast. After drinking his daily cup of black coffee, he would ask for hot water in the empty small-sized cup to make oatmeal. Depending on the day, oatmeal could serve as breakfast, lunch and maybe even dinner.
After that, Christensen's schedule was much like that of any other UCLA student in the summer. He went to class, spent time studying at various libraries on campus, lounged and read by the hills near Janss Steps and went to work in the afternoon.
When the sun set on those long summer days, Christensen would head back to Drake and the cycle would start all over again.
With a relatively empty campus, Christensen said his days were a time to take stock of where he was and how he had gotten there.
"I'd wake up and I was home."
Rethinking his path
Christensen transferred to UCLA in June 2011 from Cabrillo College near Santa Cruz. He had applied to other University of California campuses, but UCLA was his first choice.
With his belongings in the back of a two-door Toyota Tercel, Christensen drove to Westwood, where he was without a place to stay from July until late September.
Although he struggled academically in high school, Christensen decided he would give higher education a try, but with a few conditions: He would attend college for only four years and would take out no more than $10,000 in loans to cover the cost of his education.
Later, Christensen changed his mind and decided he would not take out any loans. He jokes that his only debt is in the form of a handful of outstanding parking tickets and jaywalking fines.
Christensen said that while he could have taken out loans to afford housing over the summer, he was wary to take on debt that would stay with him for years after graduation. Christensen said he sees his education as a personal undertaking – something he could achieve on his own.
Even with offers of help from family and friends, he said he felt college was his responsibility. The nights spent homeless, stretched out on the ground in Drake Stadium, were his choice.
"Instead of housing, I had to pay for my tuition," he said of his summers in Westwood. "That's why I was homeless."
In the first weeks after his move to UCLA, Christensen was unable to find a job in Westwood and therefore could not pay for an apartment near the campus. He was not willing to go into debt and, after about a week of sleeping in his car, he turned to alternative living arrangements.
At first, Christensen would alternate locations – bedding down at the top-most floor of Kerckhoff Hall and the third floor of Student Activities Center – but ultimately he found Drake to be the safest option.
In his second summer living out of Drake Stadium, Christensen's belongings – including his backpack, blanket and computer – were stolen from the stadium while he was visiting friends. A friend referred him to the 580 Cafe, a resource for struggling students housed in St. Alban's Episcopal Church located on Hilgard Avenue, where he met Jeanne Smith.
Smith, a United Methodist campus minister at the Wesley Foundation and coordinator of the 580 Cafe, helped Christensen replace his things by securing for him a portion of the emergency funds allocated by the foundation for such a situation.
Since that time, Smith said Christensen has worked and become a "part of the fabric" of the 580 Cafe, instead of simply dropping by occasionally for assistance.
"(Christensen) said, 'I need help,' and also, 'How can I help?'"
Financing an education
Although unsuccessful in landing a job during his first few weeks in Westwood, Christensen began working at the UCLA Call Center as a fundraiser about a month after his move to UCLA in 2011. He hoped his earnings from the job would cover the outstanding cost of his education and living expenses.
Christensen has kept that job for about a year and a half and has been one of the call center's top fundraisers for about six months.
By pairing federal financial aid and support from the University of California's Blue and Gold Opportunity Plan with earnings from his job, Christensen is now able to cover the cost of his fees, class materials and living arrangements during the year.
Although he searched for housing in Westwood, the prices were too steep for him to afford. For his current apartment, Christensen pays about $500 dollars a month – which provides for a couch to sleep on and room for his belongings – and already pushes the upper limit of his financial capability.
With the promise of a diploma soon, enduring temporary hardship with the promise of future stability was worth it to Christensen.
"You can get really rich and the next day, you can be broke. You can lose everything, but education is something you can't replace," he said.
For Christensen, his education was a personal mission, and one that, at least at first, he wanted to bear on his own.
In his mother's eyes, Brandon's choices reflected something larger than a student maneuvering through college finances.
"I think some of his choices really speak to the need for more affordable housing and more affordable higher education for young adults in our country," said Christensen's mother, Carrie Strayer. "I would guess that some of his choices are based on making that point."
She added that although she was concerned for his safety, Brandon's choice to live this way did not come as a surprise. His independent spirit has taken him as far away as Ghana, where he acted as a research assistant for his aunt, who was conducting field work for a dissertation in anthropology.
"When he makes up his mind to do something, there's not a whole lot of chance I'll be able to change that. You just kind of roll with it," Strayer said.
Christensen said he plans to graduate this year and return to Santa Cruz, where his former employer, who owns several Togo's sandwich restaurants, will train him in small business management.
A year after his graduation in June, Christensen said he hopes to return to school to pursue a law degree and practice tax law or corporate litigation.
Abiding by his no-loan rule was difficult, Christensen said. But the payoff is just as significant.
"You can't give back if you're still trying to pay back your loans," he said.
Looking back at his time in Westwood, Christensen said he'll remember it as an opportunity to rely on himself, a chance to pursue a degree using his own two hands.