Not Looking Back: Shabazz Muhammad overcomes disorder in becoming one of nation's best players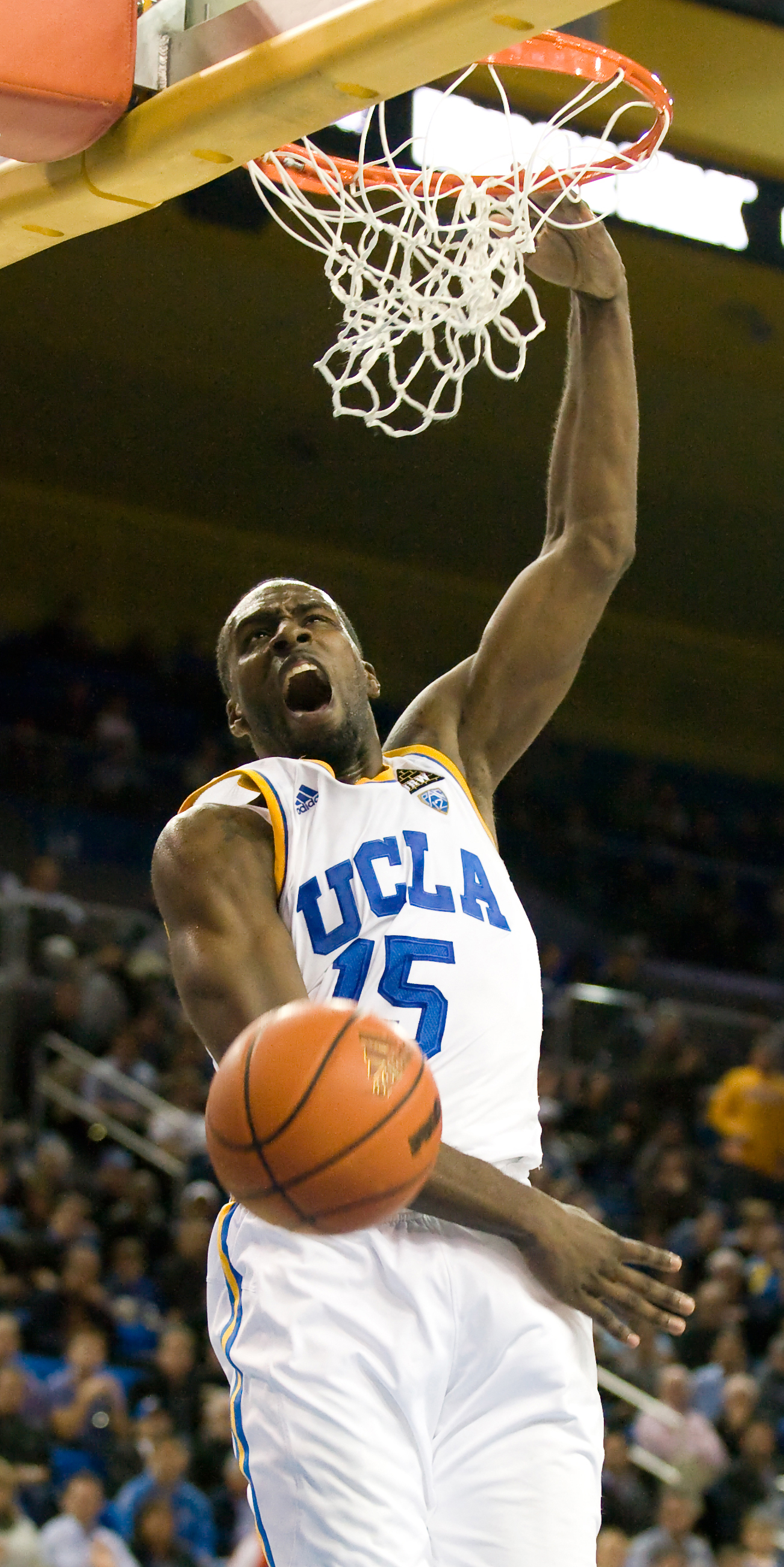 Freshman guard/forward Shabazz Muhammad slam dunks during the second half off an assist from redshirt senior guard Larry Drew II. Muhammad ended the night with a game-high 22 points.
The original version of this article contained multiple errors and has been changed. See the bottom of the article for additional information.
A certain burden comes with being one of the best players in the nation and a surefire first-round NBA draft pick.
Shabazz Muhammad knows its weight all too well.
He is constantly under a microscope. He can't win even when his team does. He sat out the first three games of the season because of an NCAA investigation later discovered to be tainted.
He scored 23 points to lead UCLA to a win over then-No. 6 Arizona in January only to have a nationally renowned columnist call the legitimacy of his designer backpack into question.
He recently caught heat for not joining a team dogpile when he wasn't the one taking the game-winning shot.
Not long ago, Muhammad carried a very different sort of burden, one that cast a wide shadow over his future and had many questioning whether or not he would ever reach his potential.
"He would start shaking in the middle of a game," said Muhammad's father, Ron Holmes. "His guy would go right around him. I thought he would never be able to play basketball. How could he when he couldn't stand still and stop convulsing in the middle of a play?"
At age six, Muhammad began to exhibit odd behavior that was later diagnosed as Tourette syndrome, a disorder of the nervous system characterized by involuntary movements or sounds called tics.
Roughly three out of every 1,000 children living in the United States suffer from Tourette syndrome, according to the Centers for Disease Control and Prevention.
Initially, Muhammad's family dismissed the tics as unique "habits." He would twitch often, blink rapidly, smell his hands after touching things and shake his arms.
Medication was an option, but not one Muhammad's family was interested in exploring. They didn't feel he needed it.
"We just dealt with it," Holmes said. "It got worse before it got better."
At that young age, his only postgame interviewers were his parents. The questions were much tougher.
"We would see him do something on the court and we knew what it was but no one else did," said Muhammad's mother, Faye. "We would say, 'You had a tic out there. If you're going to keep playing, the competition will get better and you can't let yourself do that.'"
Tics are more prone to show up during times of stress when the heart or respiratory rate increases, according to Dr. Charles McDaniel, director of psychiatry at UCLA Counseling and Psychological Services.
For Muhammad, the court was a minefield. He told himself to turn his disorder off and turn basketball on, but it wasn't that simple. He was frustrated and found himself distracted or mentally checked out of games.
The tics were most severe in the fifth and sixth grades. His peers and opponents began to ask questions and tease him about his odd behavior.
His sister Asia, two years his senior, characterized the harassment as constant "little jabs."
"He's very confident," said Asia Muhammad. "He would get frustrated because he couldn't really control it. The teasing forced him to control it."
As the nagging began to pile up, he became determined to suppress the tics, often using the pestering to fuel his play on the court. The tics remained prevalent at home but started to become less noticeable in public.
"We laid it out to him and said, 'If you want to play this sport, you can't do this' and he understood it," Faye Muhammad said. "It was a mind-over-matter thing for him. He had to overcome it. I think that's what helped make him so mentally strong today."
Eventually, Muhammad began to shrug off the disorder entirely. Upon returning home from middle school one day, Faye Muhammad told her son she recorded an informational television program about adolescents living with Tourette syndrome. He wanted no part of it.
"That's not me," he quipped back. "I don't want to watch that."
His attitude hasn't changed much since. He declined to comment on his condition for this story.
His parents spoke privately about his progress but rarely addressed him directly for fear that the tics might intensify. For the most part, Holmes left the issue for his son to take care of on his own.
Holmes called Muhammad's Tourette syndrome "the elephant in the room" and admitted he may have been too hard on his son. His family's tough love didn't allow him to shy away from the challenge.
"When he says something is going to get done, he'll find a way to do it," Asia Muhammad said. "It just came to a point where he got pissed off and said, 'I'm not going to do this anymore.' … He didn't stop but he made it less noticeable."
The tics slowly began to disappear and his basketball career flourished as Muhammad focused on both.
Grant Rice, Muhammad's high school coach, was made aware of the condition through his parents but never spoke with him about it. There was no need.
While Muhammad rose up recruiting boards, college coaches started to call. His Tourette syndrome took a back seat.
"Every once in a while he would do some tics but it didn't really affect him," said Rice, who coached Las Vegas-based Bishop Gorman High School to three state championships in Muhammad's four years.
"It would be after a workout or something or if he was resting on the bench. Maybe when he was at the free-throw line, you could tell there were some movements. We turned it into a positive and it's probably one of the things that makes Shabazz such a relentless worker."
For roughly half of those affected with Tourette syndrome, tics resolve after the age of 18, Dr. McDaniel said. Muhammad, who will turn 20 in November, wasn't so lucky.
But the remnants of Muhammad's battle are slight.
For the most part, his tics subsided around his junior year at Bishop Gorman and have been "pretty stable for the last three or four years," according to Holmes. But they haven't vanished completely.
They reappear during times of great excitement. Occasionally, he'll rapidly tap his thumb to his iPhone or crane his neck when listening to a question he's asked. Slow-motion replays show him briefly blinking before shoots.
Nonetheless, he is UCLA basketball's poster boy – in good times and bad – and leads all NCAA freshmen in scoring.
"He's come such a long way from that," Holmes said. "We don't have to deal with it too much. I was relieved because I knew it could be a hindrance. When I saw that this wasn't going to be a hurdle anymore, it's in the rearview mirror for us. We continue to move on."
Some of his family members say they've forgotten about it altogether. Muhammad would like to count himself in that group as well. He maintains it's a part of his past.
That was never more evident than in the first half of Sunday's week's win at USC. After Muhammad was fouled, the rival crowd greeted him with a different kind of teasing. A few Trojan fans began to chant "overrated" in his direction. The jeer soon grew louder as it spread throughout the arena.
Muhammad calmly stepped to the free-throw line and made both shots using the same smooth motion.
Correction: The first two paragraphs of the article were missing. Also, an audio clip was mistakenly inserted at the beginning of the article.