UCSB hands UCLA volleyball an upset loss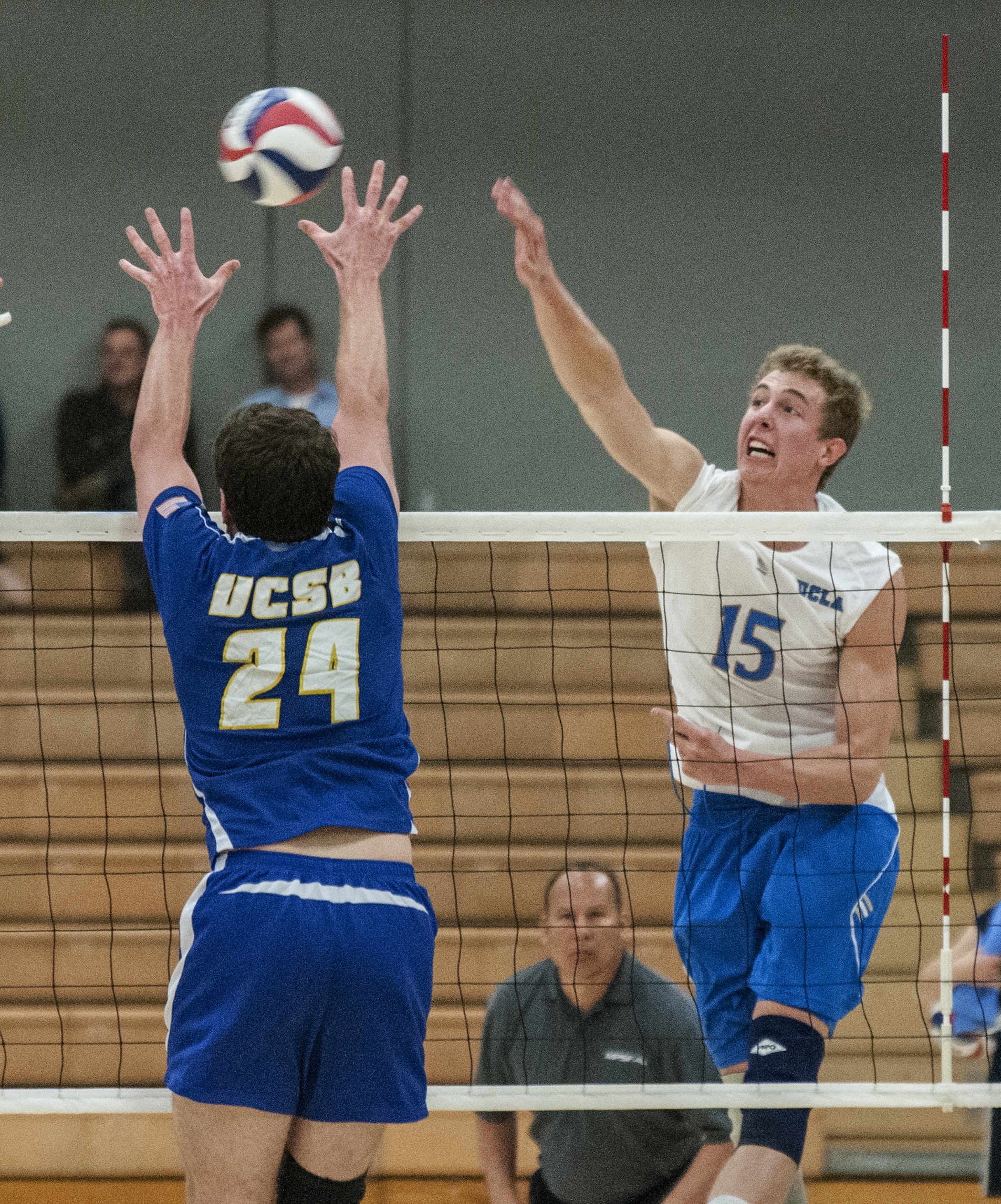 Despite a comeback led by junior outside hitter Robart Page, the men's volleyball team struggled in an error-ridden 3-1 loss against UCSB.
Men's volleyball

UC SANTA BARBARA 3
UCLA 1
It was supposed to be an easy win for UCLA – the odds were stacked in its favor.
The Bruins were coming off a hot two-game winning streak, and on top of that, they had defeated their opponent, the unranked UC Santa Barbara Gauchos, twice this season.
However, the No. 6 UCLA men's volleyball beat the odds – but not in the way they might have hoped – on Wednesday night against UCSB and lost the match 3-1.
"We need to continue to work on our focus. We have a tendency to have a couple good games and think we got everything dialed in and we don't," coach John Speraw said.
UCLA found itself trailing early in the first set, but junior outside hitter Robart Page got the Bruins back in the game, tying the set 6-6 with a strong kill. However, UCLA could not capture the lead and fell behind once again with two service errors.
The Bruins struggled with serving throughout the match and committed seven service errors in the first set. Speraw called two timeouts in an attempt to refocus his team but to no avail.
"We got two big wins and thought that was going to carry us through," said freshman setter Steve O'Dell. "We served terribly and gave them opportunities to score."
UCLA gave up two easy points because of what appeared to be a lack of communication at the beginning of the second set. Three UCLA players looked at each other as the ball landed right in between them. However, the Bruins picked up their performance and tied the game after a block from junior middle blocker Spencer Rowe. UCLA took that set 25-22.
Rowe led the Bruins with 16 kills and O'Dell added in 38 assists. UCLA will face an even tougher opponent in No. 4 Stanford on March 10.
Unlike the home team, UCSB battled hard throughout the match. UCLA showed glimpses of a comeback in the third set but continuous errors killed any momentum they had. UCSB won the next two sets and the match.
"This team (UCSB) is always a battle. They played really well tonight and give them a lot of credit," Page said.