Condoleezza Rice speaks at annual memorial lecture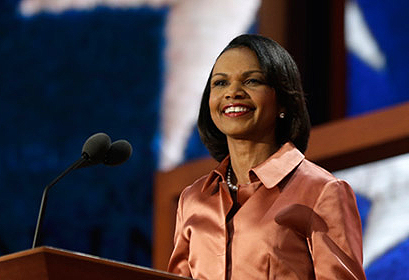 Condoleezza Rice, former secretary of state, spoke at the Anderson School of Management on Wednesday.
A group of female students clad in red dresses and holding signs of support for former Secretary of State Condoleezza Rice were hard to miss in the Korn Convocation Hall Wednesday evening.
The group, along with hundreds of other people, gathered at the UCLA Anderson School of Management to hear Rice speak at this year's Daniel Pearl Memorial Lecture.
The Daniel Pearl Foundation holds the lecture annually in memory of Daniel Pearl, a journalist and son of a UCLA professor. Pearl was allegedly kidnapped and murdered by terrorists in 2002 while he was reporting for the Wall Street Journal in Pakistan, according to the foundation's website.
Past speakers for the lecture include CNN talk show host Larry King, CNN anchor Anderson Cooper and editor of The New Yorker David Remnick.
Wednesday's event was sponsored by the foundation, the Burkle Center for International Relations and the Yitzhak Rabin Hillel Center for Jewish Life at UCLA.
Rice, who served under President George W. Bush as the first black female Secretary of State and national security adviser to serve in a presidential cabinet, spoke to the crowd about the spread and supremacy of liberal democracy as a governmental system.
During the speech Rice reflected on one of her first journeys to Egypt as secretary of state. She said she was saddened by a lack of commitment by the United States to democracy in the Middle East.
"For 60 years, stability in the Middle East was prized over democracy," Rice said at the event. "In the end we got neither."
Lauren Schwartz, a second-year political science and communication studies student, said the group of students in red dresses were all members of the sorority Alpha Chi Omega, which Rice was a part of when she attended the University of Denver. Schwartz said they attended the event to support and listen to one of their most famous alumna, while wearing their sorority's signature red.
After Rice spoke for about 30 minutes, she and Kal Raustiala, director of the Burkle Center, opened a question-and-answer session.
The subject matter of the questions ranged from the place of drones in foreign policy to Rice's thoughts on immigration reform.
Rice advocated for a path to citizenship for undocumented individuals in the U.S., saying there are many immigrant families who have been here for generations.
This year's Daniel Pearl Lecture was extremely popular, with tickets selling out within the first two hours, said Alexandra Lieben, deputy director of the Burkle Center.
Stretching almost out the door of Anderson, the line to get into the event was filled with students, professors, alumni and donors to various organizations affiliated with UCLA.
To accommodate the "unprecedented" demand, she said the Center also set up a live-stream in the Lenart Auditorium at the Fowler Museum.
Schwartz said she thought the lecture was interesting and informative. She added that she was glad that Rice addressed a question about North and South Korean relations – a subject she is very interested in.
Hiroki Baba, a recent UCLA graduate in mathematics/economics, had a different reaction.
"To be honest I was kind of disappointed," Baba said after the event. "She spoke mostly in broad generalizations without much detail."
He added, however, that he understood she was still a prominent political figure and might not be able to say much without scrutiny.
Rice ended her speech reaffirming her belief in democracy as the only guarantor of rights and liberties.
"There is only one decent way of governing, and that is by the will and consent of the people."