Maia Ferdman: Messages presented on campus not absolute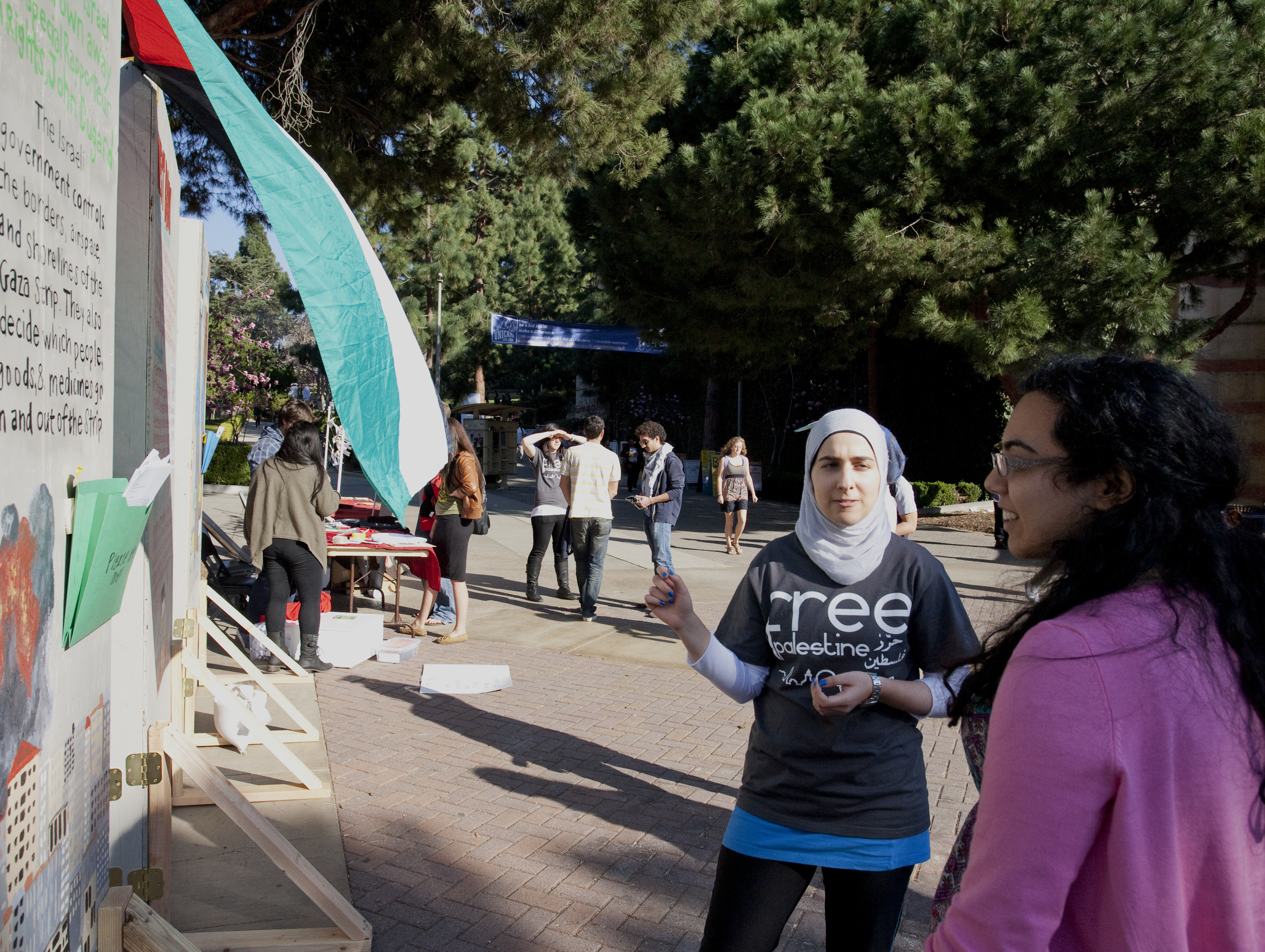 YIN FU/daily bruin
(Left) Noor Teebi, a fourth-year environmental science student, speaks with Mashal Ali, a third-year geography and environmental studies student, in front of a "mock apartheid wall" in Bruin Plaza Tuesday. The wood panels were set up by members of Students for Justice in Palestine and are intended to symbolize the separation barrier that borders the West Bank. (Right) As part of the day's events, students wrote notes to send to children in the Gaza Strip.
By
Daily Bruin Staff
Feb. 27, 2013 12:01 a.m.
In 10th grade, I was given a booklet that contained a long list of common arguments "anti-Israel" people make, and how to counter them with the "facts."
I remember wondering – if so many prominent people and intellectuals champion the Palestinian cause, does it not have at least some validity? At the same time, why did it seem to fundamentally contradict the democratic ideals of Israel, which I knew so deeply to be real and present there?
If there was an answer, it would be that I was presented two black and white arguments without much consideration for the complexities and realities of the Israeli-Palestinian conflict on the ground. I was raised thousands of miles from the region and told again and again by my friends and teachers one version of one narrative.
Palestine Awareness Week mirrors my Jewish education in many ways.
Both are products of emotionally charged beliefs, deeply embedded in their specific identities. And while emotion doesn't invalidate an argument entirely, it does lead to oversaturated representations of something that is much more multifaceted.
Members of both Bruins for Israel and Students for Justice in Palestine have said their target audience is the average student who passes by their demonstrations on campus.
So to those walking by this week's events, please understand: The messages presented in Bruin Plaza are not necessarily representative of a holistic reality.
Roy Talmor, a fourth-year political science student and a former soldier in the Israel Defense Forces, described what he has witnessed from student groups in the past as "two really bad advertising agencies." He said that it seems the two opposing sides on campus just speak in slogans to each other.
In the occupied Palestinian territories and in Israel proper, Talmor witnessed a large spectrum of opinion on the conflict, ranging from violent demonstrations to pro-peace rallies.
Indeed, with words like "apartheid" flying  one way and "terrorist" the other, UCLA students dilute a much more nuanced phenomenon.
So to the hundreds or thousands of Bruins passing by this battle of rhetoric, wait to make up your mind.
It is important to acknowledge and pursue certain realities, such as the pressing need to address Palestinian human rights or Israeli security. But not every argument presented in these campus demonstrations is an absolute.
One manifestation of this gross simplification is the false dichotomy between the "pro-Palestinian" camp, and the "pro-Israel" camp. Throw in "anti-Israel" as well.
"I've been called a traitor by some people," said Talmor, including some Jewish Americans who had not served in the Israeli army, he added. "(To them) I am not pro-Israel according to a very specific and absolute definition … go risk your life and then we can talk."
These terms do not accomplish anything. Instead, they serve to imply that advocating Palestinian human rights and supporting Israel's existence are mutually exclusive – that wanting Israel to exist in safety without fear of destruction means we must deny its wrongdoings and its seemingly endless occupation of Palestinian territory.
The continued use of these labels on our campus reflects a larger problem – the willingness to continue discussing the conflict with the same rhetoric, the same arguments, the same methods that have been reiterated for years, without any tangible improvements.
My aim is not to invalidate my own education or my own community. Indeed, certain aspects of my upbringing are what have allowed me to ask questions in the first place. In the end, I am fortunate that these elements of my education outweighed those that told me, simply by virtue of being Jewish, I only had one narrative to choose from.
Email Ferdman at [email protected]. Send general comments to [email protected] or tweet us @DBOpinion.