UCLA Russian Club learns through Durak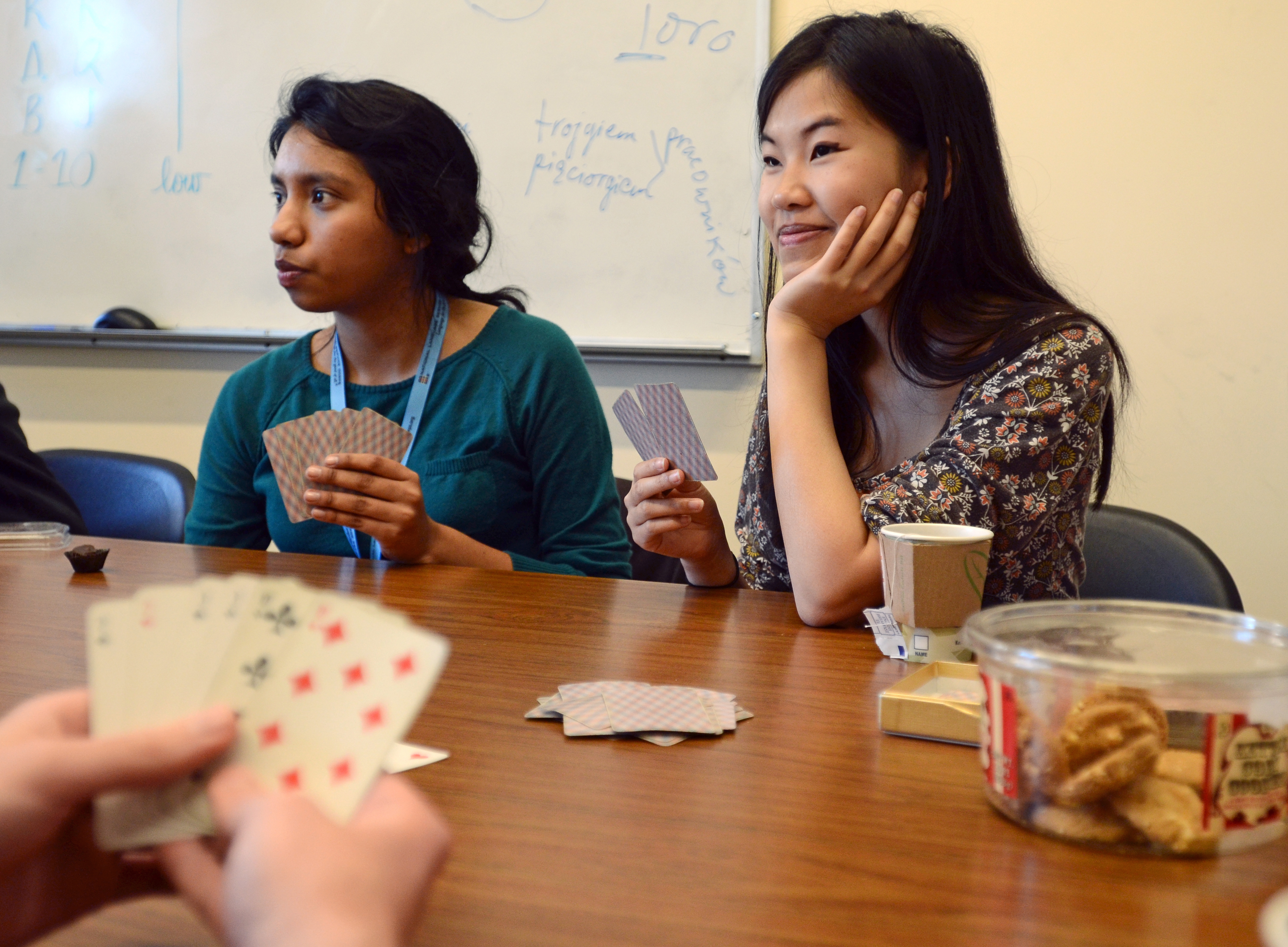 Third-year comparative literature and Russian language student Gladys Riva, left, and first-year geography and environmental studies student Kathy Pham, right, play Durak, a popular Russian card game, on Friday afternoon.
How to play Durak
Participants take turns attacking each other with cards and defending themselves from each other. Each person gets six cards and the goal is to get rid of all of them.
To attack, cards with the same suit are used.
The person who is attacked must defend using cards with the same or a higher number. If the person is successful, the cards are discarded. Otherwise, he must take all of the cards.
There is no winner, only a loser. Whoever remains with cards is the "durak," which means fool in Russian.
SOURCE: Lena Muratova, president of the UCLA Russian Club
The wrong article was originally posted on this Web page.
Sitting in his room in St. Petersburg, Russia, Sydney Heller reminisced about the first time he played Durak, a popular Russian card game.
He played his first game four years ago in Rolfe Hall at UCLA. The sixth-year Russian language and literature student remembered feeling embarrassed as he struggled to understand the Russian words being spoken in the room.
About eight students still come together every Friday afternoon to play the same game, in which participants take turns attacking and defending with a Russian deck of playing cards, said Lena Muratova, a second-year Russian language studies student and president of the UCLA Russian Club.
The students are all studying Russian language and culture in some way, Muratova said.
The Russian Club teams up with the Russian Flagship Center on campus to organize the weekly gatherings. Faculty affiliated with the center came up with the idea four years ago, said Susan Bauckus, senior editor at the UCLA Center for World Languages.
"It was important to be in a friendly environment where (we) could speak Russian or English, without worrying about grades or being put on the spot by a teacher," said Heller, who was one of the first participants in the weekly meetings.
Now nearly fluent in Russian, Heller is studying at Saint Petersburg State University as a part of the UCLA Russian Flagship program.
The national Russian Flagship program is federally funded and seeks to bring students to higher levels of proficiency in languages that are considered important for the national security of the United States, said Olga E. Kagan, a professor in the department of Slavic languages and literatures, who is also the director of the UCLA Russian Flagship Center.
UCLA, which joined in 2005, is one of four universities involved with the program, Kagan added.
Heller said the meetings and the card game Durak helped him learn Russian in different ways and motivated him to study in Russia.
For him, learning the card game was also a way of getting closer to people once he got to Russia, he said.
"The average Russian assumes that an average American doesn't know how to play it. When people see that not only do I know how to play it, but I'm good at it, they get impressed," he said, smiling. "It shows how interested in their culture I am."
Braunny Ramirez, a second-year Russian studies and linguistics and Asian languages and cultures student, said she learned a lot of Russian by playing the game.
"Some words I heard here first, and then in class," she said, while she was in the middle of a Durak game.
As they sipped English breakfast tea and bit into peanut butter cups and cookies, some students talked about homework and Russian cinema, and others about their plans to go on the study abroad program in Russia during the summer.
"The meeting helps to keep you in the system," said Muratova, who is planning to go to Russia this summer. "It is also nice to have a relaxed experience with Russian outside of the classroom."